Adventurers Chris and Julie Ramsey set off from the magnetic North Pole on Thursday hoping to become the first to drive a vehicle from there to the South Pole.
The British couple is attempting the feat in an all-electric Nissan Ariya provided by the automaker that has been modified to handle all types of weather and terrain.
The planned route will take them through 14 countries and cover approximately 17,000 miles.
THE NISSAN MAX-OUT IS THE CONVERTIBLE OF THE FUTURE
Chris and Julie Ramsey will be driving an electric Nissan Ariya with a power station in tow. (Nissan)
The compact SUV has been modified by Iceland's Arctic Trucks with a lifted suspension to accommodate giant 39-inch balloon tires that allow it to get through soft snow. Its all-wheel-drive powertrain has been unmodified from the showroom version, however.
SOLO WOMAN FIRST TO RIDE ACROSS AFRICA ON AN ELECTRIC MOTORCYCLE
They have already driven over 3,000 miles to reach the starting line off Ellesmere Island in Canada and Chris said it has performed well.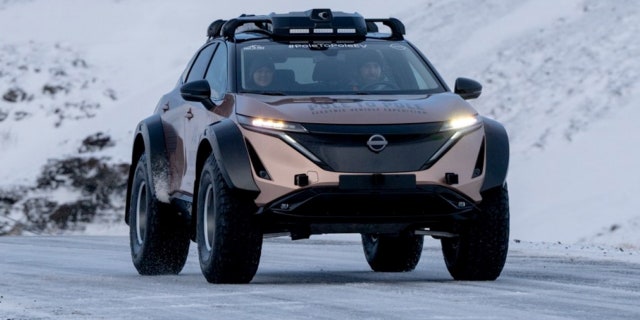 The Ariya's suspension has been modified by Arctic Trucks. (Nissan)
"It gives us the confidence we can tackle every driving scenario we'll face in the coming months."
CLICK HERE TO SIGN UP FOR THE FOX NEWS AUTOS NEWSLETTER
The Ramseys will charge the vehicle off the grid when possible, but are bringing their own power station along with them.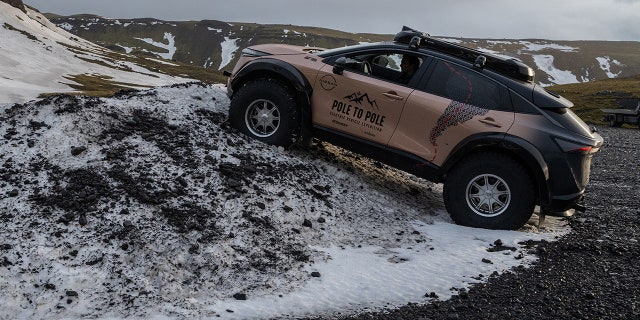 The vehicle uses the stock electric drivetrain. (Nissan)
It has both a small wind turbine and solar panels that can take advantage of the winds and long daylight hours in the polar regions.
"The Arctic is one of the windiest places on the planet. It's second to Antarctic, which is great for us because it's the two places we're going," Chris told Fox News Digital prior to the trip.
CLICK HERE TO GET THE FOX NEWS APP
The Ramseys expect to take around 10 months to complete the journey, which includes an air transfer on a scheduled flight from Punta Arenas, Chile, to Antarctica, where they will continue overland to the geographic South Pole. The flight's emissions will be covered by the purchase of carbon offsets.
If successful, it would not be their first battery-powered achievement. In 2017, they completed the 10,000-mile Mongol Rally across Asia in an electric Nissan Leaf.