Fire raced through a school dormitory in Guyana early Monday, killing at least 20 students and injuring an undetermined more, authorities said.
The Guyanese government said in a press statement that the fire broke out in the dormitory building of a secondary school in the southwestern border town of Mahdia, 200 miles south of the capital, Georgetown.
"This is a horrific incident. It's tragic. It's painful," said President Irfaan Ali, adding that his government was mobilizing all resources to care for the children.
Ali said officials were contacting parents and mobilizing psychologists to help deal with those affected by the fire.
"I cannot imagine the pain right now of the parents," he said. "This is a major disaster."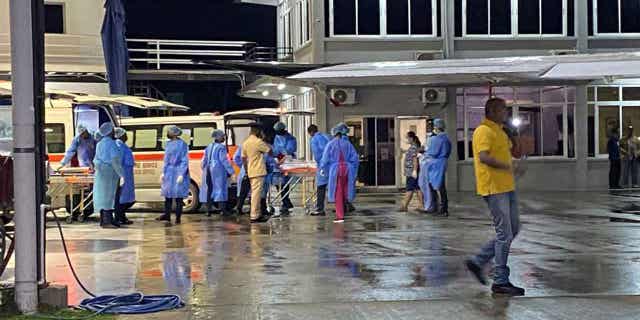 Children rescued during a secondary school dormitory fire are transferred by medical personnel to hospitals in Georgetown, Guyana, on May 22, 2023. At least 20 people were killed in the fire. (ROYSTON DRAKES/AFP via Getty Images)
The fire began shortly after midnight at the school that serves mostly Indigenous children aged 12 through 18, according to National Security Adviser Gerald Gouveia. He said it was too early to speculate what might have caused it, adding that heavy thunderstorms in the area posed a challenge to those responding by air.
HOUSE LAWMAKERS FOCUS ON 'OUTCOMPETING CHINA' IN BIPARTISAN VISIT TO GUYANA
He added that the government and emergency responders "made a gigantic effort" to save as many people as possible.
Local newspaper Stabroek News reported that the fire broke out in a girls' dormitory.
CLICK HERE TO GET THE FOX NEWS APP