The end of Kevin Costner's 18-year marriage to estranged wife Christine Baumgartner marks an unpredictable turn in the Academy Award winner's public resurgence after finding on-screen success yet again with "Yellowstone."
In documents obtained by Fox News Digital, Christine first filed for divorce from the "Field of Dreams" actor on May 1, citing "irreconcilable differences." The date of separation was listed as April 11, 2023.
Costner's response to the dissolution of marriage, filed on May 2, noted that the former couple signed a premarital agreement.
Costner and Christine both filed for joint custody of their three children: Cayden, 15, Hayes, 14 and Grace, 12. A hearing is set for July 5 in the civil case.
KEVIN COSTNER'S WIFE CHRISTINE FILES FOR DIVORCE AFTER 18 YEARS OF MARRIAGE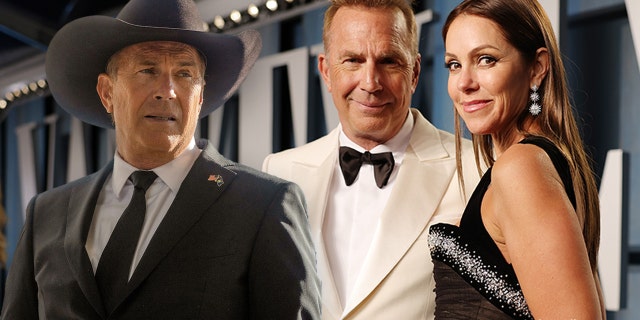 Kevin Costner and Christine Baumgartner's divorce comes amid another career resurgence for "Yellowstone" star. (Paramount/Getty Images)
His representative confirmed to Fox News Digital Tuesday that the couple ended their relationship.
"It is with great sadness that circumstances beyond his control have transpired which have resulted in Mr. Costner having to participate in a dissolution of marriage action," Costner's rep said.
"We ask that his, Christine's and their children's privacy be respected as they navigate this difficult time."
According to People magazine, the divorce is not anything he wanted.
As Costner deals with the divorce, fans have pined for an update on "Yellowstone," the popular country drama from Taylor Sheridan. Costner stars as patriarch John Dutton in the Western series.
'YELLOWSTONE' FANS BEG KEVIN COSTNER FOR FILMING UPDATE AS HE PROMOTES NEW MOVIE
Paramount has yet to confirm if Costner is returning to the Dutton ranch despite the network promising a summer premiere. It's unclear if new episodes have already been filmed.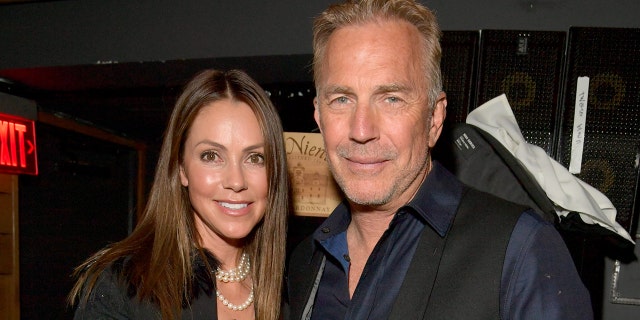 Kevin Costner's estranged wife, Christine, cited April 11 as their date of separation. (Getty Images)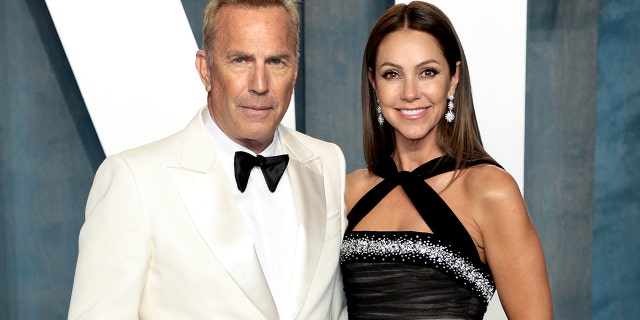 Costner and Baumgartner have three children together. (Dimitrios Kambouris)
"We have no news to report. Kevin Costner is a big part of 'Yellowstone,' and we hope that's the case for a long time to come," a Paramount Network spokesperson told Fox News Digital when asked if the cowboy drama was coming to an end.
Here's a look back at his illustrious career, which not only earned Costner a massive fortune and industry accolades, but also a place in the hearts of cinema buffs across the globe.
The Southern California native fell in love with baseball at a young age and played in high school, but admitted he couldn't cut it when it came to collegiate athletics as a student at California State University, Fullerton.
"I just wasn't that good," he said during a fundraiser for the school years ago.
'YELLOWSTONE' STAR KEVIN COSTNER, WIFE CHRISTINE BAUMGARTNER'S LOVE STORY: WHAT TO KNOW
Instead, with a marketing and finance degree under his belt, Costner pursued another love – acting. His first big break came with "The Big Chill" in 1983, but his scenes were cut when the movie was released.
Director Lawrence Kasdan remembered Costner for "Silverado" in 1985, a Western flick with Kevin Kline, Danny Glover and Scott Glenn. From there, Costner became the hottest name in town.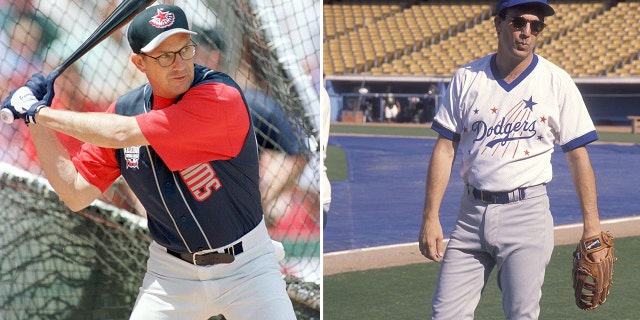 Kevin Costner loved playing baseball, but didn't pursue the sport after high school because, as he admitted, he "wasn't that good." (Getty Images)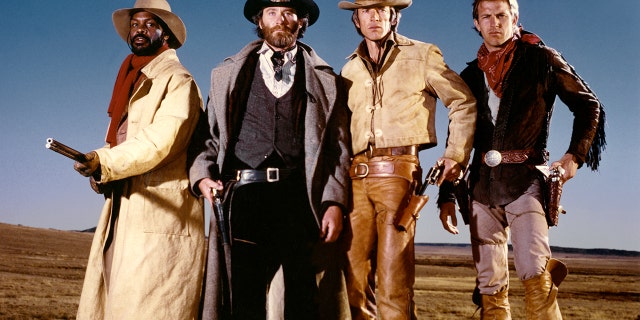 Costner's big breakout role was in "Silverado" in 1985. (Sunset Boulevard)
He partnered up with Robert De Niro and Sean Connery for "The Untouchables," and played a navy officer investigating a suspicious death alongside Gene Hackman, Sean Young and Will Patton in "No Way Out."
'YELLOWSTONE' EFFECT: KEVIN COSTNER, HARRISON FORD, SYLVESTER STALLONE BRING OLD SCHOOL MALE LEADS BACK TO TV
All roads led back to the diamond, though, where Costner solidified his A-list status in the romantic comedy with minor league baseball roots, "Bull Durham."
Starring Susan Sarandon and Tim Robbins, Costner played Crash Davis, a veteran minor league catcher caught in the middle of a love affair and love of the game.
"Durham" was just the beginning of Costner's affinity for sports-themed flicks.
One year later, he starred as farmer Ray Kinsella and built a baseball field in his cornfield in Iowa after hearing the voice of baseball legend Shoeless Joe Jackson, played by the late Ray Liotta, saying, "If you build it, he will come."
American actors Sean Young and Kevin Costner on the set of "No Way Out," based on the novel by Kenneth Fearing, and directed by Roger Donaldson. (Orion Pictures/Sunset Boulevard/Corbis via Getty Images)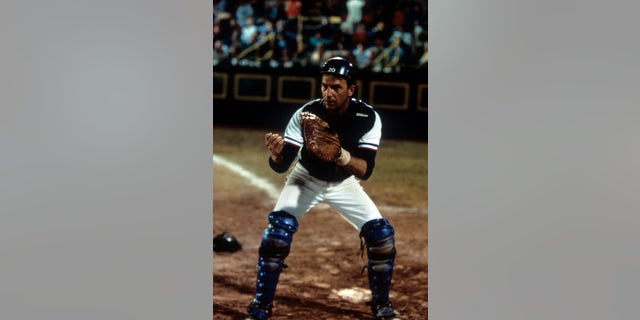 Kevin Costner played a catcher trapped in a love triangle and the minor leagues in "Bull Durham." (The Mount Company)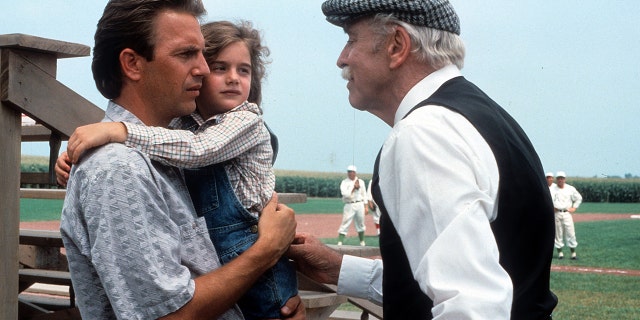 Costner's baseball film "Field of Dreams" became an instant classic when it was released in 1989. (Universal)
Despite the financial hardship building a baseball diamond caused, as well as not being able to explain his desire, Kinsella started to see the ghosts of famous players emerge to play ball.
While "Field of Dreams" was nominated for and lost multiple Academy Awards, the film has regularly been credited as a top American classic.
In 2017, the U.S. Library of Congress added "Field of Dreams" to its National Film Registry, with film critic Leonard Maltin quoting the movie as "a story of redemption and faith, in the tradition of the best Hollywood fantasies with moments of pure magic."
WHO IS KEVIN COSTNER? FOX NATION EXPLORES HOLLYWOOD ICON'S LIFE, CAREER AHEAD OF 'YELLOWSTONE: ONE-FIFTY'
He wrapped "Dreams" to star in "Revenge" with Anthony Quinn and Madeline Stowe before moving on to another banner flick – "Dances with Wolves."
Not only did Costner play the starring role of Union Army Lieutenant John J. Dunbar who meets a group of Lakota tribe members while traveling through the American frontier on a quest to find a military post, "Wolves" was also his directorial debut.
The three-hour-long movie was nominated for 12 Academy Awards and won seven trophies, including two for Costner with best picture and best director. In 2007, "Dances with Wolves" was preserved by the National Film Registry by the Library of Congress for being "culturally and historically" significant.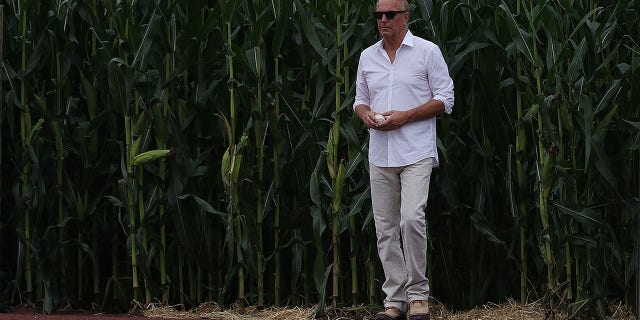 Costner walked onto the field prior to a game between the Chicago White Sox and the New York Yankees at the Field of Dreams game in August 2021 in Dyersville, Iowa. (Stacy Revere)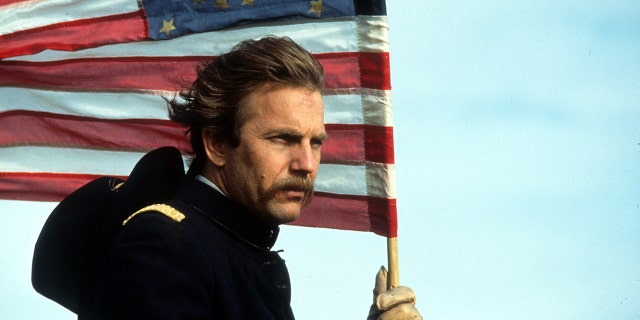 Kevin made his directorial debut with "Dances with Wolves." (Tig Productions)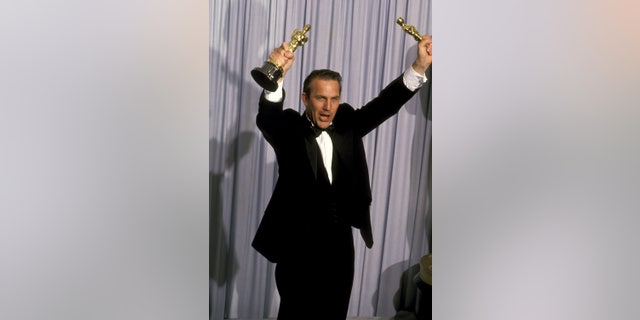 Costner celebrated winning Best Picture and Best Director for "Dances with Wolves." (Ron Galella Collection)
The Lakota Sioux Nation also hosted a ceremony adopting Kevin, and co-stars Mary McDonnell and Jim Wilson, as honorary members.
He found a theme with Westerns on the big screen, and starred in "Wyatt Earp," "The Postman" and "Open Range."
CLICK HERE TO SIGN UP FOR THE ENTERTAINMENT NEWSLETTER
Costner continued to be bankable at the box office throughout the '90s, and protected Whitney Houston during her on-screen debut in "The Bodyguard."
After its November 1992 release, "The Bodyguard" spent 10 weeks in the top 10, and grossed $410 million worldwide. At the time, it was one of the highest-grossing films of all time.
"Durham" director Ron Shelton knew he could turn to Kevin once again for "Tin Cup," where a washed-up golf pro tries his hand at success once again. Costner brought sports to the forefront of film with "Draft Day," "Molly's Game," "McFarland, USA," and "The Art of Racing in the Rain."
Today, Costner is worth an estimated $250 million.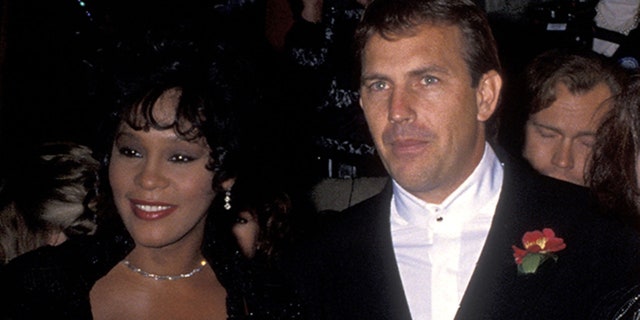 Whitney Houston and Kevin Costner worked together on "The Bodyguard." (Photo by Ron Galella)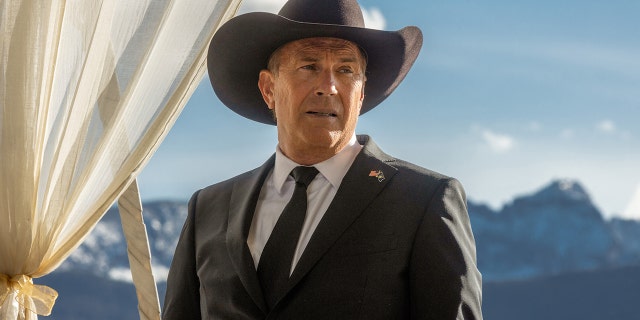 Kevin Costner portrays John Dutton on the Paramount network show "Yellowstone." (Paramount Network)
Heading back out to the wild, wild west, Costner is working on "Horizon: An American Saga."
Sitting in the director's chair for the first time since 2003, Costner will chronicle a "15-year span of pre-and post-Civil War expansion and settlement of the American west," according to IMDb.
Hollywood heavy-hitters Luke Wilson, Sam Worthington, Sienna Miller, Giovanni Ribisi, Thomas Haden Church and Will Patton are attached to the project, which Costner is also credited with starring in and writing.
A production date has not been released.