PROGRAMMING ALERT: Watch author Mike Sarraille discuss this op-ed and more on "Fox & Friends" on July 4.
Independence Day should be more than fireworks and festivities—it should be a day of profound reflection and recognition. A day to honor the tremendous sacrifices and unyielding values of the Founding Fathers and American Patriots who defied death and tyranny, breaking free from the oppressive reign of a despotic king and the British Empire. These intrepid souls, fueled by an unwavering commitment to freedom, epitomized moral courage and selflessness. They challenged staggering odds, inspiring generations. However, a disconcerting chasm now gapes between the spirit of 1776 and today's dominant values.
Historical accounts tell us that during the American Revolution, less than 45 percent of colonists actively supported independence, according to historian Thomas Slaughter. This reminder underlines that the quest for freedom and justice seldom garners unanimous applause. Often, it's the morally brave few who defy the status quo, facing mockery, rebuke, and even death.
Sound familiar?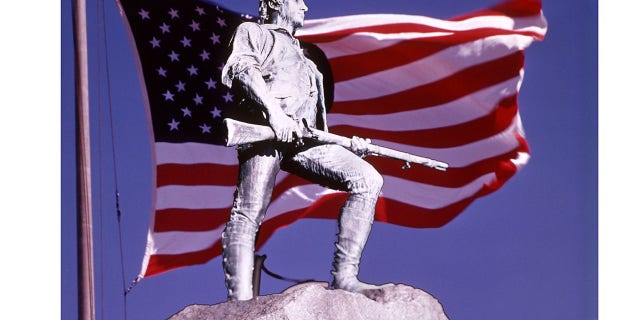 The Lexington Minuteman Statue superimposed in American flag against blue sky. Lexington Battle Green, Massachusetts.   (Photo by H. Armstrong Roberts/ClassicStock/Getty Images)
This amalgamation is a formidable threat to the freedom, justice, and individual liberty our founding fathers fiercely fought for. We must not only acknowledge these challenges but also actively strive to re-instill the founding principles of our nation—personal responsibility, limited government, and the safeguarding of individual rights. The question is: are we willing to change course, regardless of discomfort or inconvenience, or will we let the sacrifices of our ancestors be in vain?
On this Independence Day, let us not shy away from considering how future generations will perceive us. Will we be seen as patriots who revived America's foundational values and reversed its decline?

On this Independence Day, let us not shy away from considering how future generations will perceive us. Will we be seen as patriots who revived America's foundational values and reversed its decline? Or as a generation that succumbed to entitlement, big government, and diminishing individual liberties, leading our nation towards ruin?

Video

Ronald Reagan once wisely cautioned that freedom is delicate and could easily be lost in just one generation. Our ancestors understood this potent truth, igniting the "Shot Heard 'Round the World" in 1775, and declaring war against tyranny.

Today, it's our turn to pass on this indomitable spirit of independence to future generations, instilling values of courage, selflessness, hard work, and accountability. We must honor Reagan's advice and our forefathers' legacy, ensuring that America continues to shine brightly as a beacon of hope and liberty.

CLICK HERE TO READ MORE FROM MIKE SARRAILLE