As a comedian, musician, actor, filmmaker and father, Jamie Foxx is beyond a triple threat.
The 55-year-old actor earned top industry accolades and won an Oscar for his portrayal of Ray Charles in the 2004 film "Ray," but Foxx has been performing nearly his entire life.
His daughter, Corinne Foxx, revealed Wednesday that Foxx suffered a "medical complication" the day before, and "quick action and great care" helped guide him toward recovery. His family has not disclosed Foxx's medical issue.
"Nothing further is being provided from the family at this time," Foxx's representatives told Fox News Digital Thursday.
JAMIE FOXX SUFFERS 'MEDICAL COMPLICATION,' DAUGHTER CORRINE SAYS: 'HE IS ALREADY ON HIS WAY TO RECOVERY'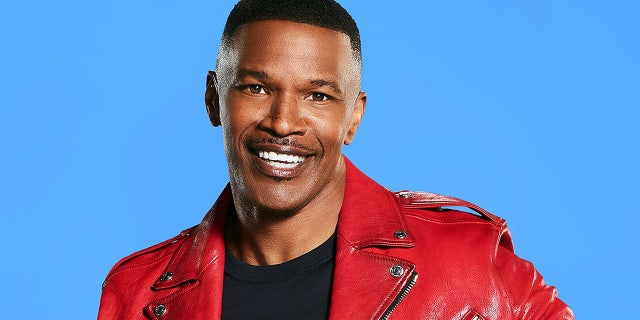 In addition to dozens of nominations, Jamie Foxx has earned Grammy, Oscar and Golden Globe awards. (FOX Image Collection)
Production crews in Atlanta reportedly shut down filming his latest project, "Back in Action," Wednesday, but resumed on Thursday "using a stand-in for Foxx on set," a source told People. A scene scheduled for Sunday has also reportedly been canceled due to "changes in production."
With more than 30 years of entertainment industry experience under his belt, here's a look at five things you might not know about Jamie Foxx.
 
 

 
 
View this post on Instagram
 

 
 
 

 
 

 
 
 

 
 

What's in a name?
He was a natural comedian and loved telling jokes from a young age.
Foxx was dared to perform at an open mic night, and he immediately fell in love with stand-up comedy.
"It was the most incredible feeling," he told Texas Monthly. "It was, 'OK, I think I know what I want to be right now.'"
He noticed that women were usually called to the stage first, so he changed his name to something more ambiguous and gender-neutral.
WILL JAMIE FOXX'S COMEDY 'ALL-STAR WEEKEND' SUCCUMB TO CANCEL CULTURE?' EXPERTS WEIGH IN
Born Eric Marlon Bishop, he became known as Jamie Foxx.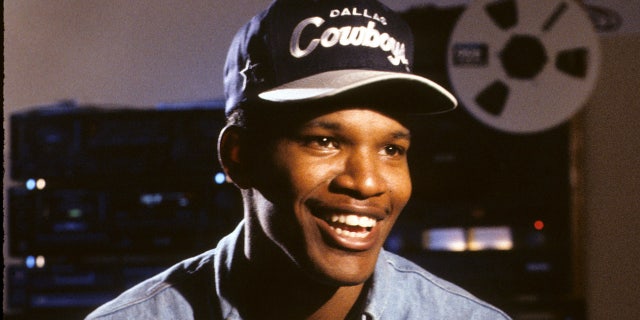 Jamie Foxx picked his stage name as a tribute to legendary comic Redd Foxx. (ABC Photo Archives)
He picked the moniker as a tribute to comedian Redd Foxx, a pioneer in the civil rights movement who found television success portraying Fred G. Sanford on "Sanford and Son."
On the "Redd Foxx: We've Come to Join You" podcast, Jamie discussed his name change as an ode to one of the greats.
"It was a tip of the hat to him that I chose that name, and the name stuck, and I have to be thankful to him for blazing the trail as a comedian and allowing me to sort of ride on his coattails," he said.
Music matters
Jamie grew up in a religious household. He was adopted by his grandmother, Estelle Talley, when he was a baby after his biological parents rejected him.
JERRY SEINFELD RETURNS FOR 'COMEDIANS IN CARS' WITH NEW GUESTS JAMIE FOXX, SETH ROGEN AND MORE
Talley began taking Foxx to piano lessons when he was 5, and by the time he was 13, he was the musical director at a local Baptist church. He told Texas Monthly that he earned $75 each Sunday, saying, "Church is big time!"
He continued to pursue piano throughout high school, which landed him a scholarship at the U.S. International University in San Diego, where he studied classical music and composition.
The keys also helped him with side hustles, and he sang in a "terrible" R&B band called Leather and Lace while in school.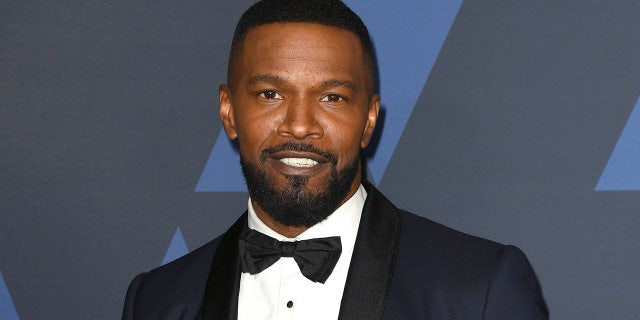 Jamie Foxx has nearly a dozen projects in the works. (Kevin Winter)
With his career exploding with roles on "In Living Color" followed by his own sitcom, "The Jamie Foxx Show," and then working in movies alongside Robin Williams in "Toys" and with Will Smith in "Ali," Foxx got into the studio to show off his vocal range for his first album, "Peep This."
One decade later, he was featured on the 2003 Kanye West and Twista song, "Slow Jamz," which reached No.1 on the Billboard 100, and then again with West on "Gold Digger." The hit included a Ray Charles-inspired hook of "I Got a Woman," somewhat foreshadowing his future work with the acclaimed pianist.
JAMIE FOXX SAYS DIRECTOR ONCE CALLED HIM 'HORRIBLE,' KICKED HIM 'THE F–K' OUT
His second album, "Unpredictable," was released in December 2005 and received Grammy nods, but it was his third album in 2008, "Intuition," that turned the music world upside down.
"Blame It," featuring T-Pain, earned Foxx his first Grammy. He's been nominated a total of 10 times.
When "Ray" director Taylor Hackford approached Jamie about playing the role of the legendary musician Ray Charles in 2004, Hackford didn't know about Jamie's instrumental background and was blown away by Foxx's talent.
"Taylor didn't know that I play piano, so he said, 'I gotta figure out a way to shoot your face and then shoot somebody else's hands playing.' And I said, 'No, no, I actually play. I've been playing since I was 5.' That opened up a whole different thing," Foxx told the Jazz Times.
"Since I can play, we could stay in the same frame and shoot through the playing of the music and the singing at the same time, which was a huge plus."
Family first
Foxx's world was turned upside down when his younger sister, DeOndra Dixon, died in October 2020. She was 36.
He wrote on social media at the time that his heart "is shattered into a million pieces." Foxx added DeOndra "transitioned" and said "she will always be alive… anyone who knew my sis… knew that she was a bright light."
Foxx continued, "I can't tell you how many times we have had parties at the house where she has got on the dance floor and stolen the show… even gave her boyfriend @chrisbrownofficial a run for his money… well I know she is in heaven now dancing with her wings on…tho my pain is unbelievable I smile when I think of all of the great memories that she left me… my family… and her friends."
Jamie's sister danced in the "Blame It" video and also on the Grammys. He was proud of her accomplishments, especially becoming the ambassador to the Global Down Syndrome Foundation.
Shortly after her death, the foundation created the DeOndra Dixon Fund in her honor. Foxx told Extra two months after DeOndra died that their family was "getting along" as best they could.
"It was so much pain, man. My mother, my father and my sister, they all live with me. It was so much pain," he said.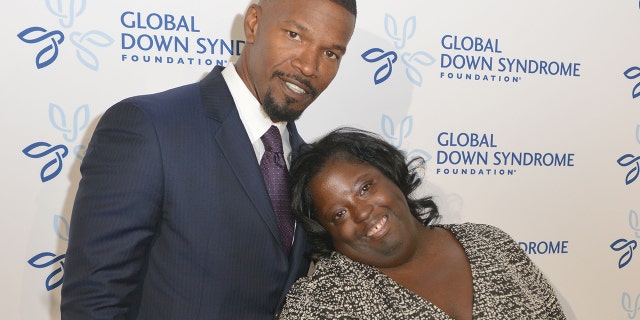 Jamie Foxx's sister, DeOndra Dixon, died in October 2020 at the age of 36. (Thomas Cooper)
 
 

 
 
View this post on Instagram
 

 
 
 

 
 

 
 
 

 
 

The nonprofit sent a message of support to Jamie Thursday.
Dixon began participating in the Special Olympics in the sixth grade. She competed for nearly a decade and moved from her native Texas to California, where she lived with Foxx after graduating from high school in 2002.
"I feel I was born to dance. I want to be a professional dancer," Dixon's foundation bio said. "My brother has given me a chance to do some special things. I danced in his video 'Blame It.' I've danced on stage at some of his concerts all over the country. And guess what? I've danced at the Grammys!"
"Collateral" carry-over
Jamie received an Academy Award for "Ray" the same year that he was nominated for best supporting actor in "Collateral."
He starred as a Los Angeles cab driver turned hostage by a hitman on a killing spree (Tom Cruise) in the neo-noir action flick directed by Michael Mann.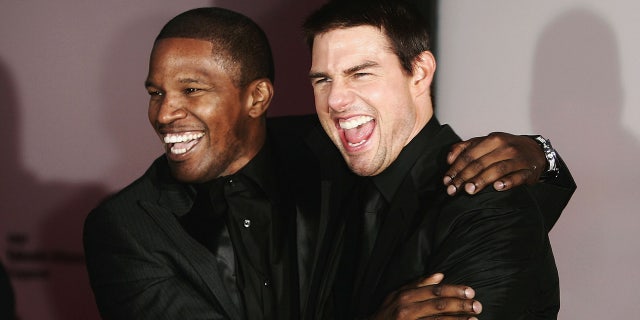 Jamie Foxx earned an Academy Award nomination for best supporting actor in "Collateral" with Tom Cruise in 2004. (Pascal Le Segretain)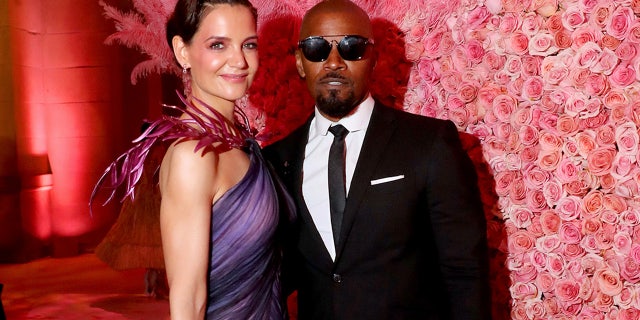 Katie Holmes and Jamie Foxx quietly dated for years before making their red carpet debut in 2019 at the Met Gala but broke up weeks later. (Kevin Tachman/MG19)
The star-studded cast included Jada Pinkett Smith and Mark Ruffalo, and the film grossed more than $220 million at the box office. Months after its release, Cruise went public about his relationship with Katie Holmes.
Holmes and Cruise were married six years and have one daughter, Suri Cruise. They divorced in 2012.
KATIE HOLMES, JAMIE FOXX'S ALLEGED SECRET ROMANCE EXPLAINED
Foxx and the "Dawson's Creek" star reportedly began dating in 2013 but kept their romance out of the spotlight for years.
They made their red carpet debut at the Met Gala in 2019, six years into their relationship.
Weeks later, they were both single again.
Foxx and fame
Jamie helped Cameron Diaz come out of retirement with their latest film, "Back in Action."
CLICK HERE TO SIGN UP FOR THE ENTERTAINMENT NEWSLETTER
The movie, which has been filming in London and Atlanta since September, marks Diaz's return to the silver screen after her last starring role in 2014 alongside Jamie in "Annie."
He tweeted an audio conversation with Cameron and retired quarterback Tom Brady in June.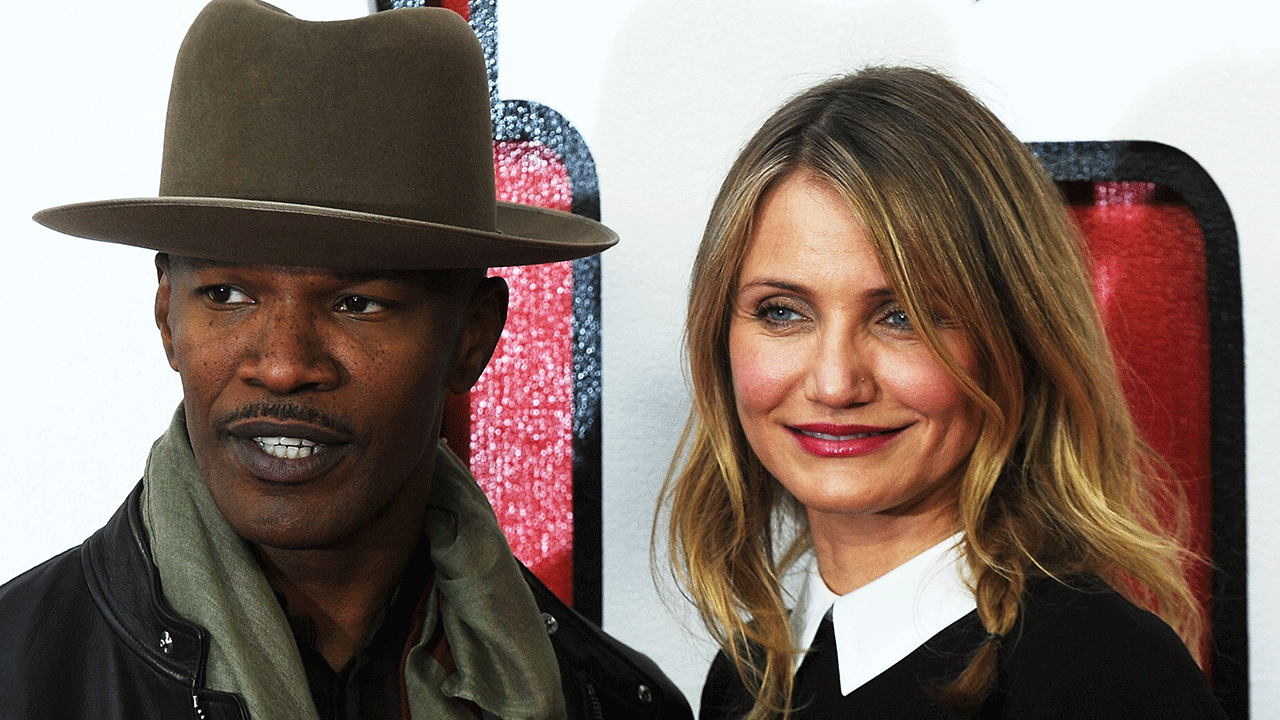 Foxx is working with Cameron Diaz on "Back in Action." (Dave J Hogan)
"Cameron I hope you aren't mad I recorded this, but no turning back now. Had to call in the GOAT to bring back another GOAT," Foxx captioned his Twitter post. "Cameron Diaz and I are BACK IN ACTION – our new movie with Netflix. Production starting later this year!!"
Diaz and Foxx also starred together in the 1999 football flick "Any Given Sunday."
Foxx has a total of 11 projects in the works, according to IMDb.
CLICK HERE TO GET THE FOX NEWS APP
The long-awaited Mike Tyson biopic has been in the works for nearly a decade and was initially revealed as a feature film before taking on a TV movie structure. Tyson will serve as an executive producer with Foxx, in addition to Antoine Fuqua and Martin Scorsese.
Jamie will also work with Robert De Niro and Scott Eastwood in "Tin Soldier," an action-thriller about the government's suspicions over a "cult-like" program for combat veterans.