Iran has debuted the latest model of its infamous, liquid-fueled Khorramshahr ballistic missile.
The Islamic Republic announced the new military technology Tuesday at a press event in Tehran.
"One of the prominent characteristics of this missile is its ability to evade radar detection and penetrate enemy air defense systems, thanks to its low radar signature," Defense Minister Gen. Mohammad Reza Ashtiani told the press.
He added, "This missile has the capability to utilize various warheads for different missions."
Iranian military officials claim the missile, the Khorramshahr-4, can strike within a range of 1,240 miles with a 3,300-pound warhead.
US CHARGES CHINESE NATIONAL WITH GIVING IRAN BALLISTIC MISSILE MATERIALS
"The Khorramshahr is not just another nuclear capable platform in Iran's burgeoning ballistic missile arsenal, it's a threshold weapon that can move Iran out of the 2,000 km range cap," Taleblu told Fox News Digital.
Taleblu said the Khorramshahr-4 may serve as Iran's practical response to displays of military dominance by the U.S. government.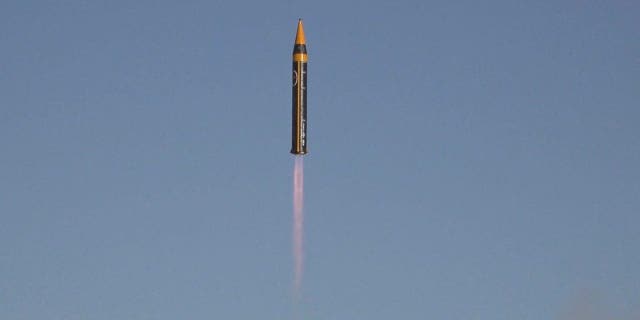 In this picture released by the Iranian Defense Ministry on Thursday, May 25, 2023, Khorramshahr-4 missile is launched at an undisclosed location, Iran. Iran unveiled on Thursday what it dubbed the latest iteration of its liquid-fueled Khorramshahr ballistic missile amid wider tensions with the West over its nuclear program.
"As [President Biden] tries to signal through increased patrols, drills, and overflights that the U.S. retains a credible military deterrent against Iran, launches of weapons like the modified Khorramshahr are how the IRGC are signaling back," he concluded.