The Hubble Space Telescope has captured a neighboring galaxy located around 11 million light-years from Earth.
The highly irregular galaxy, ESO 174-1, resembles a hazy cloud against a dark backdrop illuminated by stars.
It is shown in an image consisting of a bright cloud of stars, dark gas and dust.
Irregular galaxies have strange shapes, like toothpicks or groupings of stars and range from dwarf irregular galaxies with 100 million times the mass of the sun to large ones weighing 10 billion solar masses.
The European Space Agency said the snapshot is a part of a collection of Hubble observations designed to better understand nearby galaxies.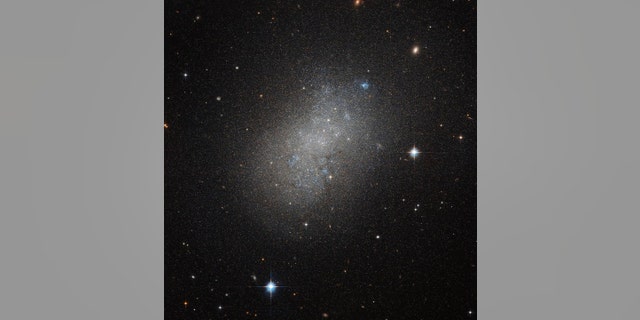 The Hubble Space Telescope captured this image of NGC 5264, an irregular dwarf galaxy.  (ESA/Hubble & NASA)
JAMES WEBB SPACE TELESCOPE DETECTS NEW CARBON COMPOUND IN SPACE FOR THE FIRST TIME
The observations aim to separate the stars and properties of every known galaxy within 10 megaparsecs.
Programs like the one that captured this galaxy fill the gaps between other observations, the agency noted.