It was a wild ride. Dash cam video captured the moment last week when a Kia Soul drove over a runaway tire on a Los Angeles freeway and was launched into the air.
The subcompact SUV jumped the height of the pickup truck that the tire had come off of and flipped upside down.
It landed on its nose first, then slammed its roof into the ground as it rolled back to an upright position and came to rest.
Despite the severity of the accident, the driver suffered no major injuries, according to reports. While that might seem surprising, the Soul was built to take this kind of hit.
CONSUMER REPORTS SAYS THESE ARE THE BEST CAR INSURANCE COMPANIES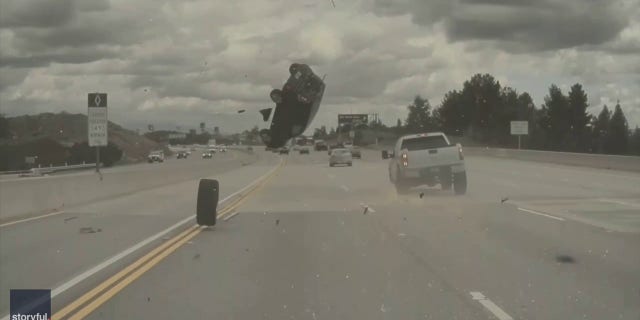 The Soul was launched into the air by a tire that fell off the pickup next to it. (Anoop Khatra via Storyful)
The model earned a Top Safety Pick rating from the Insurance Institute of Highway Safety (IIHS), with the highest score of "Good" in all categories except for the availability of the best headlights across the model lineup, which would have earned it the best Top Safety Pick+ rating.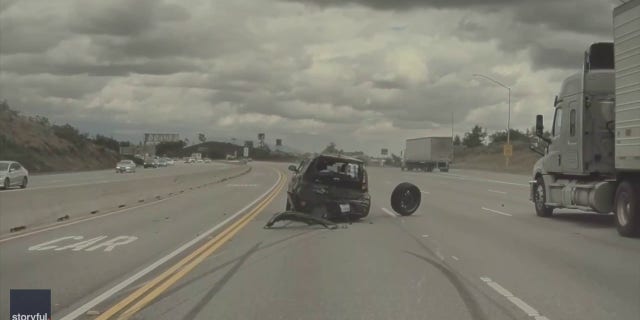 There were no serious injuries reported in the crash. (Anoop Khatra via Storyful)
Among those were a "Good" roof strength rating, the threshold for which is a vehicle being able to withstand four times its own weight before the roof crushes by five inches, according to an IIHS spokesman. It turns out the Soul is an overachiever. The 2,860-pound vehicle was able to handle a peak force of 17,851 pounds, which is 6.24 times its weight.
CLICK HERE TO SIGN UP FOR THE FOX NEWS AUTOS NEWSLETTER
That is a better performance than both small Teslas, which Elon Musk touts as the safest cars in the world. The Model 3 managing 5.85 times is weight and the Model Y 4.42 times. Meanwhile, the new 2023 Honda HR-V subcompact SUV was able to resist 24,325 pounds, or 7.54 times its 3,224-pound weight during the test.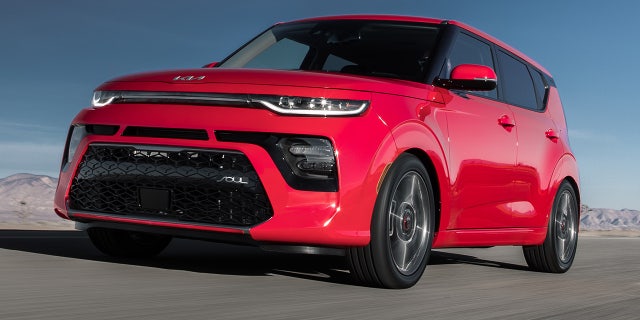 The Kia Soul is a subcompact SUV. (Kia)
It is difficult to calculate exactly how much force the Kia's roof was subjected to during the accident given a variety of factors. For those of who think this accident was so unusual that this is not even something worth thinking about, think again.
A nearly identical incident occurred on a Gary, Indiana, highway in 2021 involving a Toyota Rav4.
CLICK HERE TO GET THE FOX NEWS APP
No serious injuries were reported in that one either, in part thanks to the fact that the Rav4 also has a Good roof strength rating and was able to hold six times its own weight in IIHS testing.