Senate Republicans on Tuesday slammed a letter led by progressive Sen. Elizabeth Warren, D-Mass., calling for the Federal Reserve not to proceed with its expected interest rate hike this week because it runs the risk of pushing the economy into a recession as it fights inflation.
GOP senators claimed it was the Biden administration's inflationary policies that are creating economic turmoil that the Fed now has to cope with, and some argued that rolling back the White House's green energy policies in favor of more fossil fuel production is a more permanent way to strengthen the economy.
"That's a part of the solution, part of the medicine you gotta take when you created the mess that she and other big spenders have done," Sen. Mike Braun, R-Ind., told Fox News Digital Tuesday of the Fed's expected interest rate hike.
"Everything they did over the last two and a half years is coming home to roost, including the worst inflation we've had in over 40 years.
SUPREME COURT TO HEAR ARGUMENTS ON CONSTITUTIONALITY OF 'ELIZABETH WARREN'S BABY' – THE CFPB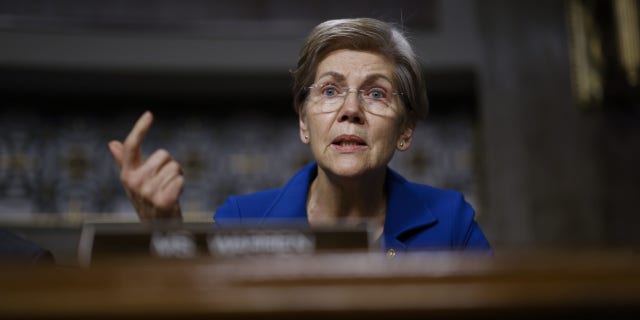 Sen. Elizabeth Warren, D-Mass., speaks during a Senate Banking, Housing, and Urban Affairs Committee hearing on FTX in Washington Dec. 14, 2022. (Ting Shen/Bloomberg via Getty Images)
"I think the Fed will do what it should do, and that's to keep working on bringing inflation down and teach the American public you can't get a free lunch and a sugar high for an economy that the Democrats have given us."
Warren led nine Democrats from the House and Senate in the letter to Fed Chair Jerome Powell Monday, warning that continued interest rate hikes risk "engineering a recession that destroys jobs and crushes small businesses."
If the Fed raises interest rates Wednesday, it would be the 10th consecutive time the Fed has done so during this period of decades-high inflation that has plagued much of President Biden's first term as the country rebounds from the COVID-19 pandemic.
Warren has long been a vocal opponent of Powell's leadership, and she said Monday that his interest rate hikes threaten to reverse inflation's downward trend and have the "potential to throw millions of Americans out of work."
CONSUMER ADVOCATE GROUPS URGE CFPB TO REGULATE BNPL PRODUCTS LIKE CREDIT CARDS, CITE 'CAUSE FOR CONCERN'
Sen. Marsha Blackburn, R-Tenn., told Fox News Digital it was the policies wrought by Warren's own party that brought on the period of economic uncertainty.
"Ironically, the reason Democrats are attempting to interfere with the Federal Reserve, an independent agency, is because their $6 trillion spending spree caused record-high inflation and led us to economic distress," Blackburn said.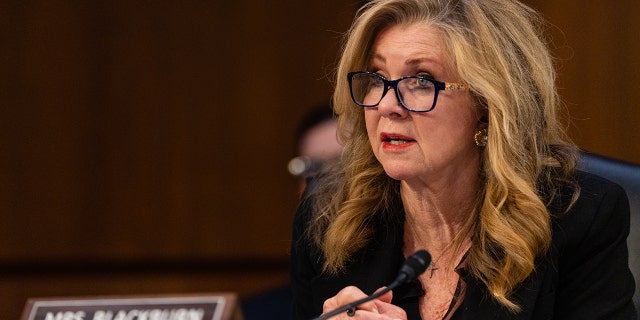 Sen. Marsha Blackburn, R-Tenn., agreed with other Republicans that the Fed is taking steps against inflation caused by heavy spending by Democrats. (Eric Lee/Bloomberg via Getty Images)
Senators Eric Schmitt, R-Mo., and Markwayne Mullin, R-Okla., argued that unleashing the American fossil fuel sector would be a more permanent solution to the economy rather than calling on the Fed to halt its work.
BIDEN RULE WILL REDISTRIBUTE HIGH-RISK LOAN COSTS TO HOMEOWNERS WITH GOOD CREDIT
"Look, inflation is not an act of God. It's not a tornado. It's not a hurricane. There's a formula for it," Schmitt told Fox News Digital. "And turns out when you cut off the domestic energy supply and spin trillions and trillions and trillions of dollars, the prices on everything go up. And so I think Democrats have to acknowledge that their reckless spending is the cause of this inflation."
Mullin said he had not seen Warren's letter to Powell but blamed Democrats' "green policies" for fueling financial uncertainty.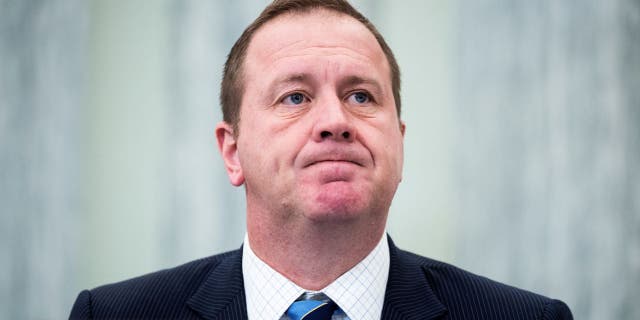 Sen. Eric Schmitt, R-Mo., attends the Senate Commerce, Science and Transportation Committee hearing, "Strengthening Airline Operations and Consumer Protections," in Russell Building Feb. 9, 2023.  (Tom Williams/CQ-Roll Call, Inc via Getty Images)
CLICK HERE TO GET THE FOX NEWS APP
"Obviously, interest rates are going to be hurting everybody. … I don't know, though, if pausing [rate hikes] is a solution. If we get inflation under control, that'd be a bigger solution," Mullin said.
"You do that by energy independence. I mean, as I mentioned multiple times, energy is the backbone of the economy. If you have high energy costs, you're going to have high inflation because you can't make a product or deliver a product without figuring in that cost, because it takes energy to do both. And so her best solution is — how about get off your green policies and go back to energy independence?"
Fox News Digital reached out to Warren's office for a reaction but did not immediately hear back.