Former President Donald Trump has expanded his lead in the Republican primary race, while President Biden continues to face uncertainty among Democratic primary voters, according to the latest Fox News national survey.
Republican primary voters were read a list of 15 announced and potential candidates for the 2024 nomination. The survey, released Wednesday, finds Trump has doubled his lead since February and is up by 30 points over Ron DeSantis (54%-24%). Last month, he was up by 15 points (43%-28%).
No one else hits double digits. Mike Pence comes in third with 6%, Liz Cheney and Nikki Haley receive 3% each, and Greg Abbott comes in at 2%. All others receive 1% support or less, and just 3% are unsure.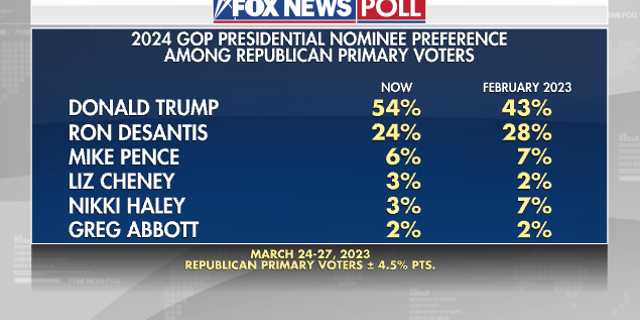 Fox News Poll on Republican primary contenders (Fox News Poll)
Trump made gains among almost every key demographic except for White men with a college degree, where DeSantis is up by 12 points.
FOX NEWS POLL: TOP 5 TAKEAWAYS ON BIDEN'S ECONOMY PROBLEMS
Among the subgroup of voters who backed Trump in the 2020 general election, 60% support him in the GOP primary, while 25% go for DeSantis and 5% for Pence.
When asked who their second choice would be, Trump primary voters would back DeSantis, and the Florida governor's primary voters would return the favor and go for Trump.
"The rumor that Trump is going to be indicted by the district attorney in Manhattan has helped him quite a bit among Republican primary voters," says Republican pollster Daron Shaw, who conducts Fox News surveys with Democrat Chris Anderson. "They view the case as politically motivated, and it reanimates feelings that Trump is still fighting forces they see as corrupt and out of control."
Trump faces a lawsuit in New York about potential violations of federal campaign finance laws.
On the other side of the aisle, 52% of Democratic primary voters would like to see someone other than Biden as their party's presidential nominee, about the same as last month (53%). Some 44% want Biden to be the nominee, up from 37% in February.
That 7-point bump comes from the president solidifying support among women (+8), White voters (+9), voters age 45+ (+10), and White voters with no degree (+11).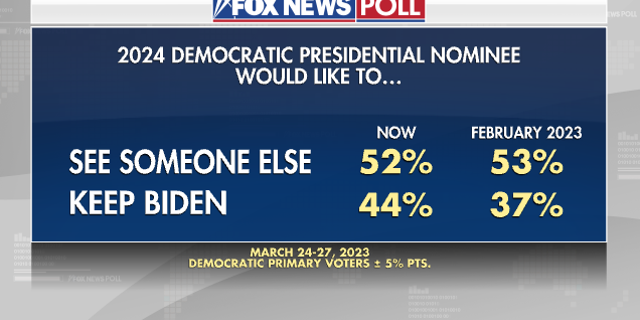 Fox News Poll on Democrat's 2024 primary presidential preference (Fox News Polls)
"We haven't seen much movement at all in attitudes towards Biden this past year, but what we have has been positive," says Anderson. "He's holding the line and slowly bringing more people into the fold."
Still, Biden's current support does not compare to what Trump received in February 2019 when 72% of GOP registered voters wanted to keep him as their nominee, or support for former President Barack Obama in 2012 when 81% of Democratic primary voters wanted him to stay.
Biden's job rating is underwater by 12 points among registered voters (44%-56%) and his approval among Democrats is near a record low (81% approve vs. 78% low). Moreover, 44% of those Democrats who approve of him want someone else to run (50% would keep him).
FOX NEWS POLL: 4 IN 10 THINK BOTH DONALD TRUMP & HUNTER BIDEN BROKE THE LAW
While it's expected that Biden will run again, he has yet to announce his re-election campaign.
Despite chatter about electability, both Democratic and Republican primary voters are more concerned about their candidate's views on the issues (73%) than if their nominee can win the general election (18%).
CLICK HERE TO GET THE FOX NEWS APP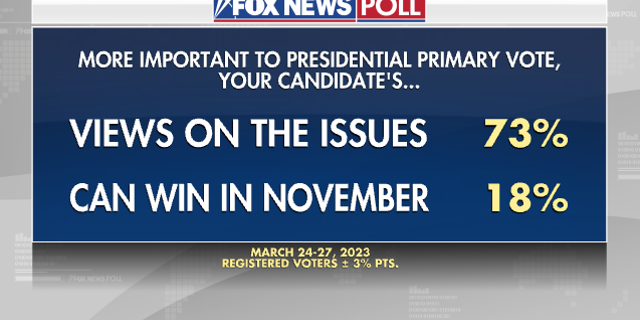 Fox News Poll on America's preference for ideology versus Fox News Poll on America's preference for ideology versus electability (Fox News Poll)
CLICK HERE FOR TOPLINE AND CROSSTABS
Conducted March 24-27, under the joint direction of Beacon Research (D) and Shaw & Company Research (R), this Fox News Poll includes interviews with 1,007 registered voters nationwide who were randomly selected from a voter file and spoke with live interviewers on both landlines and cellphones. The poll has a margin of sampling error of plus or minus 3 percentage points for all registered voters and plus or minus 5 points for Democratic primary voters and 4.5 points for Republican primary voters.