Wildlife authorities in Florida found and confiscated illegal bird traps that were set on an island approximately 150 miles southwest of Miami.
On Thursday, May 4, officers with the Florida Fish and Wildlife Conservation Commission (FWC) discovered an active bird trap on a trail in Rockland Key, an island in the lower Florida Keys, which is part of Monroe County.
The FWC teamed up with a U.S. Fish and Wildlife Service (USFWS) officer, and within eight days, the two wildlife agencies tracked down their suspect through surveillance, according to a press release obtained by Fox News Digital.
FLORIDA K-9 STOPS THEFT OF RARE AND ENDANGERED ORCHIDS AT STATE PARK
"The use, placement and possession of bird traps without a permit is prohibited," he continued.
PUPPY THROWN FROM MOVING TRUCK IN LOS ANGELES COULD FIND NEW HOME SOON
Photos of the bird trap seizure weren't taken, but the FWC's fish and wildlife department posted a photo collage from a past case to Facebook and Twitter on Tuesday, May 16, to let the public know that illegal bird trapping is an issue in Florida.
ENDANGERED SPECIES IN THE US: FAST FACTS ABOUT CREATURES AT RISK OF GOING EXTINCT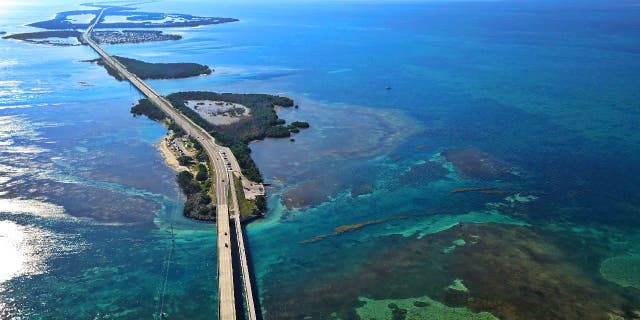 The Florida Keys are made up of approximately 1,700 islands off the southern coast of Florida. The Seven Mile Bridge connects to a few islands, including Key Largo, Tavernier, Islamorada, Layton, Duck Key, Marathon, Big Pine Key and Key West. (iStock)
Captured birds are sold at various establishments, including some pet stores, according to the FWC.
Three bird trap permits exist in Florida. The permit categories are scientific collection, nonnative nuisance control and education and exhibition.
CLICK HERE TO GET THE FOX NEWS APP
Further information can be found on the FWC's "Regulations for Bird Traps" and "Recreational Hunting Licenses & Permits" web pages.