Tennessee state Democrat Reps. Justin Jones and Justin Pearson, the two lawmakers expelled from the state House earlier this month, were present at a protest outside the White House Correspondents' Dinner accusing the Biden administration of committing "ecocide."
Jones was spotted outside the Washington Hilton in the nation's capital on Saturday night as thousands of media members, politicians, and celebrities gathered for the annual dinner where President Biden is set to speak.
Jones was taking part in a protest organized by the environmentalist group Climate Defiance alleging that Biden is committing "ecocide" after he approved a 30-year Alaskan oil drilling project in March known as the Willow Project.
"@brotherjones_ is here now supporting protestors," Politico reporter Mia Camille McCarthy tweeted on Saturday outside of the White House Correspondents Dinner.
'TENNESSEE THREE' DEMOCRAT JUSTIN JONES PICTURED STANDING ON POLICE CAR DURING 2020 BLM PROTEST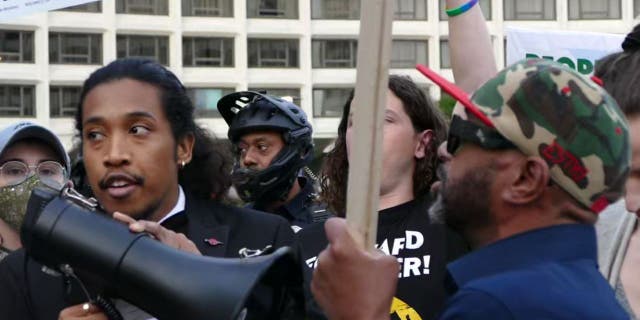 TN State Rep. Justin Jones was spotted at a climate change protest outside the Washington Hilton on Saturday (Climate Defiance)
"Show me what Democracy looks like!" Jones was seen on video chanting along with the crowd through a megaphone. "We are in a state of emergency in this nation. We are fighting fascism. We're fighting a system that is trying to put the profits of the gun industry, the profits of the fossil fuel industry, the profits of for profit healthcare over the lives of our people."
Jones's appearance at the protest comes shortly after Biden and Vice President Kamala Harris welcomed Jones and the rest of the "Tennessee Three" to the White House after they gained national notoriety for calling for gun control by interrupting a house session after a shooting at a private Christian school in Nashville that killed six people, including three children.
Jones and fellow Democrat Justin Pearson, who was also at the protest on Saturday, were expelled by the Republican-controlled legislature before eventually being reinstated.
EXPELLED TENNESSEE DEMOCRAT BLAMES 'WHITE SUPREMACIST SYSTEM' FOR BEING REMOVED FROM HOUSE SEAT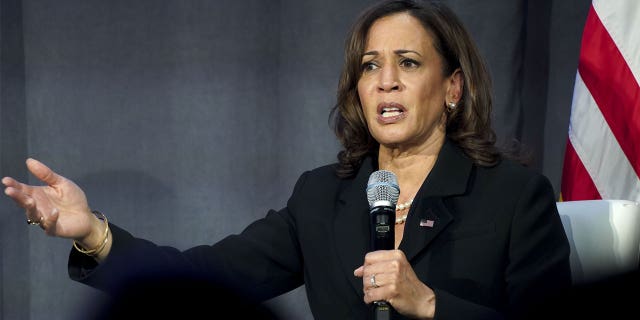 US Vice President Kamala Harris speaks during the Democratic National Committee Women's Leadership Forum (Leigh Vogel/Abaca/Bloomberg via Getty Images)
"You're standing up for our kids, you're standing up for our communities," Biden told Jones, Pearson and Rep. Gloria Johnson, who was not expelled.
Biden described the expulsion votes as "shocking" and "undemocratic."
"Nothing is guaranteed about our democracy — every generation has to fight for it," he said.
REINSTATED TENNESSEE LAWMAKER BLOCKED FROM CARRYING INFANT-SIZED CASKET ONTO HOUSE FLOOR IN LATEST GUN PROTEST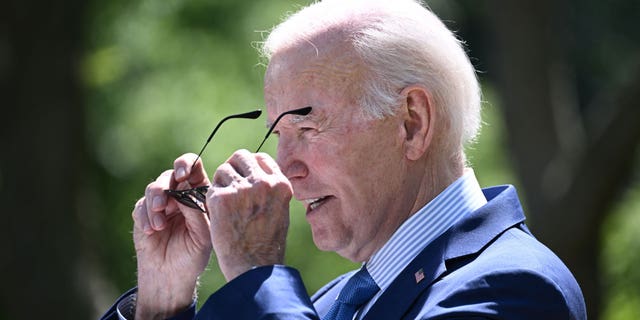 President Joe Biden arrives to deliver remarks on new actions to advance environmental justice, in the Rose Garden of the White House  (Brendan Smialowski/AFP via Getty Images)
Harris made a surprise trip to Nashville earlier this month to meet with Jones and Pearson and was heavily criticized for not meeting with the victims of the shooting.
Harris gave a speech at church offering up her support for the lawmakers, accusing the GOP-majority governing body of trashing Democracy by silencing the lawmakers and the voters they represent.
REINSTATED NASHVILLE LAWMAKER JUSTIN JONES CALLS ON TENNESSEE HOUSE SPEAKER TO RESIGN: 'ENEMY OF DEMOCRACY'
In a very animated portion of Harris' speech, the vice president practically yelled, "It wasn't about the three of these leaders. It was about who they were representing. It's about whose voices they were channeling! Understand that!"
Making hand gestures before a raucous crowd, she asked, "And is that not what a democracy allows?" She continued, "A democracy says you don't silence the people! You do not stifle the people!"
CLICK HERE TO GET THE FOX NEWS APP
Fox News Digital reached out to Jones for comment but did not immediately receive a response.
Fox News Gabriel Hays and Associated Press contributed to this report