Eva Longoria said Tuesday that female directors of color don't get as many chances as White men in Hollywood.
"I felt the weight of my community, I felt the weight of every female director because we don't get a lot of bites at the apple," the "Desperate Housewives" alum said at Cannes of her feature directorial debut "Flamin' Hot" during the Kering Women in Motion talk.
Longoria, who has directed episodes of "Black-ish" and "Jane the Virgin," said she realized the last Latina-directed studio film was 20 years ago.
"We can't get a movie every 20 years," she said. "So the problem is if this movie fails people go, 'Oh, Latino stories don't work.' 'Oh, female directors really don't cut it.'"
The 48-year-old said those pressures "fueled" her. "I was just like determined and excited for the journey and we have a beautiful film," she said.
"Flamin' Hot," which is based on a 2013 memoir, tells the "inspiring story of Richard Montañez, a Frito Lay janitor who helped disrupt the food industry," according to Disney+.
The film stars Jesse Garcia, Tony Shalhoub, Dennis Haysbert, Emilio Rivera and Annie Gonzalez. The movie has been the subject of debate due to questions surrounding the invention of the Flamin' Hot Cheetos flavor — Montañez claimed he created it, while Frito-Lay has disputed the claim. However, Longoria clarified to People magazine that her intent was "never telling the history of the Cheeto."
Longoria added, "So the myth that Hollywood is so progressive is a myth when you look at the data," saying there is an "illusion" of "equity" in the industry. "I mean, yes, we had some wins but like no, we still have so much more to go."
The actress noted that the inequity in hiring is more Hollywood "unconsciously hiring who they always hired" than intentional unfairness.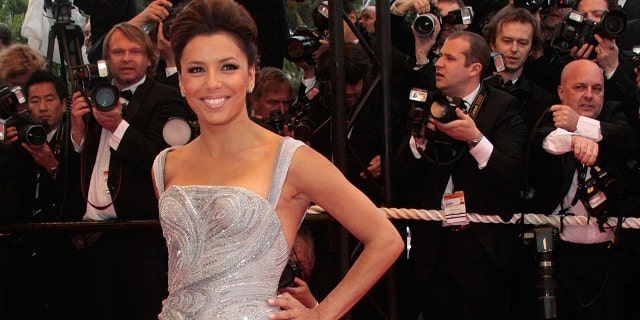 Eva Longoria is making her feature directorial debut with "Flamin' Hot."  (Francois Guillot/AFP )
Longoria said she's disappointed that she "hasn't seen much change" in the representation of Latinos behind the camera since she founded her production company UnbeliEVAble in 2005.
CLICK HERE TO GET THE FOX NEWS APP