I was a Boy Scouts leader (long story), so I know you always need to be prepared.
On your smartphone, the right apps can make a world of difference. Here are the essentials you need in an emergency.
The Apple Watch is a lifesaver, and I don't mean because you can answer texts from your wrist. There's story after story about it identifying heart problems or contacting emergency responders after an accident.
Don't have one? Your iPhone can do a lot on its own. I'll show you that first and then advanced Apple Watch tricks.
HOW APPLE'S LATEST IOS UPDATE CAN HELP YOU DEAL WITH LOUD BACKGROUND NOISE DURING IMPORTANT PHONE CALLS
Get my free daily email trusted by over 400,000 people like you.
1. Steadiness
With your iPhone in your pocket, the Health app uses custom algorithms to assess your balance, strength and gait. You can set up a notification if your level of steadiness drops. That's important because that could mean you're more at risk of falling.
Here's how to set up Steadiness Notifications:
Open the Health app and tap your profile at the top right. If you don't see your picture or initials, tap Summary or Browse at the bottom, then scroll back to the top.
Tap Health Checklist.
Tap Set Up for Walking Steadiness Notifications and follow the onscreen instructions.
Is carrying your phone in your pocket (guys) or your bra (ladies) safe? Here's my answer.
2. Heart rate variability
Heart rate variability, or HRV, measures time intervals between heartbeats when you're at rest. Your Apple Watch checks for irregular rhythms, sends you a notification and records the data in the Health app.
Irregular rhythms could indicate atrial fibrillation (Afib), where the heart's upper chambers beat out of sync with the lower chambers. Seriously dangerous stuff.
Here's how to check up on your HRV data:
Open the Health app on your iPhone.
Tap Browse in the bottom right corner.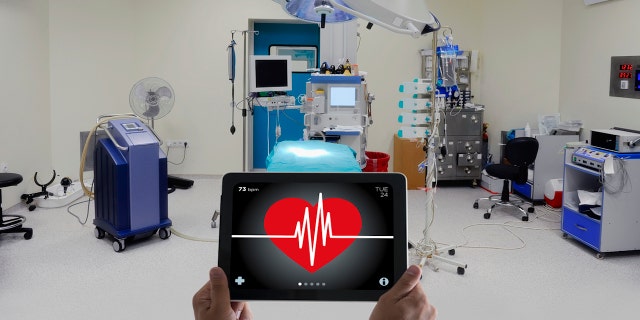 A surgeon uses a digital tablet and Heart Beat Graph Software. (iStock)
Tap Heart > Heart Rate Variability.
At the top, choose to view your data by day, week, month, half-year and year.
Here's how to enable irregular rhythm notifications:
Open the Health app.
Tap Browse in the bottom right corner.
Tap Heart > Irregular Rhythm Notifications.
Once enabled, turn irregular rhythm notifications on or off in the Apple Watch app on your iPhone:
Open the Apple Watch app, tap the My Watch tab, then go to Heart > Irregular Rhythm.
A nursing student said an Apple Watch notification helped detect a rare abnormality. Amazing stuff.
3. High and low heart rates
Your Apple Watch checks for low and high heart rates that could indicate an underlying condition. You can be notified when your heart rate goes above 120 bpm or drops below 40 bpm while inactive for 10 minutes.
You can turn on heart rate notifications when you first open the Heart Rate app on your Apple Watch or at any time from your iPhone:
Open the Apple Watch app on your iPhone.
Tap the My Watch tab, then tap Heart.
BALANCING THE PROS AND CONS OF SOCIAL MEDIA SCREEN TIME
Tap High Heart Rate and choose a BPM.
Tap Low Heart Rate and choose a BPM.
4. Respiratory rate
Your respiratory rate refers to the number of times you breathe in a minute. This goes up as you exercise and down as you sleep. When you wear your Apple Watch to bed, it automatically measures and records your respiratory rate.
When your respiratory rate is significantly higher or lower than usual while you sleep, it could indicate illness or a health condition.
To track your respiratory rate, you'll need to set up the sleep features on your iPhone:
Open the Health app on your iPhone.
Tap Get Started under Set Up Sleep and tap Next.
Follow the onscreen prompts.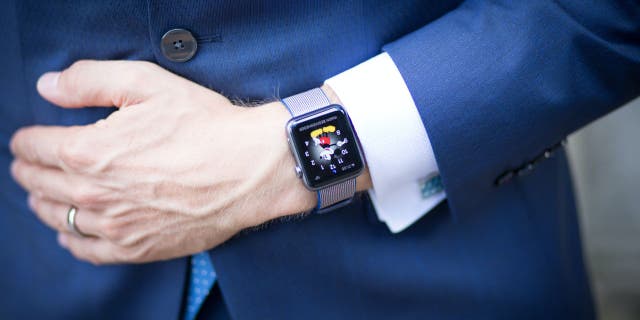 A man wears an Apple watch. (Fox News)
Turn on Track Sleep with Apple Watch. This option is available during setup if you've paired your Apple Watch with your iPhone beforehand. If you pair your Apple Watch after setup, you can turn on Track Sleep with Apple Watch later.
To view your respiratory heart rate:
Open the Health app on your iPhone.
Tap Browse at the bottom right of the screen.
Tap Respiratory > Respiratory Rate.
5. Activity
Activity Rings track your movement, exercise and time on your feet. The rings fill up as you go through the motions. Addicting, right?
You can check your daily progress and activity history on your iPhone at any time:
Open the Fitness app on your iPhone.
Tap Activity in the Summary tab to see details about your activity.
Tap the calendar to see your progress for the month. To see more details, tap a day.
To get information about a workout, such as your route or total distance, scroll down to the Workouts section, then tap the item.
Apple unveiled a new lineup of devices during an event at Apple Park campus in Cupertino, California, on Sept. 7, 2022, with few surprises beyond one major one: It didn't raise its U.S. prices during one of the worst years for inflation in decades. (Nic Coury/Bloomberg via Getty Images)
TECH SMARTS ON THE GO: Long-lost Bible passage, 800+ free TV channels & the secret to cheap flights
Plus, popular apps have ties to Communist China. I reveal the ones you should stop using. I advise a gal who needs to preserve 1,000+ old photos and a guy who needs good Wi-Fi in a treehouse. Also, if your husband struggles to understand your moods, use emojis. Don't miss out on how your Apple watch can predict falls and my corny jokes.
Check out my podcast "Kim Komando Today" on Apple, Google Podcasts, Spotify or your favorite podcast player.
Listen to the podcast here or wherever you get your podcasts. Just search for my last name, "Komando."
CLICK HERE TO GET THE FOX NEWS APP
Sound like a tech pro, even if you're not! Award-winning popular host Kim Komando is your secret weapon. Listen on 425+ radio stations or get the podcast. And join over 400,000 people who get her free five-minute daily email newsletter.
Copyright 2023, WestStar Multimedia Entertainment. All rights reserved.