"Duck Dynasty" alums Willie and Korie Robertson shared their secrets to maintaining a successful, decades-long marriage.
Willie, 51, and Korie, 49, who starred on the hit A&E reality series for five years, from 2012 to 2017, have been married over 30 years and have six children. The pair also run several businesses together, including the hunting and outdoor store Duck Commander and their production company Happy Camper Productions.
In an interview with Fox News Digital, the reality stars, who are devout Christians, opened up about how faith has been key to their long-lasting union.
"I think our faith is a big part of that because you believe in something bigger," Willie said.
"The secret to a successful marriage — I think I would just say it is just don't quit because tough times will come, and we definitely experienced tough times," Korie said. "But in those tough times, we've somehow turned back to one another, turned back to God. And rather than quitting, we just stuck it out and stayed together. And I think every marriage experiences that. And so that would be my advice."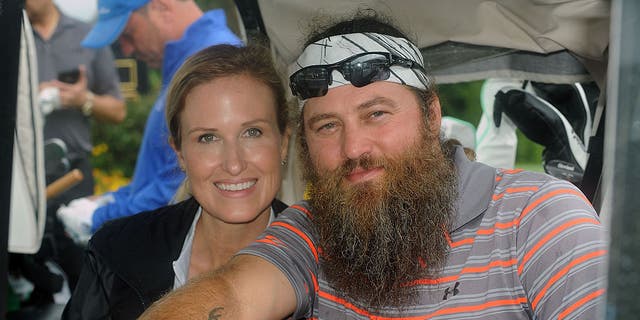 The pair starred on the hit A&E reality show from 2012 to 2017. ( Bobby Bank/WireImage)
Willie and Korie explained that their faith has impacted every aspect of their lives. They recalled how Willie's father Phil Robertson found redemption after turning to God following years of addiction and marital infidelity. The 77-year-old family patriarch and his wife Kay, known by "Duck Dynasty" fans as Miss Kay, 75, converted to Christianity in the mid-1970s.
"Faith is everything to our family," Korie said. "Willie's family, actually, his parents came to faith when he was about 3 years old. And it just changed everything for their family, for their life. I grew up in a family of faith, so it's so important to us.
"There would have been no Duck Commander, which would have meant no 'Duck Dynasty,' and I probably wouldn't have met you," Willie added, turning to Korie.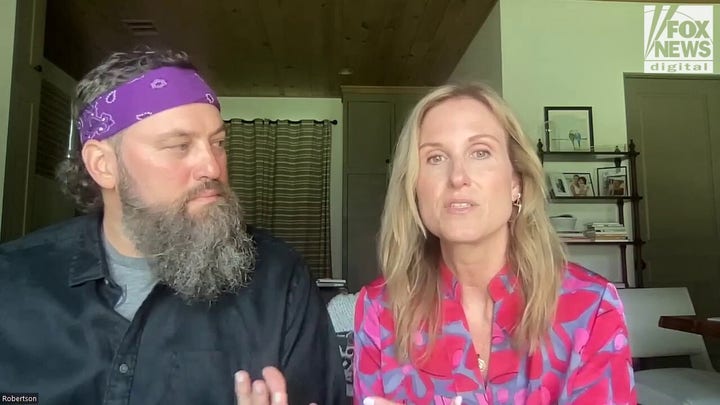 Video
SADIE ROBERTSON SHARES HER 4-MONTH-OLD DAUGHTER IS BATTLING RSV: 'ONE OF THE MOST HEARTBREAKING THINGS'
"My whole life would have been completely different. So there's this big appreciation of faith and someone that shared with them and that impacted their lives. And so you never know how that can happen. And it could be, like I said, it doesn't always happen at church, at a church building. It happens all throughout life.
"You may be surprised putting musical and Willie Robertson in the same sentence, but you never know," he said with a laugh. "I'm always looking. Actually, a friend sent it to me. Just a clip of one of the songs. And he just said, 'Check this out.' And it was a story about Jesus. So I assumed that he thought I was interested.
"Man, I was really moved by it," he added. "I told Korie about it, and I was hoping she felt the same way. And she did."
"He didn't just tell me about it," Korie said. "He literally came to me with, like, tears in his eyes, and I was like, 'Whoa, what is this?' And he was just so moved by just the very first song that he was like, 'We need to be a part of this. I don't know what this is, but we need to be a part of it.' And here we are."
"It was young and fresh and a new look at an old story, something that we care about deeply," Willie agreed. "And so it was like it was like God was telling me like there are other ways to get the message out. And this seemed to be one that could really resonate."
Directed by two-time Tony Award nominee Jeff Calhoun, "His Story The Musical" features original music and lyrics by singer-songwriter Anna Miriam Brown. The 22-year-old was inspired to compose a musical retelling the story of Jesus while volunteering at an orphanage during a mission to Ukraine. Willie and Korie told Fox News Digital Brown's personal story was also part of what drew them to the project.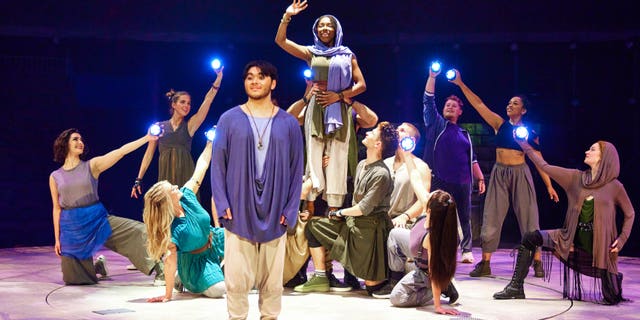 The production is a contemporary retelling of the life of Jesus Christ. (Jonathan Daniel)
"When we heard the story behind 'His Story,' it was even more incredible," Korie recalled. "It was written by a teenage girl who was a missionary in Ukraine. She started writing it when she was 16. She had seen 'Hamilton' and she felt like God told her, 'Hey, write a musical about me.'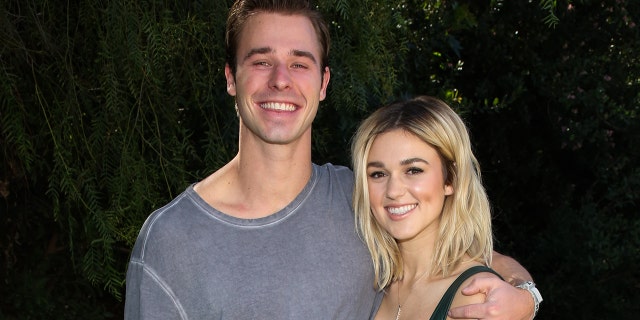 Willie and Korie also told Fox News Digital they are "counting down the minutes" until their daughter Sadie gives birth to their fifth grandchild. (Paul Archuleta/Getty Images)
In addition to their creative projects, Willie and Korie told Fox News Digital they were excited about developments in their personal lives, including preparations to welcome more grandchildren. Their 25-year-old daughter Sadie and her husband Christian Huff are expecting their second child, a baby girl who they plan to name Haven Belle.
"She's doing great," Korie said of Sadie. "We're going to have another grandbaby any day now, and we cannot wait. We're counting down the minutes."
Willie and Korie are also parents to sons John Luke, Will and Rowdy and daughters Rebecca and Bella. Last month, John Luke and his wife Mary Kate revealed that they are expecting their third baby together.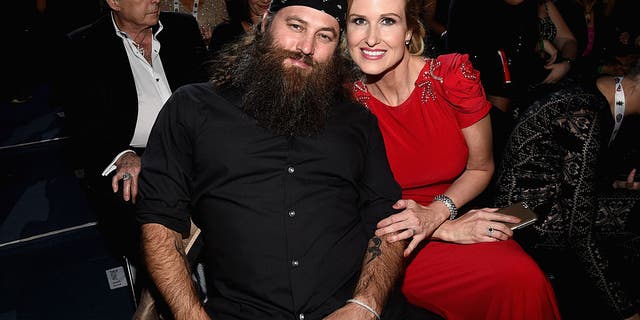 The couple's new musical production premiered Thursday night in Dallas. (Michael Buckner/ACM2015/Getty Images for dcp)
Willie recalled the wildest encounter he had with a fan at the height of his reality stardom. He and Korie laughed as they recounted the story of a fan who spontaneously paid him to take a photo.
CLICK HERE TO SIGN UP FOR THE ENTERTAINMENT NEWSLETTER
"He said, 'Can I get a picture?'" Willie remembered. "I told him I was in a really big hurry and I had to leave, and he's pressing me and I said, 'I've really got to go.' And he pulled his wallet out, and he just reached in. He didn't even count it. He just pulled out a wad of cash and stuck it in my hand and said, 'Do you still have to go?'
"Maybe $160 or $180, I can't remember," Willie said. "I did give it away to someone else because if someone paid me for a picture, I'm going to pass this on to you."
"But I did think that was a funny one because he knew that I wasn't in as much of a hurry as what I was telling him because he did stop me with that. That was clever."