Consumers and small business owners are being targeted by a persistent scam that involves fraudulent invoices and customer service numbers posing as reputable companies such as PayPal and Geek Squad. The Better Business Bureau is urging caution and vigilance in response to this ongoing threat.
How do the Geek Squad and PayPal scams work? 
The way this scam works is when a victim receives an invoice from someone claiming to be Geek Squad; the invoice lets the victim know that they will be charged hundreds of dollars for an annual subscription that is about to auto-renew.
 Typically, the email will also include a PDF of this "invoice" along with a phone number to call to cancel the so-called subscription.
When the victim calls the number, a "customer service agent," who is a scam artist, is on the other end of the line pretending to assist with the cancelation.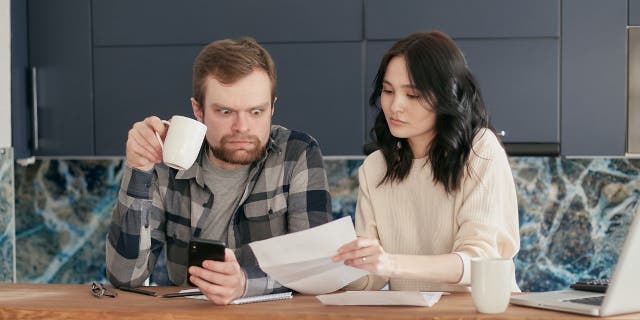 Man and woman react to paper (Cybgerguy.com)
CLICK TO GET KURT'S FREE CYBERGUY NEWSLETTER WITH QUICK TIPS, TECH REVIEWS, SECURITY ALERTS AND EASY HOW-TO'S TO MAKE YOU SMARTER
To cancel the subscription or give the victim a refund, the fake customer service agent will ask the person to confirm banking information.
Once they have access to the bank account, the scammer can withdraw money and disappear before the victim even has a chance to stop them.
Even if the victim doesn't call the number, if they click any links within that email or open the attached PDF, the scammer can use malware to get into their devices and steal whatever information they want.
Similar to this Geek Squad scam, there is also a PayPal scam going around in which a similar email will be sent about canceling a subscription, and the scammer will request money through PayPal.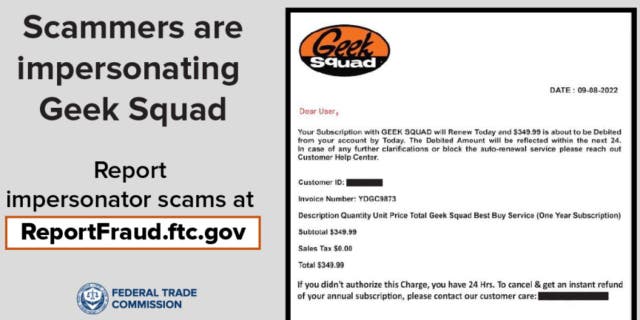 Geek Squad subscription (Cybgerguy.com)
TOP IDENTITY THEFT SCAMS TO AVOID 
How can I avoid this scam from happening to me? 
Keep track of all your subscriptions: If you receive a notice about a subscription and don't remember ever having one to a particular service, there's a good chance it's a scam. Look up the company's legit customer service number and call them to see if you have an account with them. Or you can log onto their official website to check your subscription status.
Know how invoices are delivered: It's important to pay close attention to how you will be charged when you subscribe to a service. Make sure that you understand the frequency of billing and the amount that you will be charged each time. That way, when a bill comes in, you will know if it is legit or not. 
Watch for scare tactics: Scammers will typically use threatening language to scare you into giving them money without thinking. This is a strategy, and if you notice any urgent or rude language being used, don't fall for it.
'PIG BUTCHERING' SCAMS: WHAT TO KNOW ABOUT THE ONLINE SCHEMES AND HOW TO AVOID THEM
Pay electronically: Almost all subscriptions are charged electronically now, and you typically can connect a subscription directly to your bank account so that the money can be taken right out.
FOR MORE OF MY TIPS, SUBSCRIBE TO MY FREE CYBERGUY REPORT NEWSLETTER BY HEADING TO CYBERGUY.COM/NEWSLETTER
I've been scammed! What to do next?  
Below are some next steps if you find you or your loved one is a victim of identity theft.
If you can regain control of your accounts, change your passwords and inform the account provider
Look through bank statements and checking account transactions to see where outlier activity started.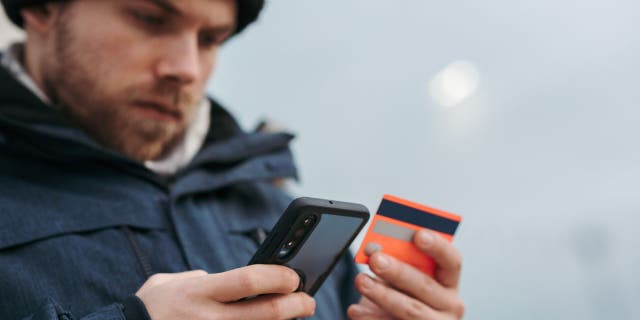 Man checks his credit card and phone (Cybgerguy.com)
HOW THIS NEW BANKING TROJAN CAN STEAL YOUR FINANCIAL INFORMATION
Use a Fraud protection service: Identity Theft companies can monitor personal information like your Home title, Social Security Number (SSN), phone number, and email address and alert you if it is being sold on the dark web or being used to open an account.  They can also assist you in freezing your bank and credit card accounts to prevent further unauthorized use by criminals. One of the best parts of using some services is that they might include identity theft insurance of up to 1 million dollars to cover losses and legal fees and a white glove fraud resolution team where a US-based case manager helps you recover any losses.
See my tips and best picks on how to protect yourself from identity theft by visiting CyberGuy.com/IdentityTheft
Alert all three major credit bureaus and possibly place a fraud alert on your credit report
Run your own background check or request a copy of one if that is how you discovered your information has been used by a criminal
If you are a victim of identity theft, the most important thing to do is to take immediate action to mitigate the damage and prevent further harm.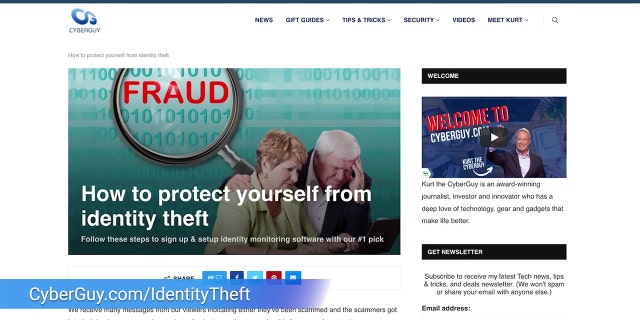 How to protect yourself from identity theft (Cybgerguy.com)
CLICK HERE TO GET THE FOX NEWS APP
Have you or anyone you know been taken by either the Geek Squad or PayPal scam? Let us know by writing us at CyberGuy.com/Contact
For more of my tips, subscribe to my free CyberGuy Report Newsletter by heading to CyberGuy.com/Newsletter
Copyright 2023 CyberGuy.com.  All rights reserved.