The debate over transgender participation in sports has taken on a more urgent meaning following the Biden administration's April proposal to expand Title IX regulations.
The new rules would expand the meaning of sex discrimination to include gender identity, which would prevent schools and colleges from banning transgender athletes.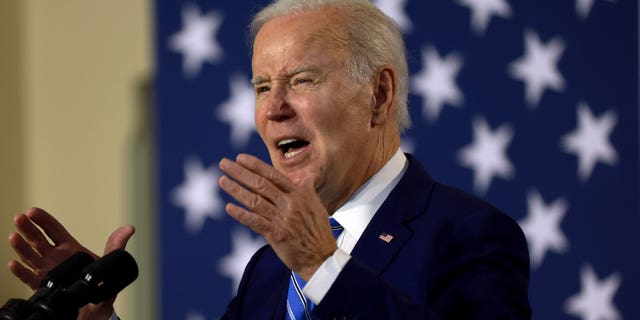 President Biden speaks at the University of Tampa Feb. 9, 2023. (Joe Raedle/Getty Images)
Under the proposed regulations, schools would not be allowed to "adopt or apply a one-size-fits-all policy that categorically bans transgender students from participating on teams consistent with their gender identity."
The proposal has garnered immense backlash from conservatives who see the changes as a step toward the destruction of women's sports.
RILEY GAINES SOUNDS OFF ON BRITTNEY GRINER, MEGAN RAPINOE ADVOCATING FOR 'MALE INCLUSION IN WOMEN'S SPORTS'
Rep. Burgess Owens, R-Utah, recently spoke with Fox News Digital regarding the proposed changes to Title IX, and the former professional athlete strongly spoke out in defense of women's sports.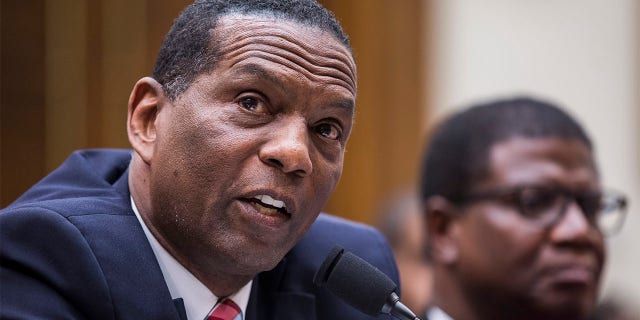 Former NFL player Burgess Owens testifies during a hearing on slavery reparations held by the House Judiciary Subcommittee on the Constitution, Civil Rights and Civil Liberties June 19, 2019, in Washington, D.C. (Zach Gibson/Getty Images)
"What we're talking right now is something that, in the history of the world, we've all understood would not be fair," Owens told Fox News Digital. "That's what it comes down to. It's fairness.
"It's not feelings, it's fairness. At the end of the day, women have the right to feel like they're going to get on the field of competition and fairly compete. Not against boys, not against men. We all know the science is there, that there is a vast difference. It's the way God created us."
Over the past several years, the transgender debate has become one of the fiercest of the culture wars.
The debate has entered the field of athletics, with transgender athletes such as Lia Thomas participating in women's sports.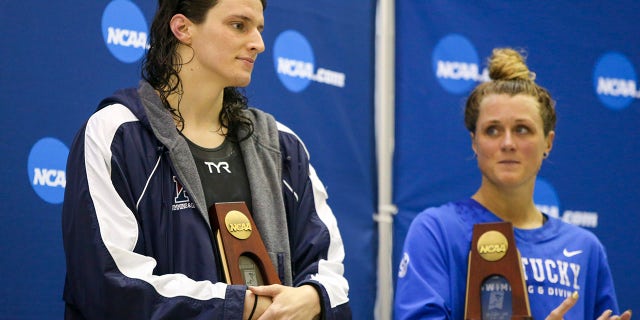 Riley Gaines, right, now a spokeswoman for the Independent Women's Forum, tied Lia Thomas for fifth place in the 200 freestyle finals at the NCAA swimming and diving championships last year.  (Brett Davis/USA Today Sports)
CLICK HERE FOR MORE SPORTS COVERAGE ON FOXNEWS.COM
Thomas, who competed on the men's swim team at the University of Pennsylvania for three seasons before transitioning, became the first transgender athlete to win a Division I national championship in any sport, winning the 500-yard freestyle in March 2022.
And while many states have responded by enacting bans on transgender participation in sports, the proposed changes to Title IX would supersede those laws.
"The federal civil rights law is the law of the land, and we would be eager to ensure its full satisfaction in every school community around the country," a senior official for the Department of Education said in April, according to ABC News.
Since its inception in 1972, Title IX has allowed women's sports to be on an equal playing field with men's sports.
RILEY GAINES CALLS BRITTNEY GRINER'S REMARKS ON TRANSGENDER ATHLETE PARTICIPATION 'HEARTBREAKING'
Due in part to Title IX, women's athletics have seen an uptick in popularity. The women's college basketball Final Four in April was a massive hit. arguably garnering more attention than the men's tournament, with a record 9.9 million viewers tuning in for the game between Iowa and LSU.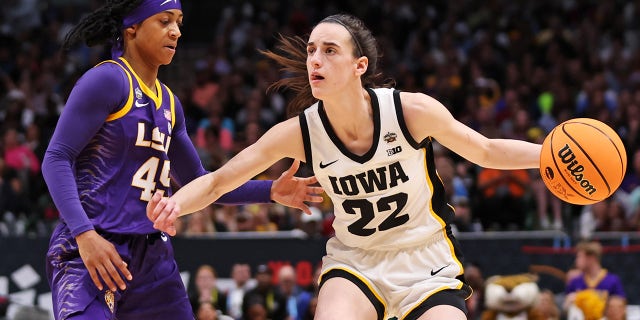 Alexis Morris (45) of the LSU Lady Tigers defends against Caitlin Clark (22) of the Iowa Hawkeyes during the fourth quarter of the 2023 NCAA Women's Tournament championship game at American Airlines Center April 2, 2023, in Dallas, Texas. (Maddie Meyer/Getty Images)
If biological men are allowed to compete in women's sports, Owens believes the progress in women's sports will be undone.
"There is no question, and no one will ever doubt or debate, you bring boys in girls basketball [and] girls will basically be eliminated," Owens told Fox News Digital. "You bring boys into volleyball … there's a reason why the net for women is seven inches shorter than for boys, for men. There's a reason for that because we understand what's fair and what the limits might be."
When asked what the next steps are in the process, Owens said he believes the changes to Title IX will be stopped in court.
RILEY GAINES RIPS BIDEN ADMIN AS LIA THOMAS EXPRESSES SUPPORT FOR TITLE IX CHANGES
"We're going to start looking into legislation, now that we understand how far this can go, that's going to put Congress back into control," Owens said. "There should never be a time when an administration comes through with these different rules, and executive orders, to drive and turn our country in a totally different way. We're a republic democracy. That means we the people control our destiny … tot bureaucrats who can write rules and change everything.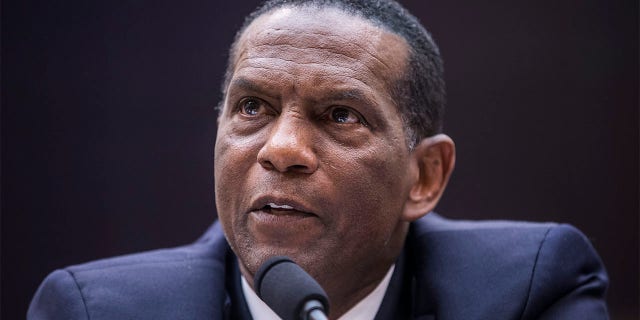 Former NFL player Burgess Owens testifies during a hearing on slavery reparations held by the House Judiciary Subcommittee on the Constitution, Civil Rights and Civil Liberties June 19, 2019, in Washington, D.C. (Zach Gibson/Getty Images)
"The rule that they're looking at – first of all, it will go to court; I'm pretty sure it will be stopped – but more importantly, we're going to start looking at legislation as a body to make sure they can't contend to try and legislate as bureaucrats."
Conservatives have taken their own steps to prevent biological men from competing against women, with the House passing the "Protection of Women and Girls in Sports Act" last week.
Under the bill, educational institutions that receive Title IX funding would not be allowed to permit biological male athletes to "participate in an athletic program or activity that is designed for women or girls." It holds that the sex of athletes is defined only by their "reproductive biology and genetics at birth."
President Biden has said he would veto the bill if it were to arrive at his desk.
"It's basically good common sense. It's based on biology. It's not based on feelings," Owens told Fox News Digital when asked about the bill.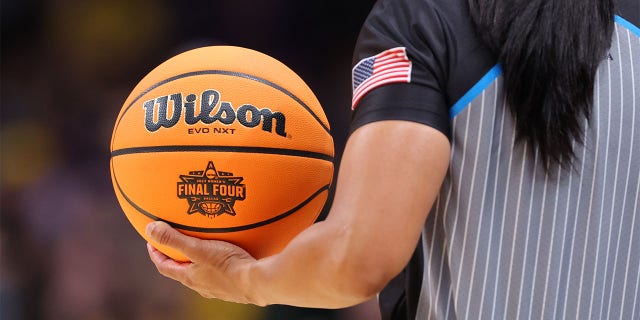 A referee holds a game ball during a game between the LSU Lady Tigers and the Iowa Hawkeyes during the 2023 NCAA Tournament national championship at American Airlines Center April 2, 2023, in Dallas, Texas.  (C. Morgan Engel/NCAA Photos via Getty Images)
"I don't care what you call yourself. If you're a guy, compete with other guys and girls compete with other girls. It also makes sure that guys cannot go into girls' bathrooms. The basic things that we've always understood and taken for granted. What this Title IX [proposed changes] does is say 'Based on my feelings, I can do anything I want to, just say I'm trans, and I'm OK.'
CLICK HERE TO GET THE FOX NEWS APP
"It shouldn't work that way. Be trans, it's ok. No problem with that, but respect women. If you're a guy, do the things that guys are asked to do. Go to guys' bathrooms, compete against other guys and work as hard as you can. If you beat them, awesome. If you don't, that's the way it works. That's the way competition [and] meritocracy has always worked."
The Biden administration's proposed changes to Title IX would allow some leeway for schools to "limit transgender students' participation."
"The proposed rule would provide schools with a framework for developing eligibility criteria that protects students from being denied equal athletic opportunity, while giving schools the flexibility to develop their own participation policies," the U.S. Department of Education wrote when announcing the proposal.
Fox News Peter Kasperowicz contributed to this report