Boston Mayor Michelle Wu on Thursday signed a new city ordinance aimed at discouraging the use of fossil fuels in the construction of new buildings and major renovation projects.
The ordinance requires that new buildings that rely on fossil fuels install solar panels and additional wiring in anticipation of a future conversion to electrification with the goal of most new buildings going all-electric.
Wu signed the measure at an event at the Museum of Science. The Boston City Council approved the ordinance last week on an 8-4 vote.
The action makes Boston the largest city in Massachusetts to implement the code, which was finalized by the state last year. Brookline and Watertown were the first two communities to adopt the code earlier this year.
FBI ARRESTS MASSACHUSETTS AIR NATIONAL GUARDSMAN JACK TEIXEIRA IN PROBE OF CLASSIFIED DOCUMENT LEAKS
Several other communities have embraced similar efforts.
In Boston, 70 percent of greenhouse gas emissions come from the building sector, according to Wu. The mayor has said the emissions from buildings contribute both to global climate change and to local air pollution that disproportionately harms low-income residents and communities of color in the city.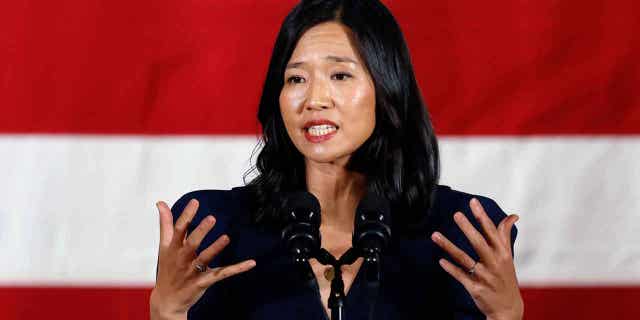 Boston Mayor Michelle Wu speaks during a Democratic election night party, on Nov. 8, 2022, in Boston. On April 13, 2023, Wu signed a new Boston ordinance discouraging the use of fossil fuels in the construction of new buildings. (AP Photo/Michael Dwyer, File)
"Building a Green New Deal city means improving on our existing infrastructure as well as investing in future resilient development," Wu said in a statement when she unveiled the proposal last month. "This new green building code will help ensure that we set the foundation for healthy, resilient growth throughout our neighborhoods."
MASSACHUSETTS HOUSE PASSES 9-FIGURE TAX CUT PACKAGE
The updated energy code will deliver improved air quality, lower energy costs and reduced carbon emissions, Wu said.
Wu also announced last month that the city will use $10 million in federal American Rescue Plan Act funds to improve energy performance at the city's affordable housing developments.
The announcement comes after Massachusetts lawmakers adopted a new law last year meant to encourage communities to embrace fossil fuel-free codes for new construction.
CLICK HERE TO GET THE FOX NEWS APP
While Wu's proposal stops short of that, she has expressed interest in taking even more aggressive steps. Wu has said she wants Boston to participate in a new pilot program included in the 2022 law.
Under that program, 10 cities and towns will be allowed to fully prohibit fossil fuels from new construction and major renovations as long as each community first meets the 10% affordable housing target set by state law and also exempts life sciences labs and health care facilities from the all-electric requirements.
Environmentalists have called on the state to go even further by allowing any city or town to ban oil, gas and other fossil fuels in the construction of buildlings.