Syrian President Bashar Assad appeared at an Arab League summit in Saudi Arabia for the first time in more than a decade Friday after his country was expelled in 2011 for its brutal crackdown on peaceful pro-democracy protests during the Arab Spring.
Assad was welcomed back into the fold as part of a reintegration effort on behalf of several regional states, led largely in part by Saudi Arabia and the United Arab Emirates (UAE).
The Biden administration and top White House officials have condemned the move, vowing to continue its policy of keeping Syria an international pariah and continuing to hold Assad accountable for his role in the deaths of hundreds of thousands of Syrians in the country's more than a decade-long civil war.
One Syria expert told Fox News Digital the Biden administration has been sending mixed messages on its Syria policy in the last several years. The Washington Post quoted a senior Biden administration official in October 2021 who said it did not support Jordan initiating normalization after King Abdullah II spoke with Assad via phone. However, the official said the Biden administration will no longer actively work to stop countries from engaging with Assad, except when the law specifically requires it.
"If we ever were to choose to try to push Syria-related diplomacy, they've killed our leverage because ultimately Bashar al-Assad knows now that he has managed to coerce regional states into effectively capitulating to him. And so, if we as the United States were to ever step up and say, 'Right, time to finally deal with the Syrian crisis, let us launch a major diplomatic process' – the region has already stepped five steps down that ladder and given the regime a great deal more influence and leverage over that process than they had before."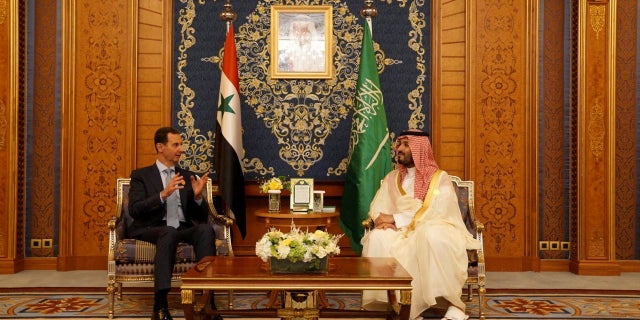 Crown Prince Mohammed bin Salman meets with Syria's President Bashar Assad, in Jeddah, Saudi Arabia, May 19, 2023. (Syrian Presidency/Handout via Reuters)
Khalid al-Shallah, a Syrian living in northwest Idlib province, told Fox News Digital, "We refuse normalization with the regime of Assad, and we cannot reconcile [and] have him as our president." He added, "A criminal terrorist regime has displaced millions of Syrian families to different countries around the world and arrested hundreds of thousands in its prisons, and we do not know their fate."
Al-Shallah and his family fled their home in Maarat al-Numan in 2019 due to constant shelling. He and his family were displaced for several years before moving into an apartment near the Turkey-Syria border.
He shared that despite the hunger and displacement his family experiences, they would rather continue to suffer than reconcile with the regime. "Bashar al-Assad is a war criminal, the killer of children, the biggest terrorist, the head of drug gangs. We are his people and we know him," he said.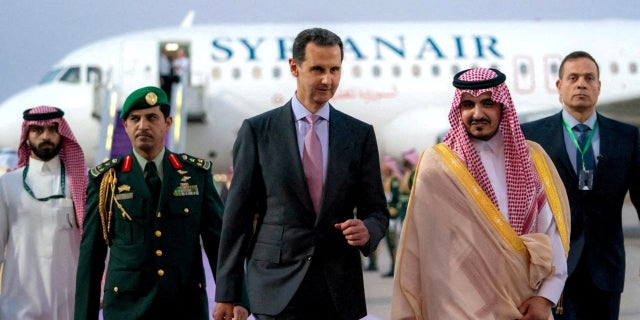 Syria's President Bashar Assad arrives in Jeddah, to attend the Arab League summit in Saudi Arabia, May 18, 2023. (Sana/Handout via Reuters)
He added that Syria has a long track record of creating problems and then being able to control the scale of those problems as a "threat or a tool of coercion" against regional states.
Perhaps the biggest "tool of coercion" the regime possesses is its export of the drug Captagon. The senior fellow said one pill costs a cent to produce and can sell for $15 in the Gulf, proving to be an extremely lucrative business for the regime. In the last several weeks alone, Lister said, nearly $1 billion worth of Syrian-made Captagon has been seized in neighboring countries.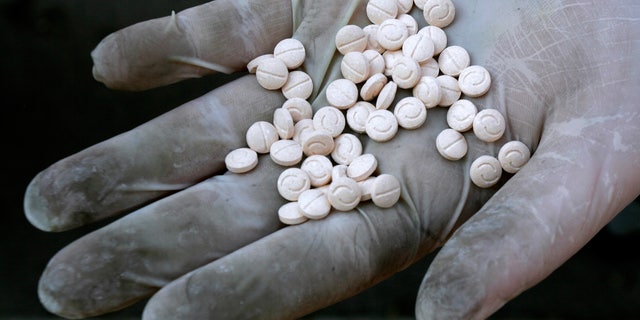 A customs officer displays Captagon pills, part $48 million worth of drugs confiscated in Sofia, Bulgaria, in 2007. (Reuters/Nikolay Doychinov)
"[Syria] has this history of sort of turning the tap up when it wants to turn the pressure up and then turning the tap down when it wants to curry some favor. And I think that's probably – we are probably going to see some of that. I think they realize, the Syrian regime, that their biggest method of kind of a coercive influence over particularly Saudi Arabia, lies with the drugs trade," Lister said. "And so I expect that… they may help, you know, leak information or intelligence to the Saudi government or to Jordan, on the southern border, about the identity, the location of certain shipments or certain individuals involved in the drugs trade to try to curry favor and show that it's willing to turn that tap back down again and to give the likes of Saudi Arabia the perception that the Syrian regime is willing to play ball."
CLICK HERE TO GET THE FOX NEWS APP
The bill was unanimously passed by the House Foreign Affairs Subcommittee on the Middle East, North Africa, and Central Asia last week.