President Biden and a taxpayer-funded Public Broadcasting System (PBS) reporter were both harshly criticized Thursday for what some called a "scripted" exchange in opposition to bans on trans medical procedures for children.
The incident occurred during a joint press conference with United Kingdom Prime Minister Rishi Sunak, when PBS NewsHour White House correspondent Laura Barrón-López stated, "All over the country… Republican led states are passing laws – passing anti-LGBT, anti-transgender laws that restrict rights and medical care. Intimidate is on the rise. This week, anti-LGBTQ protesters turned violent in California."
Barrón-López went on to say she "spoke to the parents of a transgender girl in Texas who told me that they're afraid and that they are considering leaving not just their state, but the country. Sir, why do you think this is happening? And what do you say to parents like the ones that I spoke to-to those families who are contemplating leaving the country because they don't feel safe anymore?"
Biden replied by first asking to connect with the family then saying he was proud to end a ban on transgender individuals serving in the military and sign the Respect for Marriage Act. "But our fight is far, far from over because we have some hysterical and, I would argue, prejudiced people who are engaged in all that you see going on around the country. It's an appeal to fear, and it's an appeal that is totally, thoroughly unjustified, and ugly," he continued.
The lengthy exchange quickly drew outrage from the right online.
Fox News Radio host Guy Benson quipped there is "much to say about his answer, but her 'question' is quite a thing to behold."
New Hampshire state Senate staffer Grant Bosse added that the reporter was "Begging the question, if you will." Adding, the late slapstick comedian Chris Farley had "sharper inquiries" than Barrón-López.
"Does he have the reporters' questions again, too?" they asked.
Biden has been criticized in the past for appearing to have printed lists of White House reporters he must call on, at times with the reporter's photo next to their name. Biden has even been caught with "cue cards" telling him specific choreographic directions like "YOU enter Roosevelt Room."
BIDEN CAUGHT WITH CRIB NOTES DETAILING REPORTER'S QUESTION PRIOR TO CALLING ON HER DURING PRESS CONFERENCE
Rep. Rich McCormick, R-Ga., separately added, "Contrary to President Biden, the nation's children do not belong to him, and it's good to oppose unnecessary and irreversible medical procedures for kids. If Joe Biden wants to see an extremist, there are mirrors all over the White House."
Republican communications expert Matt Whitlock called Biden's comments a "[h]uge political miscalculation," because "the overwhelming majority of Americans support banning transgender surgeries for kids. Including a lot of Democrats."
"This is such a bizarre hill for them to fight on," he said.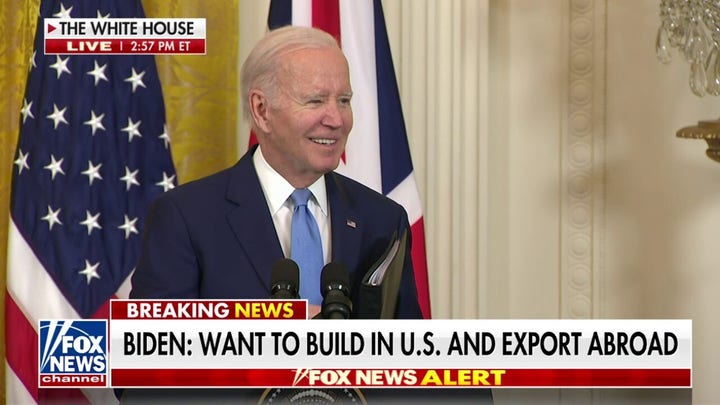 Video
In another response to the press conference, libertarian filmmaker Anna Zetchus Smith, said of the exchange, "Tier reached: North Korean puppetry."
Of the fact Biden made his remarks while standing with Sunak, reporter Zaid Jilani noted Biden made his resounding endorsement of such surgeries while standing next to a world leader whose country "started limiting transgender operations for kids."
"Why doesn't she ask the British PM about why his country has much stricter laws on trans stuff for minors than the U.S.?" RealClearInvestigations writer Mark Hemingway asked.