President Biden delved into a bit of self-deprecating humor Friday as he joked while standing up to give a speech that he is a "very dull president," only known for the sunglasses he wears and chocolate chip ice cream.
"I'm sure you all loved sitting in the sun here, but it could be worse. It could be raining. It's a beautiful day. And as that old phrase used to go, it's a beautiful day in the neighborhood. And it is beautiful. Excuse me, I'm putting on my sunglasses so I can see," Biden told the crowd gathered in the White House Rose Garden to see him sign an executive order on environmental justice.
"As I've told my distinguished friend from Massachusetts – a good friend, Senator Markey – it's really very, very dull when after all these years in public life, you're known for two things: Ray-Ban sunglasses and chocolate chip ice cream. Very dull president," Biden said as the crowd laughed.
BIDEN TO OFFICIALLY ANNOUNCE RE-ELECTION BID NEXT WEEK: REPORTS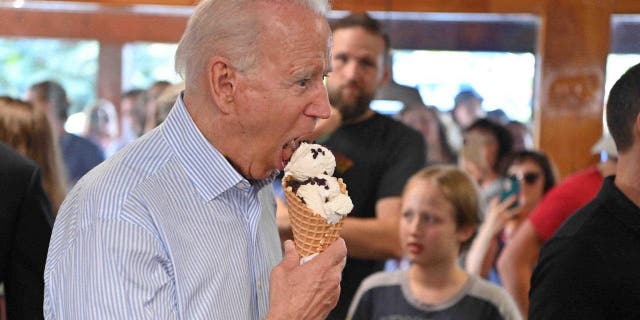 President Joe Biden eats ice cream at Moomers Homemade Ice Cream in Traverse City, Michigan on July 3, 2021. (Mandel Ngan/AFP via Getty Images)
This isn't the first time Biden has joked about his ice cream eating habits. Last month, he was roasted by critics for joking about ice cream in his first public appearance following the deadly shooting in Nashville at a Christian school that resulted in the deaths of six people, including three children.
"I eat Jeni's ice cream — chocolate chip. I came down because I heard there was chocolate chip ice cream," Biden said during the appearance in the White House's East Room.
"By the way, I have a whole refrigerator full upstairs," he added. "You think I'm kidding? I'm not."
WATCH: JEAN-PIERRE CUTS OFF REPORTER, GETS VISIBLY ANGRY OVER QUESTION ON BIDEN'S BUDGET RESPONSIBILITIES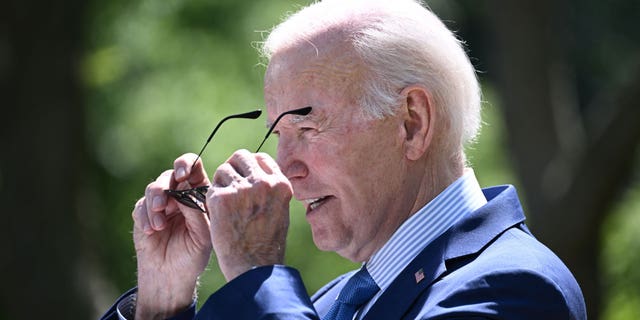 President Joe Biden arrives to deliver remarks on new actions to advance environmental justice, in the Rose Garden of the White House in Washington, DC, on April 21, 2023. (Brendan Smialowski/AFP via Getty Images)
Biden has also been known to often wear his signature Ray-Ban aviator sunglasses, something he has often been fawned over by liberal media figures.
Last year, The New York Times celebrated the return of Biden's "Aviator Joe" sunglasses, describing them as if they'd been on a hiatus amid numerous challenges to his presidency, such as the war in Ukraine.
"Aviator Joe is back — just in time to take his quasi-victory lap," fashion writer Vanessa Friedman wrote. "As President Joseph R. Biden Jr. arrives back in Washington, D.C., to enter the White House to sign the Inflation Reduction Act of 2022, it is his Ray-Ban 3025s — the dark, wire-rimmed, teardrop-shaped sunglasses he has made his signature — that once again seem the emblem of the man."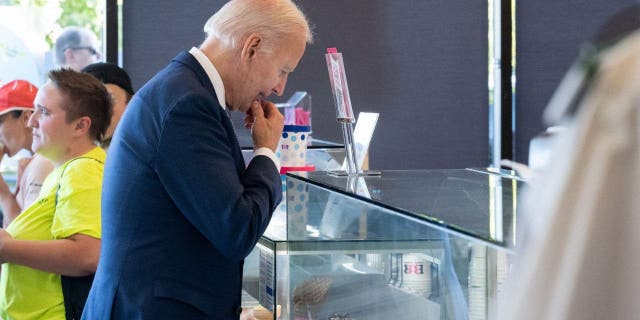 President Joe Biden stops for ice cream at Baskin Robbins in Portland, Oregon, October 15, 2022. (Saul Loeb/AFP via Getty Images)
CLICK HERE TO GET THE FOX NEWS APP
She went on to say the sunglasses were "a sign he's on a roll right now."
Fox News' Alexander Hall contributed to this report.