President Biden's handling of the economy is doing little to lift the spirits of Americans, as only three in 10 feel the U.S. is doing a better job recovering from the coronavirus pandemic than the rest of the world, according to a new poll.
The Monmouth University Poll — which was released Wednesday and featured random sample responses from 910 adults ages 18 and older — found that 62% of respondents disapprove of Biden's handling of inflation, compared to 34% who said they approve.
As for the president's handling of jobs and unemployment, 48% said they disapprove and 47% said they approve. On transportation and energy infrastructure, there's a larger disapproval margin, with 51% saying they disapprove and 43% saying they approve.
BIDEN CALLED OUT FOR 'FACTUAL ERROR' IN 'BIDENOMICS' TWEET, AFTER BOASTING ABOUT WAGE LEVELS
Of those that took part in the survey, 44% said they approve of the overall job Biden is doing and 52% disapprove.
Regarding Biden's approval number, Monmouth noted that it "is three points higher than it has been over the past few months, but his overall rating is statistically in line with where it has been since last autumn."
'MESSED UP': AMERICANS REACT TO BIDEN'S HANDLING OF THE ECONOMY AND 'BIDENOMICS' PUSH
Twitter's Community Notes added context for readers that said: "The tweet's claim about real wages contains a factual error."
"On 3/15/20 when US COVID lockdowns began real wages adjusted for inflation (AFI) were $11.15. As of 7/16/23 real wages AFI are $11.05," the Twitter note continued. It added: "Real wages AFI remain lower (not higher) than before the pandemic."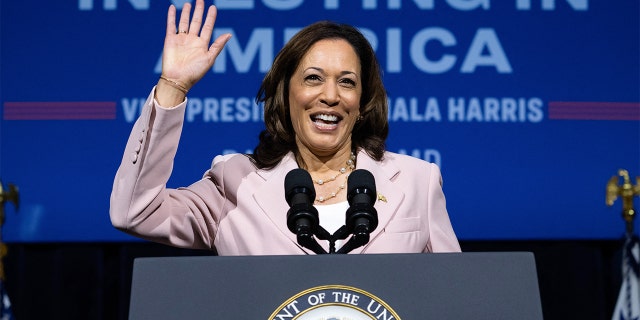 The Monmouth University Poll found that 40% of respondents approve of the job Vice President Kamala Harris is doing, compared to 52% who disapprove. (SAUL LOEB/AFP via Getty Images)
CLICK HERE TO GET THE FOX NEWS APP