Former Education Secretary Betsy DeVos said if the Biden administration's new Title IX proposals were in effect when she was a swimmer, she'd have had little motivation to get into the pool.
Under the Education Department's recent proposed rules, no school or college that receives federal funding would be allowed to impose a "one-size-fits-all" policy that categorically bans trans students from playing on sports teams aligning with their gender identity and would be considered a violation of Title IX. Established in 1972, Title IX prohibits sex-based discrimination in schools.
The administration said the "proposed rule affirms that students benefit from the chance to join a school sports team to learn about teamwork, leadership, and physical fitness."
BIDEN ADMIN RELEASES NEW TITLE IX REGULATIONS ON TRANSGENDER ISSUES IN SCHOOLS
"Every student should be able to have the full experience of attending school in America, including participating in athletics, free from discrimination," Miguel Cardona, Biden's education secretary, added in a statement.
DeVos told Fox News Digital the administration is set to "undo 50 years of progress for women and girls in sports."
"And I think it's just horrific," she said.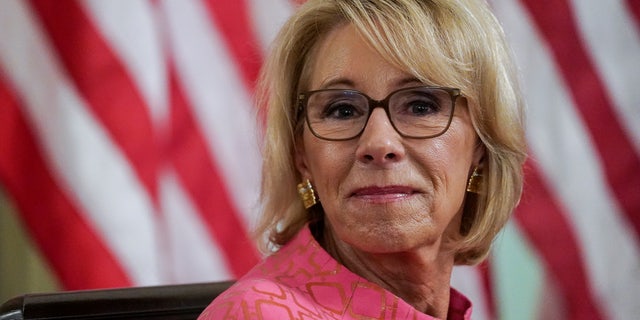 U.S. Education Secretary Betsy Devos listens during a coronavirus disease (COVID-19) pandemic response event about reopening schools hosted by U.S. President Donald Trump in the State Dining Room at the White House in Washington, U.S., August 12, 2020. REUTERS/Kevin Lamarque (REUTERS/Kevin Lamarque)
The rules seemed to upset those on both sides of the debate, with some transgender rights activists saying the proposals don't go far enough and still leave the door open for discrimination against transgender athletes.
"I think that they are trying to cut the cake and make everyone happy," DeVos said of the bipartisan backlash. "No one is happy with what they've written in the proposed rules."
DeVos suggested the administration is trying to "obfuscate the issue when the bottom line is their goal is to completely rewrite Title IX, to totally ignore the fact that there are two genders, men and women."
FORMER EDUCATION SEC. BETSY DEVOS SOUNDS OFF ON RUMORED BIDEN TITLE IX CHANGES: 'A BRIDGE TOO FAR'
DeVos commended female athletes like Riley Gaines, who have started to speak out on the issue of competing against transgender athletes. Gaines has been met with backlash during university speaking engagements. At San Francisco State University last week, the former swimmer said she was threatened, assaulted and barricaded in a room for hours amid student protests. Gaines later took exception to a school faculty member who emailed students saying the protest was "peaceful" and praised some of the demonstrators for their "tremendous bravery."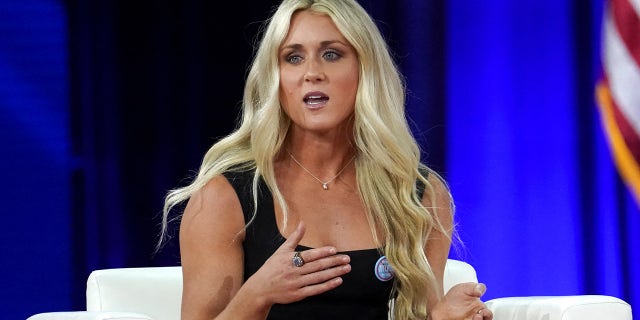 SEC champion swimmer Riley Gaines speaks during the general session at the Conservative Political Action Conference (CPAC) in Dallas, Texas, U.S., August 6, 2022. (REUTERS/Go Nakamura)
"I admire her tenacity and I encourage her to stay the course," DeVos said of Gaines. "She is speaking for literally millions of other young women who may not feel comfortable speaking up. But the way she was treated and the way the school officials reacted to that and alleged that it was a peaceful protest is just – it's hard to really put words to how appalling that is."
RILEY GAINES, OTHER FEMALE ATHLETES 'NOT AFRAID' TO DEFEND SPORT AGAINST TRANS ACTIVISTS DESPITE ATTACKS
The former Education Secretary mused on how Biden's rules would have impacted her own swimming career.
"I think as they've begun to realize the ramifications and that or like Riley now experiencing herself, the difficulty of competing against a biological male," DeVos said. "I was a swimmer, too, in pre-high school and high school. And I just think how if biological males were permitted to compete on the girls' teams, then there's no way I would have gotten up at 5:30, 6:30 a.m., to go swim and practice in a cold swimming pool day after day if I knew that not only was I going to have to compete against really fast women, but also biological men."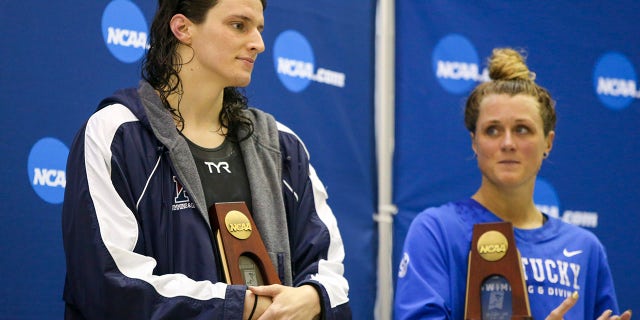 Mar 18, 2022; Atlanta, Georgia, USA; Penn Quakers swimmer Lia Thomas holds a trophy after finishing fifth in the 200 free at the NCAA Swimming & Diving Championships as Kentucky Wildcats swimmer Riley Gaines looks on at Georgia Tech. (Brett Davis-USA TODAY Sports)
"And I think this is just a huge deterrent ultimately for young women, who many of whom spend hours and days and years of their lives training and honing their skills in whatever sport," she continued. "There's nothing about this that is right for women. And I'm hopeful that more and more women are going to actually speak up on this issue like we've actually seen both Caitlyn Jenner and Martina Navratilova as athletes themselves speak out against this."
CLICK HERE TO GET THE FOX NEWS APP
The Biden administration's proposed rule, which would become a Title IX provision if finalized, would counter Republican-led states that have pursued bans on transgender athletes from competing in school sports that align with their gender identities.
Fox News Digital's Andrew Mark Miller contributed to this report.