As the Biden administration is touting a short-term drop of more than 70% in encounters at the southern border in the wake of the expiration of the Title 42 public health order, it is facing mounting legal battles that could — and already have — torpedoed some key policies it has put in place.
"We have seen … a significant decrease in encounters at the border, more than 70% reduction since the lifting of Title 42 on May 11th," DHS official Blas Nunez-Neto told reporters at the border this week.
Nunez-Neto also outlined how the administration has expanded what it calls lawful pathways into the U.S., including by allowing more than 1,000 migrants a day into the U.S. who have made an application on the CBP One app.
FLORIDA AG MOODY MOVES TO BLOCK DHS FROM RELEASING MIGRANTS INTO INTERIOR WITH COURT DATES
While that does not necessarily mean they won't be released into the U.S., in theory it would block most migrants from a valid asylum claim unless they take advantage of pathways the administration has set up. The most prominent of those pathways is the use of the CBP One app to book an appointment at a port of entry with a CBP official.
Meanwhile, the "presumption of ineligibility" (the administration has denied claims by left-wing activists that it amounts to a "ban") can be rebutted if a migrant can show that the app was not working or that they are in acute danger. It does not apply to unaccompanied migrant children.
GOP-LED STATES TAKE AIM AT 'SMOKE SCREEN' BIDEN ASYLUM RULE WITH NEW LEGAL CHALLENGE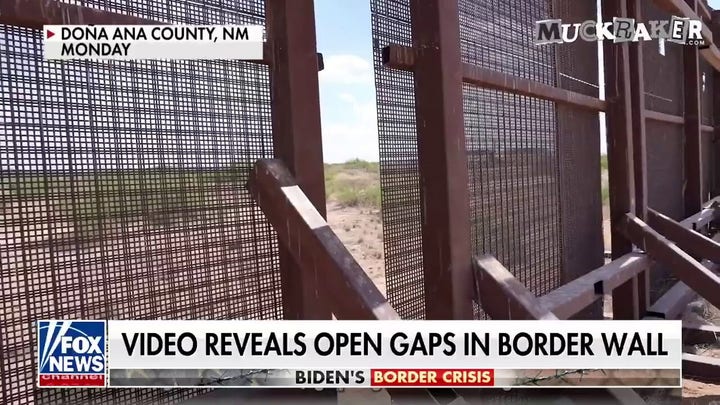 Video
"The Defendants claim that the Circumvention Rule will deter illegal border crossings, decrease the number of new unlawful aliens in the United States, and reduce reliance on human smuggling networks. The truth, however, is that the Circumvention Rule is some combination of a half measure and a smoke screen," the states, led by Indiana, argue. "It is riddled with exceptions, and it is part of the Biden Administration's broader effort to obfuscate the true situation at the Southwest Border."
Should any of the three lawsuits, filed in different courts across the county, be successful, it could dramatically change how the Biden administration exercises its powers at the border.
Separately, the administration has already had a migrant release policy frozen that it put in place the day before Title 42 ended. That policy, called "parole with conditions," saw migrants being released into the interior without court dates due to overcrowding. Nearly 9,000 migrants were released while the policy was in place.
However, this week Florida expanded its challenge, arguing that a "streamlined" policy of releasing migrants with court dates (Notices to appear) and on their own recognizance (OR) should also be blocked.
"Biden's will to violate public-safety immigration laws and release massive amounts of illegal immigrants into the country knows no bounds," Moody said Friday in a statement to Fox News Digital.
"After we beat Biden in federal court multiple times, his administration admitted to a new policy to skirt the law and release immigrants into the country. We are fighting back against this outrageous and unlawful Biden policy designed to further weaken our border security — making American's less safe."
In his remarks to the press, Nunez-Neto said that DHS was remaining vigilant.
"The conditions that are driving migration in the hemisphere are real and continue. We are watching what's happening in Mexico and other countries very closely," he said. "We know that the smugglers will spread misinformation to put migrants' lives in peril for profit. And so we are continuing to work closely with our foreign partners to make sure that they are continuing their enforcement efforts. And we are obviously continuing ours."