A pair of men in Ohio who were looking to purchase a Honda Civic through Facebook Marketplace turned the tables on alleged scammers who showed up to the meeting spot armed with guns.
A shootout occured on April 20 in Cleveland, where a man and his friend arrived at a parking lot in the city to meet up with a person who said they were selling a Honda Civic through Facebook, News 5 Cleveland reported, citing a police report.
The meetup became suspicious when the driver of the Civic parked on the opposite side of the lot to the victim and his friend, the victim told police. A silver Jeep then also arrived on the scene, parking on the street next to the parking lot.
The victim told his friend to grab a firearm he had stashed in the glove compartment, and the two exited the vehicle to meet the driver in the Civic. As they got out of the car, however, the Jeep pulled onto the parking lot and three men wearing all black drew their firearms on the two men, News 5 Cleveland reported.
PHILADELPHIA CONCEALED GUN HOLDER ACTED IN SELF-DEFENSE, FATALLY SHOOTING ATTACKER AT CEMETERY: DA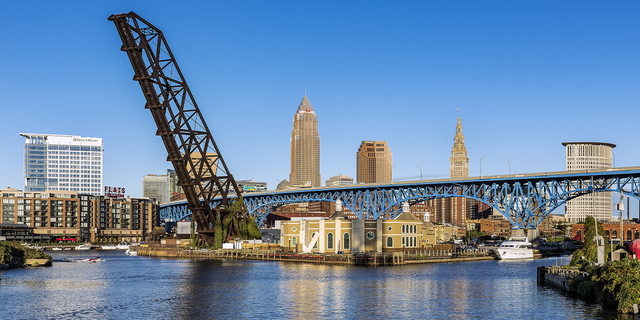 City skyline and the Cuyahoga River in Cleveland. (Photo by: John Greim/Loop Images/Universal Images Group via Getty Images)
The victim told police he pulled a firearm from his holster, and the suspects opened fire on the two men. The victim and his friend, however, returned fire on the suspects, prompting the perpetrators to flee back to the Jeep.
FOILED: FIVE TIMES ARMED CITIZENS FOUGHT BACK AGAINST ATTACKERS IN 2022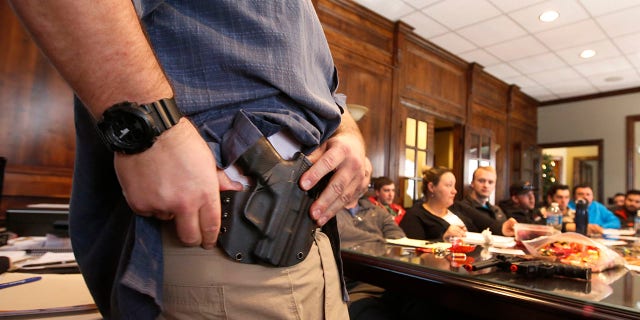 A holster at a gun concealed carry permit class. (Photo by George Frey/Getty Images)
The driver of the Civic also fled the scene.
The victim and his friend were not injured during the shootout and cooperated with police on the scene, News 5 Cleveland reported.
While police were responding to the matter, they received another call regarding the silver Jeep. Law enforcement located the vehicle, which was riddled with bullet holes, as well as a man lying on the ground near the car with a gunshot wound. The unidentified man was arrested and transported to a local hospital for his injuries.
CONNECTICUT ARMED ROBBERS SHOOT STORE OWNER WHO PULLS OUT LEGAL FIREARMS AND KILLS SUSPECT: COPS
While conducting an investigation on the shootout, police received another call of a man at a hospital suffering from a gunshot wound to the bicep. The man was identified as one of the owners of the silver Jeep. He was arrested after being discharged from the hospital, according to News 5 Cleveland.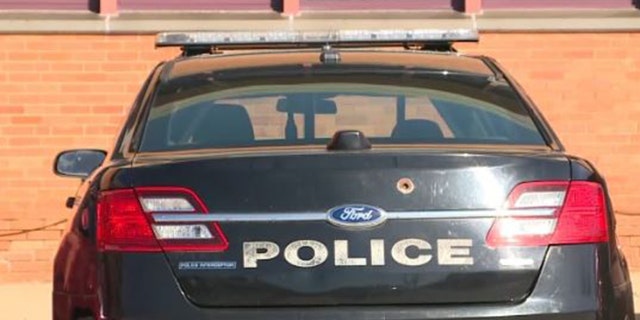 The back of a Cleveland police cruiser. (Fox 8 Cleveland)
CLICK HERE TO GET THE FOX NEWS APP
The investigation into the matter is ongoing.