Navajo code talker John Kinsel, Sr. celebrated a major milestone earlier this year — his 106th birthday.
Who were the World War II Navajo Code Talkers?
During World War II, the U.S. Marines selected a group of Navajo men who created an impenetrable code based on the "complex, unwritten Navajo language" according to Intelligence.gov. They became known as the Navajo Code Talkers.
"The code primarily used word association by assigning a Navajo word to key phrases and military tactics," that site notes, adding that the system "enabled the Code Talkers to translate three lines of English in 20 seconds, not 30 minutes as was common with existing code-breaking machines."
NEW JERSEY MAN WALKS ACROSS US TO RAISE NEARLY $100K FOR HOMELESS VETERANS: 'RESPECT AND REVERANCE'
Kinsel is "certainly someone whose service and life is known," New Orleans-based National WWII Museum's research historian Jason Dawsey told Fox News Digital in an interview.
"What I want Americans to know about patriots like John Kinsel is … that people like [him] stood up during World War II and provided the most amazing contributions to the U.S. war effort in the Pacific," he also said.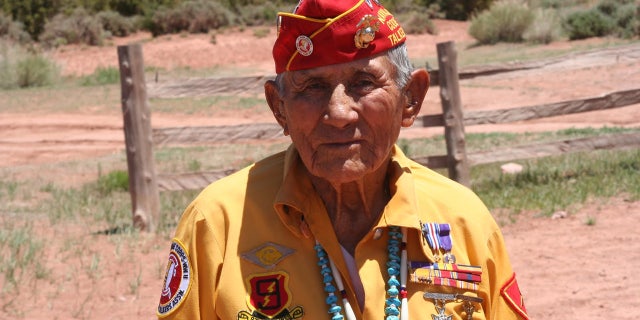 Marine Corps veteran John Kinsel Sr. served as a Navajo Code Talker during World War II. He has just turned 106 years old. (Michael Ruka, Winona State University – Navajo Oral History Project)
The WWII veteran rang in his special day on Jan. 22 in his hometown of Lukachukai, Arizona, with about 30 family members and friends, according to the Navajo Times.
The group gathered in Kinsel's home — a log cabin he built — and Kinsel wore his signature red Navajo code talker association cap to signify his years of service.
Kinsel is "at peace with everything," that outlet noted, adding that he would gesture the sign of the cross as some partygoers approached him.
"Were it not for the Navajos, the Marines would never have taken Iwo Jima."
Kinsel was 21 years old when he enlisted in the U.S. Marine Corps in 1938, the Navajo Times reported, and trained as a code talker.
ON PTSD AWARENESS DAY, IMPORTANT HELP FOR VETERANS, MILITARY SERVICE MEMBERS IN SEARCH OF BETTER SLEEP
Following his assignment to the 9th Marine Regiment, 3rd Marine Division, Kinsel served on the battlefield in several locations including Bougainville, British Solomon Islands, Guadalcanal, Iwo Jima Volcano Islands and Guam.
After sustaining an injury during a blast in Guam, Kinsel was transported back to Hawaii, returning to San Diego one month later to carry out non-war duties.
Kinsel was honored with an American Spirit Award in 2022 on behalf of the National WWII Museum as were other remaining Navajo Code Talkers Thomas Begay, Samuel Sandoval and Peter MacDonald. (Sandoval passed away last year at age 98.)
The award is the museum's highest honor, according to a press release, which recognizes individuals who "exemplify the outstanding qualities of the American spirit and inspire the expression of these values through their life's work."
VETERAN OF US ARMY REGAINS ABILITY TO MOVE FINGERS WITH NEW PROCEDURE, PROSTHETICS: HOPE FOR 'NORMAL FUTURE'
Dawsey of the National World War II Museum explained that the code talkers were "instrumental in defeating the Japanese" during the war by using their indigenous language to create an impenetrable mode of communication.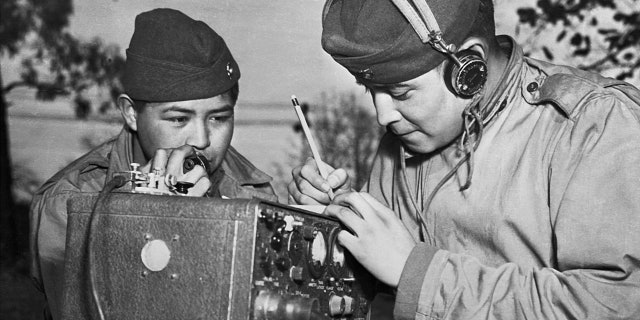 A two-man team of Navajo Code Talkers attached to a Marine regiment in the Pacific relay orders over the field radio using their native language. (CORBIS/Corbis via Getty Images)
"In these island-hopping campaigns, communication is vital," he said. "Knowing where the enemy is, knowing what the enemy is doing, whether they're attacking or retreating … These are all crucial things when you're really talking about overcoming an enemy."
PATRIOT REMEMBERED: MILITARY MOM MEMORIALIZES SON WHO DIED IN NATIONAL GUARD HELICOPTER CRASH WITH NEW BOOK
"John Kinsel was one of this group of 400 Navajo code talkers who did this work and did it extremely well, and we should always honor and remember what they did," he also said.
The code was initially thought up by WWI veteran Staff Sgt. Philip Johnson, who was raised on a Navajo reservation and recognized the complexity of the Navajo language.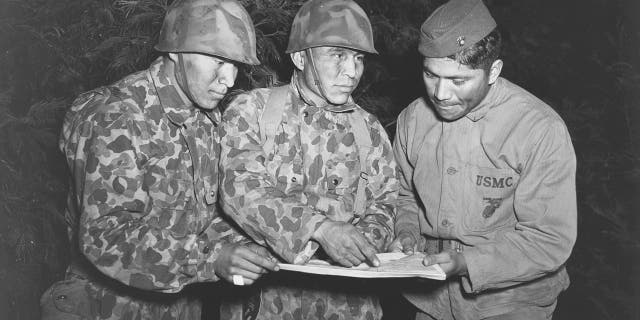 Private First Class Peter Nahaidinac, left, Private First Class Joseph Gatewood and Corporal Lloyd Oliver, right, all Navajo, study an issue at the Amphibious Scout School in June 1943. (USMC/Interim Archives/Getty Images)
In the spring of 1942, the first group of 29 Marines began their training in Navajo code at California's Camp Eliot, which turned into some 400 code talkers by the end of the war, according to Dawsey.
The original code was based on approximately 200 Navajo terms, which grew into about 400, each word coinciding with words and phrases in English.
"I don't think it could be put any more bluntly … about how vital [code talkers] were."
They also had a system for each letter in the English alphabet.
As an example, the Navajo word for "hummingbird" would translate to "fighter plane" and the word for "chicken hawk" would translate to "dive bomber," Dawsey said.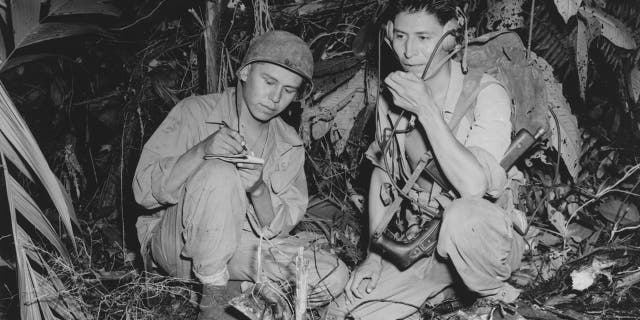 Corporal Henry Bake Jr., left, and Private First Class George Kirk, right, were Navajo Indians serving with a Marine Signal unit. Here, they operate a portable radio set in a clearing they've hacked in the dense jungle, close behind the front lines on the island of Bougainville, Papua New Guinea, December 1943. (USMC/Interim Archives/Getty Images)
"It's really fascinating seeing how these words take on new meanings with this code," he continued.
"These code talkers had to remember all of this and they had to be able to — under fire, in the heat of the moment — translate these things so that they were transmitted and not deciphered by the enemy," he added.
"The Navajo Code Talkers demonstrated remarkable courage serving our country during World War II." 
The Navajo Code Talkers, spanning six Marine divisions, were involved in some of the most "important battles of the Pacific Theater," Dawsey emphasized.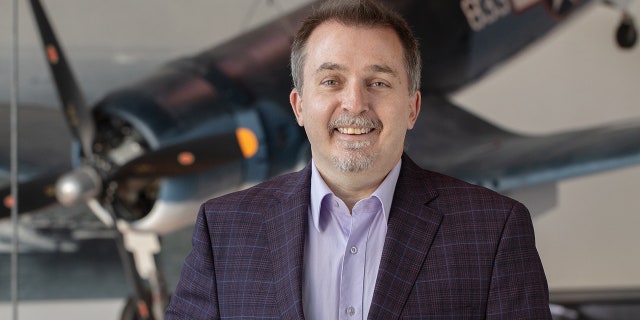 Jason Dawsey is a research historian at the national WWII Museum in New Orleans, Louisiana. Dawsey emphasized that the code talkers, spanning six Marine divisions, were involved in some of the most "important battles of the Pacific Theater." (The National WWII Museum)
Code talkers have most famously been recognized for their swift work in Iwo Jima in February 1945.
Following the battle, Marine Corps signal officer Maj. Howard Connor claimed, "were it not for the Navajos, the Marines would never have taken Iwo Jima," according to Dawsey.
CLICK HERE TO GET THE FOX NEWS APP
"I don't think it could be put any more bluntly than that about how vital [code talkers] were," Dawsey added.
"When the Navajo Code Talkers are being spoken about, it makes me proud to be a Navajo and next, a woman who also served in the military," said Bernadine (Bernie) Tyler in comments to Fox News Digital. She was born into and still lives in the Navajo Nation in Shiprock, New Mexico, and is program lead of the Dine Naazbaa Partnership (DNP), a veteran-focused, community-led initiative.
CLICK HERE TO SIGN UP FOR OUR LIFESTYLE NEWSLETTER
"But most importantly, I am honored to fluently speak the unbreakable code that helped win the WWII and that I try to pass it on to the upcoming generations so that it will always be preserved," she also said.
She added, "The Navajo Code Talkers demonstrated remarkable courage serving our country during World War II. Their legacy endures as a symbol of the unwavering commitment of native veterans who have served our country with distinction."