A growing number of kids and teens are turning to weight loss surgery amid rising rates of pediatric obesity, according to a new study published in JAMA Pediatrics.
Between 2020 and 2021, there was a nearly 19% increase in weight loss surgeries among U.S. youths aged 10 to 19 years, as discovered by researchers from the University of Texas, University of Miami Miller School of Medicine, and University at Buffalo School of Medicine and Biomedical Sciences.
The researchers were particularly interested in looking at these trends after the American Academy of Pediatrics (AAP) released a statement in late 2019 endorsing increased access to bariatric surgery for teens, said lead study author Sarah Messiah, PhD, professor and pediatric obesity researcher at UTHealth Houston School of Public Health.
KIDS AND OBESITY: NEW GUIDELINES RELEASED TO EVALUATE AND TREAT CHILDHOOD, ADOLESCENT WEIGHT ISSUES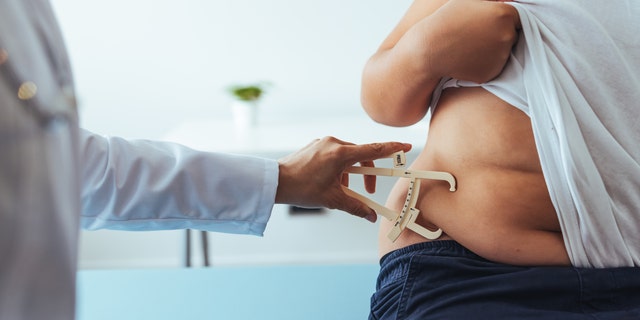 More kids and teens are turning to weight loss surgery amid rising rates of pediatric obesity, according to a new study published in JAMA Pediatrics. (iStock)
The increase was particularly high for racial and ethnic minority groups. That includes Hispanic/Latino, non-Hispanic Black/African American and others, possibly because they are "disproportionately impacted by cardiometabolic disease risk factors versus non-Hispanic Whites," Messiah said.
These risk factors include elevated blood pressure, lipids, insulin, glucose and waist circumference — all of which are risk factors for type 2 diabetes and cardiovascular disease as well as some types of cancer, she added.
MEDICAL EXPERTS FACE BACKLASH OVER 'BARBARIC' CALLS TO TREAT OBESE KIDS WITH DRUGS, SURGERIES
"However, this dataset does include all adolescent patients who completed their surgery at a U.S. accredited center, which is the gold standard," the doctor also said.
AAP's weight loss surgery recommendations
In January 2023, the AAP released its new pediatric obesity treatment guidelines, officially endorsing bariatric surgery and weight loss prescriptions for the first time.
"Teens age 13 and older with severe obesity (BMI ≥120% of the 95th percentile for age and sex) should be evaluated for metabolic and bariatric surgery," the guidelines stated.
"However, our analysis would suggest that families are following their own path in terms of deciding to move forward with surgery for their adolescent," she said.
"It will be important that we support these families moving forward to ensure the best health outcomes for their adolescents as they age into adulthood."
Guidelines vary across hospitals
Children's Mercy Hospital in Kansas City, Missouri, offers a laparoscopic sleeve gastrectomy.
The hospital recommends exploring weight loss surgery for children who are at least 5 years old, have a BMI of at least 40 (or above 35 with other medical conditions) and have had at least six months of "supervised medical weight loss therapy."
Cincinnati Children's Hospital in Ohio also has a bariatric surgery program, but its website states that it's for "severely obese adolescents who haven't had success with behavioral and nutritional approaches to weight loss."
These run the gamut from success stories to cautionary tales.
One bariatric surgeon on Reddit voiced concern about misconceptions of the procedure.
OZEMPIC, WEGOVY AND PREGNANCY RISK: WHAT YOU NEED TO KNOW ABOUT THE ISSUE
"Do I think we should do bariatric surgery in teenagers? I won't be doing it any time soon, but I think that in a controlled setting with IRB approval, it is appropriate," the surgeon continued, referring to Institutional Review Boards.
"Her brain wasn't done developing and she wasn't mature enough to understand the consequences of such major surgery and to stick to the guidelines and deal with her disordered eating."
"With bariatric surgery, you're altering the anatomy of the GI tract."

She told Fox News Digital, "With bariatric surgery, you're altering the anatomy of the GI tract, and that anatomy — if it's a bypass — can never be returned [to its original state]."

She added, "That means the individual is never going to be able to eat regular meals because the anatomy of the stomach has changed."

Before a child or teen goes the surgery route, one weight-loss physician recommends first making dietary changes, such as cutting out soda and sugary foods — and slowly introducing more nutritious fare. (iStock)

Another potential problem is that after the anatomy of the stomach is altered, Decotiis said, the person won't be able to eat as much high-nutrition and high-fiber food because they will feel full immediately.

And in the case of teens with severe obesity, the doctor pointed out that if they start with some of the newer weight loss medications that are available, surgery might not be necessary.

Video

"All the medical options need to be exhausted before they consider surgery, because surgery is irreversible," Decotiis said.

The only exception, she said, is if the child or teen is "morbidly obese" (now known as Class III obesity, which is when a person has a BMI of 40 or higher, or 35 or higher along with obesity-related health conditions, per the Cleveland Clinic).