Walter Reed National Military Medical Center says it is reviewing a Catholic pastoral care contract given to a secular defense contracting firm after the Catholic Archdiocese for the Military Services accused the center of denying Catholic service members the right to practice their religion.
"At this time, the pastoral care contract is under review to ensure it adequately supports the religious needs of our patients and beneficiaries," Walter Reed said in a statement Tuesday.
The Catholic archdiocese objected last week after it said a cease-and-desist order had been issued against Holy Name College Friary, a Franciscan community of priests and brothers that had served at the center nearly two decades.
CATHOLIC ARCHDIOCESE ACCUSES WALTER REED OF STIFLING RELIGIOUS RIGHTS WITH 'CEASE-AND-DESIST' ORDER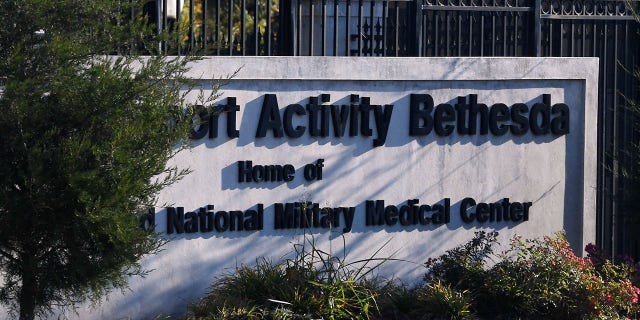 The entrance of Walter Reed Medical Center in Washington, D.C., Nov. 19, 2021. (Olivier Douliery/AFP via Getty Images)
That came after a contract for Catholic pastoral care had ended at the end of March. And the archdiocese said the contract had been switched for a contract with a secular defense contracting firm that the archbishop says would not be able to provide adequate care.
"It is incomprehensible that essential pastoral care is taken away from the sick and the aged when it was so readily available," Archbishop Timothy Broglio said in a statement.
"This is a classic case where the adage, 'If it is not broken, do not fix it,' applies. I fear that giving a contract to the lowest bidder overlooked the fact that the bidder cannot provide the necessary service," he added. "I earnestly hope that this disdain for the sick will be remedied at once and their First Amendment rights will be respected."
Two dozen Republican lawmakers sent a letter to Defense Secretary Lloyd Austin this week decrying what they saw as an "attack on the Christian faith."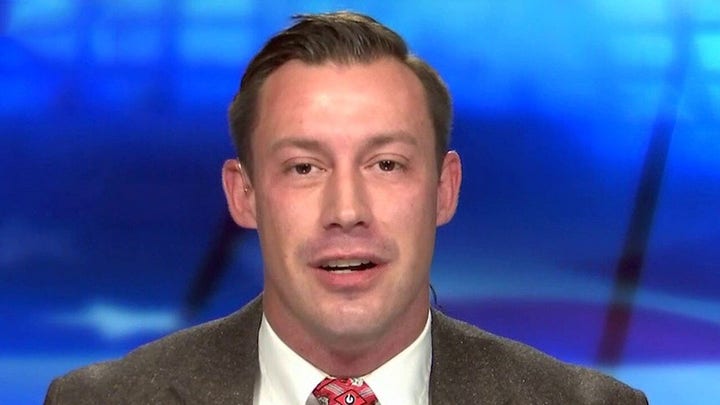 Video
WALTER REED 'CEASE AND DESIST' ORDER FOR CATHOLIC PRIESTS VIOLATES THE FIRST AMENDMENT, GOP LAWMAKERS SAY
Walter Reed, however, has stressed it is able to provide Catholic pastoral care without a contract and said that Holy Week and Easter services conducted by a Catholic priest were provided and that three priests in the region are able to provide services, as well as access to Red Cross volunteers and active-duty chaplain's assistants.
The center also said that it has an active-duty ordained Catholic priest on staff and that the awarded contract is to provide coverage in case staff cannot. It also said that, as part of the National Capital Region Health Market, it can bring on priests assigned to other defense organizations in the region.
"With the assigned staff and regional support, WRNMMC has sufficient resources to provide for the religious needs of our Catholic beneficiaries," the statement said.
The Defense Health Agency also stressed that there was "no cancellation of Catholic services at Walter Reed, especially during Holy Week."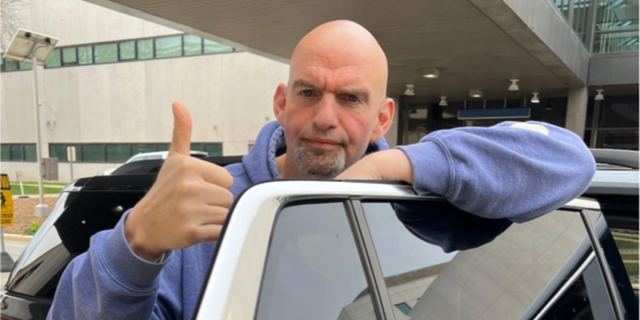 Sen. John Fetterman, D-Pa., was released from Walter Reed National Military Medical Center after being treated for depression. (Office of John Fetterman)
Both the agency and the center also emphasized that the contract was not terminated, but that it expired on March 31 and that the contract had been up for renewal and rebidding. That contract is now being reviewed, the center said.
However, it confirmed that it had issued the cease-and-desist order April 4 after Holy Name College continued to provide services beyond the expiration of the contract. Catholic liturgies for Holy Week were offered at the center by the priest on staff.
Separately, senior defense officials told Fox News that Joint Chiefs of Staff Chairman Mark Milley was not involved or consulted in any way in the decision as had been suggested in social media posts, and the issues were handled in Army channels.
CLICK HERE TO GET THE FOX NEWS APP
"Thanks in large part to the excellent news coverage on Fox News Channel, Fox Digital and other media exposure, as well as attention in Congress, the administration is now working hard behind the scenes to resolve the matter," the Archdiocese's director of public affairs told Fox News.
Fox News' Brooke Singman, Jennifer Johnson and Jennifer Griffin contributed to this report.