Russian Foreign Minister Sergey Lavrov still has not received the visa he needs to enter the U.S. for a United Nations Security Council meeting later this month, despite Russia's seat as president of the top international body.
"Not a single visa has been issued yet," Russian Deputy Foreign Minister Sergei Ryabkov told Russian news outlet TASS Wednesday, noting that Moscow's delegation to the U.N. has also not yet received travel visas.
Russia's envoy to the U.N. told the Russian news outlet that Lavrov would travel to U.N. headquarters in New York for the meeting slated to begin April 24, though Fox News Digital could not immediately reach the State Department to confirm whether it would actually issue Moscow the necessary visas.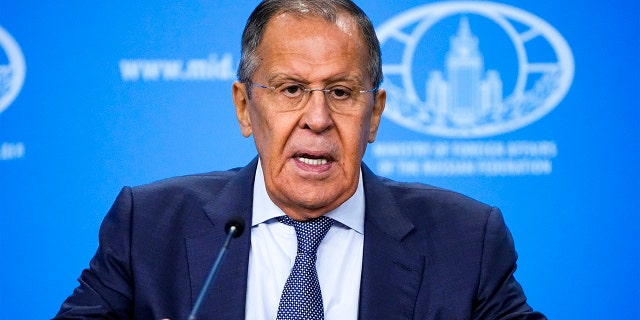 Russian Foreign Minister Sergey Lavrov still has not received the visa he needs to enter the U.S. for a United Nations Security Council meeting later this month. (AP Photo / Alexander Zemlianichenko / Pool / File)
US, UK WALK OUT OF RUSSIA-LED UN MEETING AS OFFICIAL WANTED ON WAR CRIMES CHARGES SPEAKS
The U.S. previously granted Lavrov and his team access to the U.N. headquarters last September for the annual gathering of world leaders – which would make this the first time Lavrov has been barred from entering the U.S. since Russia invaded Ukraine if the department does not issue Moscow the necessary travel documents.
Geopolitical tensions have continued to mount. Earlier this month, the U.S. and its top ally, the U.K., walked out of a meeting as Moscow's envoy for children's rights, Commissioner Maria Lvova-Belova, who is wanted by the International Criminal Court (ICC) for war crimes, began speaking to the Security Council by webcast.
Lvova-Belova and Russian President Vladimir Putin had warrants for their arrest issued by the ICC last month after they were accused of illegally deporting children from Ukraine to Russia, though Lavrov has not had such a warrant issued against him.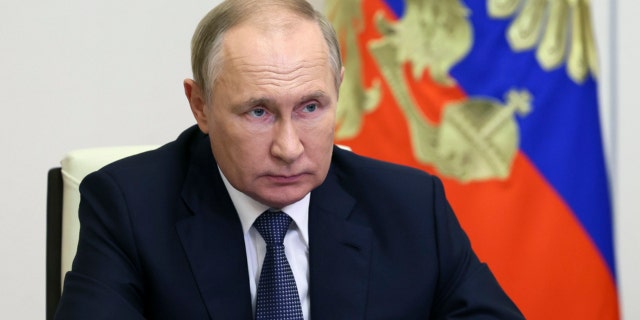 The arrest of a Wall Street Journal reporter by Vladimir Putin's regime has caused international outrage. (Gavriil Grigorov / Sputnik / Kremlin Pool Photo via AP / File)
RUSSIA TAKES OVER PRESIDENCY OF UN SECURITY COUNCIL; 'BAD OPTICS' FOR WEST, PROPAGANDA WIN FOR PUTIN: EXPERTS
The Russian foreign minister has nonetheless faced deep condemnation within the world body for Russia's war in Ukraine even as Russia leads the rotational Security Council role as president for the month of April.
Last week, Russia lost election to three U.N. bodies under the 54-member Economic and Social Council (ECOSOC) in a sign that opposition within the international body has not waned with regard to its illegal invasion.
Russia was defeated by Estonia for membership on the executive board of U.N. children's agency UNICEF.
It also lost to Romania for a seat on the Commission on the Status of Women before being defeated by Armenia and the Czech Republic for membership on the Commission on Crime Prevention and Criminal Justice.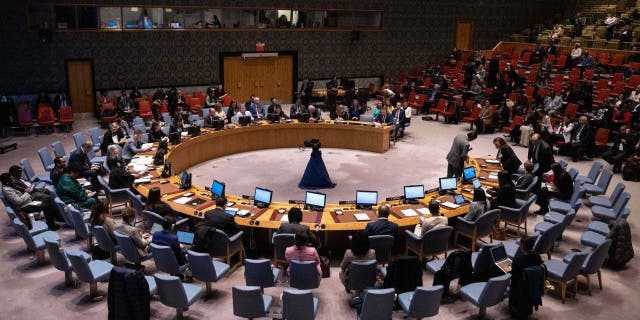 The U.N. Security Council holds a meeting at U.N. Headquarters in New York on March 7, 2023. (Yuki Iwamura / AFP via Getty Images)
CLICK HERE TO GET THE FOX NEWS APP
"This is a clear signal from ECOSOC members that no country should hold positions on critical U.N. bodies when they are in flagrant violation of the U.N. Charter," U.S. Ambassador Linda Thomas-Greenfield said after last week's votes.
Russia was elected by acclamation to the Commission for Social Development, from which the U.S. and the U.K. dissociated their countries and said that Russia's invasion violates international law and Ukraine's territorial integrity, which in turn weakens the credibility of the body.
The Associated Press contributed to this report.