There's a new viral butter recipe that has caught TikTok's attention — and this time it's made with vodka.
Carolina Gelen, a food blogger and recipe developer, combined the spread and spirit and dubbed her creation "vodka butter."
Gelen, who is originally from Romania and now resides in the U.S., told Fox News Digital that she took inspiration from dirty martinis to create her vodka butter dip.
"I love a good dirty martini, so I tried making a dirty martini butter with green olives, vodka and butter — but the olives ended up being overpowering flavor-wise. So I tried the recipe again, without olives, and the result was amazing."
MOVE OVER, CHARCUTERIE BOARDS — BUTTER BOARDS ARE THE NEXT BIG THING
To make her vodka butter, Gelen blends sticks of butter with an eyeballed amount of vodka, which she places in a food processor.
The end result is a creamy butter spread that can be served with an appetizer or a meal.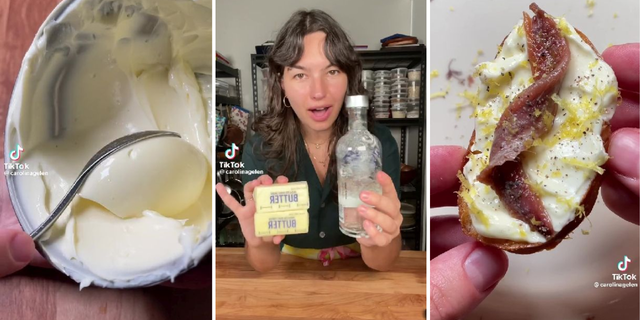 Food blogger and recipe developer Carolina Gelen created a vodka butter dip that has been viewed more than a million times on TikTok. She told Fox News Digital she likes to pair vodka butter with fish. (Carolina Gelen)
"My favorite pairing for this butter is fish or caviar," Gelen said. "I wouldn't spread this on toast for breakfast but would serve it as an appetizer with crusty bread, anchovies, herring, sardines or caviar."
She first made vodka butter in late December, Gelen said, to ring in the New Year.
Her TikTok video has been viewed over 1.4 million times and has received over 109,000 likes.
BUTTER BOARDS GIVE WAY TO HUMMUS, WHIPPED CHEESE AND DESSERT BOARDS: 'EVOLVED INTO ITS OWN'
"It was very well received across social media," Gelen said of her vodka butter post.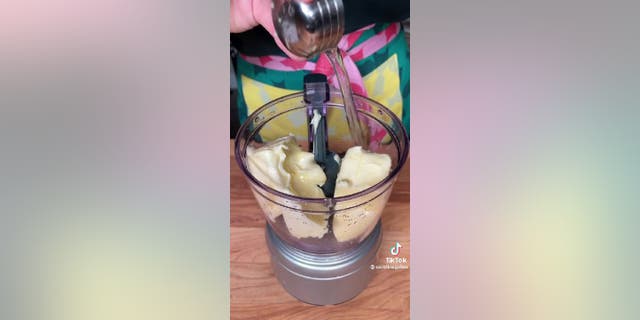 Carolina Gelen blends vodka butter in a food processor. The two ingredients create a smooth creamy food dip that can complement meals. (Carolina Gelen)
Over 700 comments have been left under Gelen's vodka butter tutorial.
Many commenters have written that they're intrigued by the spread while others have questioned whether vodka butter tastes good.
"Only eating this butter from now on," one TikTok user wrote.
"Why people want to put alcohol everywhere?" another user asked.
TIKTOK HACK FOR BUTTERING POPCORN EVENLY GOES VIRAL: 'THE ONE TRUE LIFE HACK'
"Boozy buttercream," one user wrote with a screaming emoji.
So far, Gelen's viral vodka butter creation has been remade by TikTok accounts Deliciousaus, a premium Australian food and lifestyle brand, and Chop Happy, an NYC-based corporate cooking school run by cooking instructor Jason Goldstein.
Smaller TikTok accounts appear to be testing out the recipe as well, according to videos that show when the term "vodka butter" is entered in the search bar on TikTok.
CLICK HERE TO SIGN UP FOR OUR LIFESTYLE NEWSLETTER
Last year, food challenge content creator Ryan Doka combined ghee — a South Asian clarified butter — with vodka and reportedly aged the concoction for a week before he taste-tested it on TikTok.
He gave the unusual combo a three out of 10 food score.
CLICK HERE TO GET THE FOX NEWS APP
The rise of vodka butter videos follows the app's other viral butter food trends, which include butter boards and butter candles.