USC Trojans athletic director Mike Bohn surprisingly resigned from his position, he and the school confirmed Friday.
Bohn was hired by the University of Southern California in 2019 after Lynn Swann left the program.
"After more than 40 years of college athletics leadership, it is the right time to step away from my position as director of athletics at the University of Southern California," Bohn said in a statement to the Los Angeles Times.
"I have dedicated my life to serving student-athletes and advancing the enterprise of intercollegiate athletics."
USC, NCAA HIT WITH COMPLAINT FROM NATIONAL LABOR RELATIONS BOARD OVER ATHLETE COMPENSATION
The 62-year-old hinted his health may have played a part in his decision to step down.
"As a former student-athlete myself, my purpose and identity are rooted in supporting young people as they pursue their athletic, academic and personal goals," Bohn said.
"On behalf of the Trojan family, I thank Mike for his contributions to our athletics department during a time of rapid transformation and growth. We will be announcing a transition team comprising both internal and external leaders in the coming days and will launch a national search for a new director of athletics shortly," USC President Carol Folt said in a statement.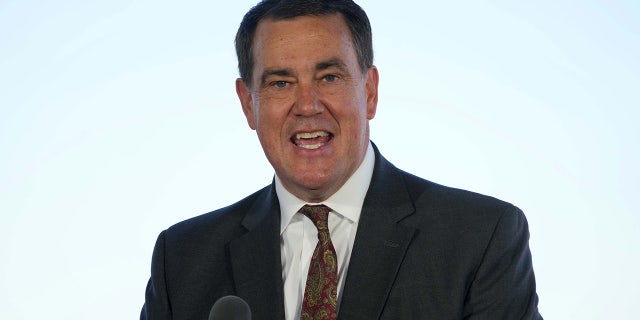 Southern California Trojans athletic director Mike Bohn speaks during a press conference to introduce Lincoln Riley as USC head coach at Los Angeles Memorial Coliseum Nov. 29, 2021, in Los Angeles. (Kirby Lee/USA Today Sports)
During Bohn's tenure, the men's basketball team qualified for three consecutive NCAA tournaments. The basketball program also recently landed a commitment from LeBron James' son Bronny.
CLICK HERE TO GET THE FOX NEWS APP