White House National Security Council spokesman John Kirby has revealed to Fox News on Wednesday that there is a "small U.S. military presence" at the American embassy in Ukraine.
Kirby was asked about leaked Pentagon documents suggesting there are U.S. Special Forces operating inside the war-torn country.
"I won't talk to the specifics of numbers and that kind of thing. But to get to your exact question, there is a small U.S. military presence at the embassy in conjunction with the Defense Attachés office to help us work on accountability of the material that is going in and out of Ukraine," Kirby said, referencing the weapons and other support the U.S. has been sending to Kyiv. "So they're attached to that embassy and to that the defense attache."
Kirby, who was speaking on the sidelines of President Biden's trip to Northern Ireland, added that those troops "are not fighting on the battlefield." In addition, Fox News is told that the U.S. forces in Kyiv also provide security services.
U.S. DEFENSE SECRETARY LLOYD AUSTIN SAYS LEAKED CLASSIFIED CUMENTS WERE 'SOMEWHERE IN THE WEB'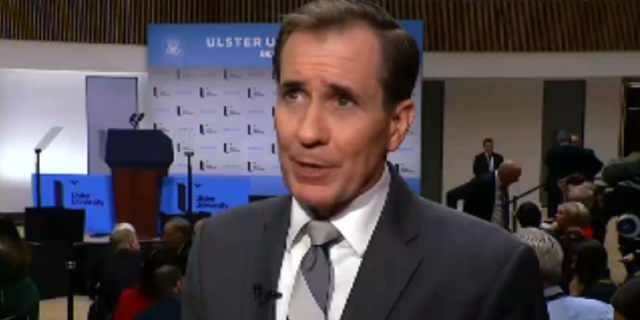 Kirby spoke to Fox News on Wednesday ahead of a speech from President Biden in Northern Ireland. (Fox News)
"There has been no change to the president's mandate that there will not be American troops in Ukraine fighting in this war," Kirby said.
The Pentagon in November confirmed that U.S. forces were on the ground to inspect American military aid deliveries in Ukraine.
Speaking about the U.S.'s interactions with allies in the wake of the leaks, Kirby added, "we are making overt attempts to reach out to the relevant allies and partners to explain to them as best we know what we know.
US DOCUMENT LEAK MAY HAVE COME FROM OUTSIDE PENTAGON: SOURCES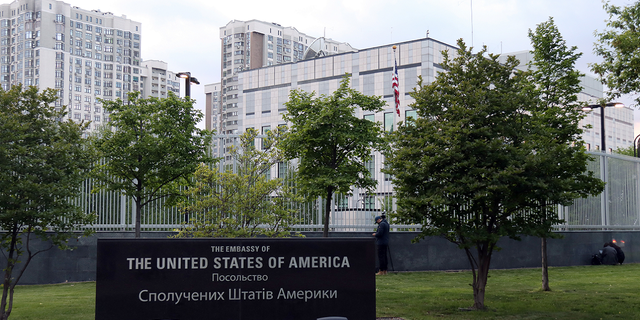 The U.S. Embassy in Kyiv, Ukraine, in May 2022. (Anatolii Siryk/ Ukrinform/Future Publishing via Getty Images)
"And we don't know a lot right now, but to make sure that they understand we're taking this very, very seriously, that we've got a criminal investigation going on, as well as a review across the Department of Defense to look at the national security implications and of course, where we're listening to their questions and their concerns and doing the best we can to answer them at this point.
Kirby also said "we don't know what else this individual or individuals might have and might still release.
CLICK HERE TO GET THE FOX NEWS APP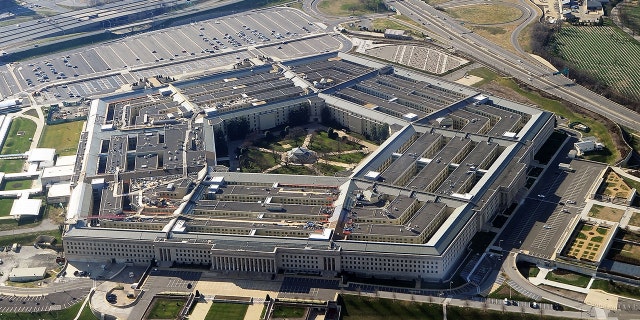 The source of the leak of dozens of U.S. documents may have come from outside the Pentagon, Fox News reported on Tuesday. (STAFF/AFP via Getty Images)
"I won't talk about the content in some of these leaked documents. I think you can understand that we have to do what we need to do to protect our national security," he added. "Clearly, this is a breach of our ability to protect some information, and that's why we're taking it so seriously."
On Tuesday, Fox News reported that the leak of dozens of U.S. documents containing in some cases what the Department of Defense is describing as "sensitive and highly-classified material" may have come from outside the Pentagon, based on conversations with a variety of American defense and intelligence officials.
Fox News' Jennifer Griffin contributed to this report.