The revelation this week that there is a small contingent of U.S. forces operating out of the American embassy in Kyiv has sparked questions over what would happen if an American soldier were killed during a Russian strike.
White House National Security Council spokesman John Kirby told Fox News that these soldiers "are not fighting on the battlefield" and are there to help monitor the support Washington is providing to Ukraine, though their presence in Kyiv is not without risk.
Russia routinely hits the capital city with missile strikes, and questions have mounted over what would happen if a U.S. soldier wee to get caught in one of these attacks.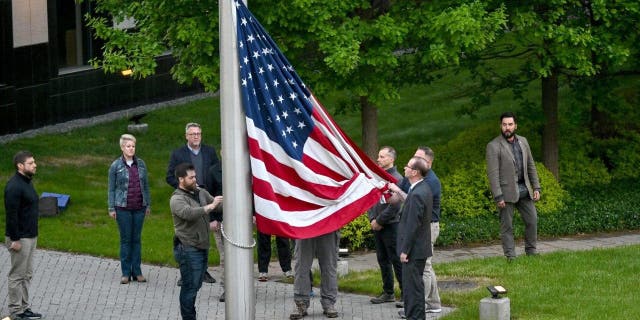 TOPSHOT – Employees rise up the flag outside the U.S. embassy in Kyiv on May 18, 2022, as the embassy reopens after being closed for three months due to the Russian invasion.  (Photo by SERGEI SUPINSKY/AFP via Getty Images)
US SPECIAL FORCES IN UKRAINE AT EMBASSY, OFFICIAL CONFIRMS, AS PENTAGON DOCUMENT LEAK PROBE HEATS UP
"This is the type of stuff we're always concerned about – the unintentional," Rebekah Koffler, a former Defense Intelligence Agency intel officer specializing in Russian doctrine, told Fox News Digital in reference to the intelligence community. "The answer is going to be complicated."
Koffler explained that traditionally a strike on a Russian or American soldier by the U.S. or Russia, respectively, would have been considered crossing a "red line" – a scenario that officials in Moscow and Washington previously assumed would prompt a war.
But this assessment shifted in 2018 when Washington and Moscow began engaging in a proxy war in Syria, and U.S. forces found themselves in direct firefights with Russian mercenaries.
In February 2018, pro-Syrian forces and hundreds of Russian mercenaries attacked a small U.S. outpost in a brutal four-hour assault as some 500 men reportedly advanced on 40 U.S. troops.
Miraculously, none of the 40 American troops was injured, despite the heavy firefight that ensued after a wave of U.S. air strikes crippled the pro-Syrian assault.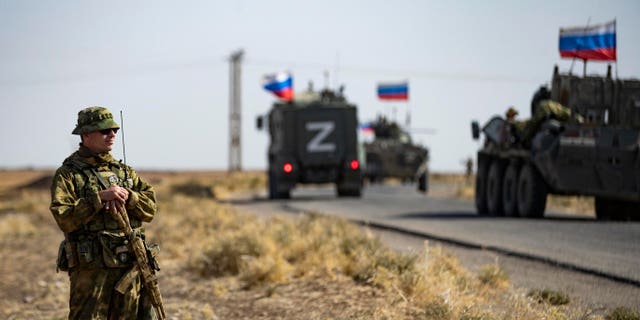 Soldiers of a Russian military convoy and their U.S. counterparts exchange greetings as their patrol routes intersect in an oil field near Syria's al-Qahtaniyah town in the northeastern Hasakah province, close to the border with Turkey, on October 8, 2022.  (Photo by DELIL SOULEIMAN/AFP via Getty Images)
Former Secretary of State Mike Pompeo later told lawmakers that "a couple hundred Russians were killed," but Moscow never responded like the intelligence community feared it would.
"We were wrong," Koffler said. "[Russian President Vladimir] Putin didn't even blink. Before the war, we would have thought that this would have started World War III.
"Things have changed dramatically," she continued. "When both sides realized that there's a real possibility of war breaking out between Russia and the U.S., the leadership started taking things more seriously."
RUSSIA FLYING MORE ARMED AIRCRAFT OVER US BASES IN SYRIA, US CENTCOM COMMANDER SAYS
Koffler explained that both Putin and Biden are extremely weary of a U.S.-Russia war, given the vast nuclear arsenal that both countries possess. For this reason, the Russia expert does not believe that Washington would respond if an American soldier were accidently killed in Ukraine.
"I don't think a kinetic response targeting Russia proper is on the table under any U.S. leader, unless we are far along into the conflict spectrum," she said.
"Intention is a big deal," she added, noting that it would likely require that Russia purposefully targeted and killed hundreds of Americans for the U.S. to respond with a traditional military strike.
But Koffler also said that an intentional Russian strike on the U.S. embassy in Ukraine is extremely unlikely.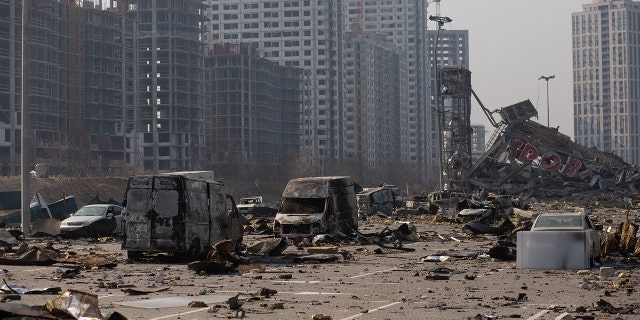 The site of a rocket explosion where a shopping mall used to be, on March 23, 2022, in Kyiv, Ukraine. The rocket hit the shopping mall on March 20, 2022.  (Photo by Anastasia Vlasova/Getty Images)
"The Russians are terrified of a U.S. kinetic response, so they would never do that," she added, caveating that Russia may be prompted to strike the U.S. in a targeted attack if Moscow's intelligence agency were to assess that a similar attack on a Russian embassy were imminent.
"It's very complicated," Koffler said. "Kinetic attacks on an embassy are not on the table by either side at this stage where we are in the conflict spectrum."
The Russia expert said attacks of a softer nature, like cyber, diplomatic backlash and sanctions, would be a more likely response to an accidental killing of a U.S. soldier in Ukraine. She also noted that the Biden administration is cautious when it comes to cyber warfare, which she pointed out can also be escalatory.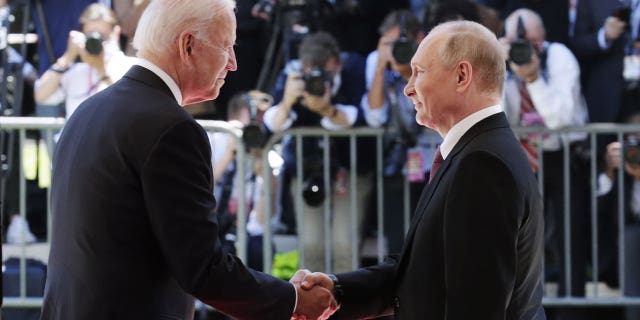 GENEVA, SWITZERLAND – JUNE 16, 2021: U.S. President Joe Biden (L) and Russia's President Vladimir Putin shake hands as they meet for talks at the Villa La Grange. Mikhail Metzel/TASS. (Mikhail Metzel/TASS.No use Russia.)
CLICK HERE TO GET THE FOX NEWS APP
"There's a belief in the [Biden] administration . . . that cyber is very difficult to calibrate in such a way that it would not escalate and have a cascading effect, and then we are in a cyberwar," she said. "And in some sense, justifiably so. But on the other hand, the Russians have assessed that we are very risk-intolerant."
Koffler warned that there are no guarantees when geopolitical tensions remain high.
"The Russians are angry at us, and we're angry at them. That trickles down in to the battlefield. So unintentionally or maybe even intentionally, somebody could . . . get off their rocker and do something that normally shouldn't be done," she added.