U.S. Border Patrol agents answering reports of gunfire shot and killed a man on a tribal reservation in southern Arizona after he abruptly threw something and raised his arm, the agency said Monday.
The FBI and Tohono O'odham Nation are investigating Thursday night's fatal shooting of Raymond Mattia.
Monday's U.S. Customs and Border Protection statement said tribal police had asked Border Patrol agents for help in responding to a report of shots fired west of the Menagers Dam community on tribal land near the U.S.-Mexico border.
US BORDER PATROL AGENTS IN ARIZONA FATALLY SHOOT TRIBAL MEMBER, INCIDENT UNDER FBI INVESTIGATION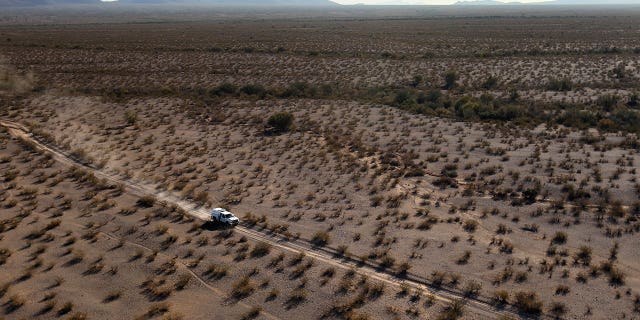 U.S. Border Patrol agents drive on Dec. 9, 2010, in the Tohono O'odham reservation, Arizona, near the U.S.-Mexico border. The FBI and Tohono O'odham Nation police are investigating an incident that occurred last week when U.S. Border Patrol agents fatally shot a tribal member in southern Arizona.  (John Moore/Getty Images)
Because of bad weather, no air ambulance was available to take the man to a hospital and despite lifesaving efforts he was declared dead shortly after 10 p.m., according to the statement.
An autopsy was conducted but the Pima County Medical Examiner's Office didn't immediately release details.
The three Border Patrol agents who opened fire and at least seven others were wearing body cameras and activated them during the incident, the statement said.
CLICK HERE TO GET THE FOX NEWS APP
Tucson TV station KVOA reported earlier that family members of Mattia, who didn't want to be identified by name, told the station that he had called the Border Patrol because there were multiple migrants who had trespassed into his yard and he wanted assistance getting them out of his property.
Family members also said that Mattia had gone outside when he saw the agents and was only two feet from his front door when dozens of shots were fired at him.