Two Maryland suspects face manslaughter and negligent homicide charges after crashing into each other in a highway construction zone, killing six road workers in March.
Maryland State Police said Lisa Adrienne Lea, 54, of Randallstown, and Melachi Duane Darnell Brown, 20, of Baltimore, were indicted Monday on charges associated with the deaths of the highway workers.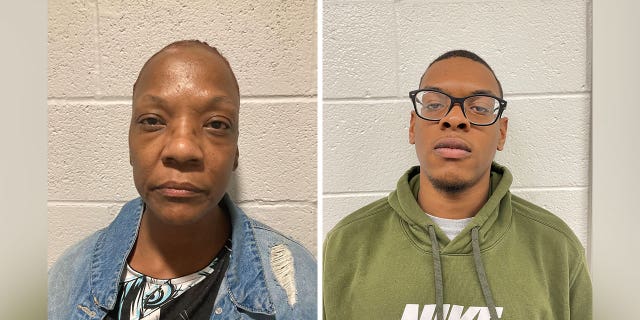 Lisa Adrienne Lea and Melachi Duane Darnell Brown booking photos (Maryland State Police)
Both suspects were indicted on six counts each of manslaughter, negligent homicide, and causing the death of a vulnerable individual while operating a motor vehicle, and single counts of conducting an unsafe lane change, speeding, failing to control speed to avoid a collision, following a vehicle too closely, negligent driving and aggressive driving.
MARYLAND POLICE INVESTIGATING DEADLY SHOOTING AT FUNERAL SERVICE FOR 10-YEAR-OLD GIRL KILLED ON MOTHER'S DAY
THREE KILLED IN MARYLAND AFTER CAR VEERS OFF ROAD, PLUNGES 500 FEET TO QUARRY BELOW
The collision caused Lea's car to lose control, drive through a barrier to the work zone, and overturn in an area of the left shoulder where construction crews were working.
When emergency personnel arrived at the crash, they pronounced six of the workers dead.
Brown was arrested Monday and released to home detention following an appearance in court.
CLICK HERE TO GET THE FOX NEWS APP
Lea surrendered on Wednesday morning at the Maryland State Police Golden Ring Barrack, where she was processed.