Nikki Haley ranks high on the list of Republicans who don't want to directly criticize Donald Trump.
In fact, she deflects every question about the front-runner and insists only the media are asking her about this.
But she came up with a not-so-subtle method of taking a few swipes at her rivals. It's called the confidential memo. And I can't exactly say it has no fingerprints.
The Haley campaign simply leaked the memo to Axios – which touted it as a scoop. An Axios reporter confirmed it came from the campaign (duh). And a leaked memo is sexier to journalists than, say, a sitdown interview.
MAJORITY OF DEMS OPPOSE BIDEN RUN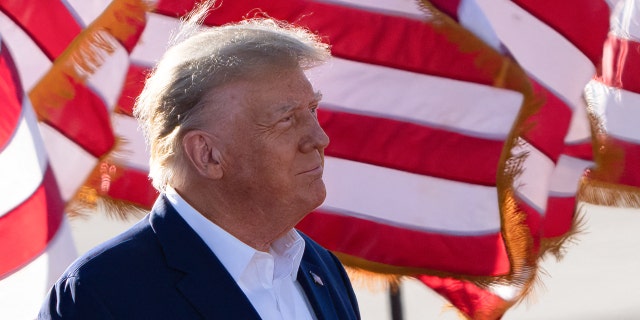 Former President Donald Trump speaks during a 2024 election campaign rally in Waco, Texas, March 25, 2023.  (SUZANNE CORDEIRO/AFP via Getty Images)
Haley has raised $11 million in six weeks, and the memo from campaign manager Betsy Ankney says: "Donald Trump had a pretty good Q1, if you count being indicted as 'good.'"
Zing!
"Still, it's increasingly clear that Trump's candidacy is more consumed by the grievances of the past and the promise of more drama in the future, rather than a forward-looking vision for the American people." Perfectly fair shots – but why couldn't Haley say these things herself? Who is she fooling? Perhaps she thinks she's avoiding a Trump counterattack by laundering it through the press. The memo also says of Ron DeSantis that he's "not ready for prime time."
Still, the memo didn't make much news, not in this environment. Sen. Tim Scott announced a presidential exploratory committee yesterday. Which means he's running.
The Senate's only black Republican is an attractive candidate with a compelling life story, which he summarizes as "from cotton to Congress."
In a video, Scott stressed his optimistic message: "I know America is a land of opportunity, not a land of oppression. I know it because I lived it." But given the nature of today's GOP, Scott has to be regarded as a long shot. And as more Republicans jump in, they increase the chances of Trump cruising to the nomination as they divide the opposition vote.
BIDEN FADES FROM NEWS AMID TRUMP MELODRAMA
Both Haley and Scott got a sliver of the coverage that Trump attracted, not surprisingly, by sitting down with Fox's Tucker Carlson.
The former president was full of provocative responses, such as saying he'll stay in the race even if he's convicted in the Stormy Daniels case. When he was brought in for the arraignment, "They were actually crying. They said 'I'm sorry.' They'd say '2024, sir, 2024.' And tears are pouring down their eyes."
Will Joe Biden stay in the race?
"Look, I watch him just like you do, and I think it's almost inappropriate for me to say it. But I deal with other people. I don't see – I don't see how it's possible.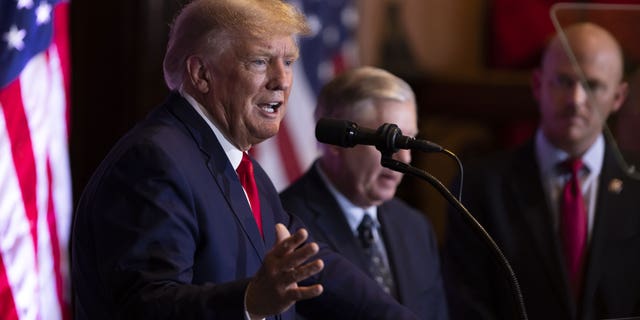 Former US President Donald Trump speaks during a campaign event at the South Carolina State House in Columbia, South Carolina, US, on Saturday, Jan. 28, 2023. (Sam Wolfe/Bloomberg via Getty Images)
And it's not an age thing."
Then what is it?
Trump delivered his standard riff about the president being surrounded by "smart" but "vicious" left-wingers, as if Biden isn't really in charge.
In a particularly strange series of exchanges, Trump said Biden "is not top of the line" and then proceeded to praise dictators around the globe.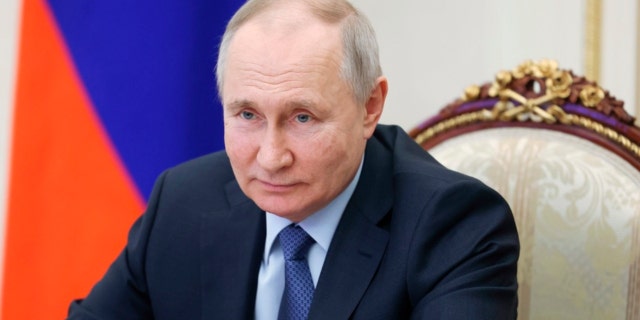 Russian President Vladimir Putin chairs a meeting on the social and economic development of Crimea and Sevastopol via a videoconference at the Moscow's Kremlin in Moscow, Russia, Friday, March 17, 2023.  (Sputnik, Kremlin Pool Photo via AP)
Vladimir Putin? "Very smart," said Trump, despite the fact that he has decimated his military and committed countless war crimes by invading Ukraine.
SUBSCRIBE TO HOWIE'S MEDIA BUZZMETER PODCAST, A RIFF ON THE DAY'S HOTTEST STORIES
"People ask me, how smart is Xi? I say, top of the line. You've never met anybody smarter. How smart is Kim Jong-un? Top of the line."
But was Kim, who inherited his job, smart enough to make a nuclear deal with Trump? No.
CLICK HERE TO GET THE FOX NEWS APP
Whether you agree or disagree with Trump's comments, they're all designed to generate buzz and be replayed (and even denounced) on television. That leaves those with leaked memos and exploratory groups in the shadows, and it leaves the indicted former president even more of a front-runner than he was a week ago.