A Mississippi mother and stepfather were arrested in the death of their 5-year-old child who died after an incident they initially blamed on black mold.
Denzel Jamal Blakely, 29, and Lachelle Renae Washington, 31, were both charged in the death of Edward Lamptey.
Blakely, the child's stepfather, was charged with capital murder, while Washington was charged with child deprivation of necessities resulting in substantial harm, according to a report from the Sun Herald Tuesday.
According to police, first responders were called to the couple's home last week for a medical emergency involving a child. The couple initially told police that they believed the child was suffering respiratory issues as a result of black mold in their apartment, WLOX reported, but an autopsy revealed the child actually suffered blunt force trauma and his death was ruled a homicide.
PENNSYLVANIA MOM FATALLY STRANGLES SON, DRIVES CAR INTO OCEAN: POLICE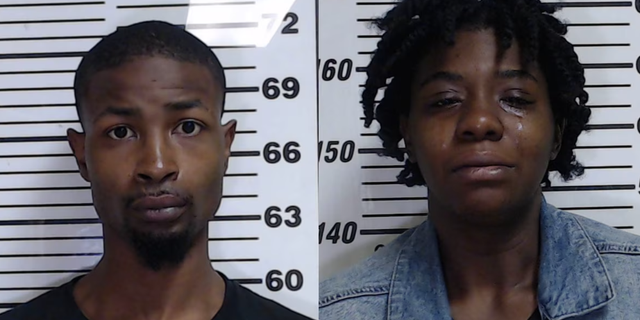 Denzel Jamal Blakely, 29, left and Lachelle Renae Washington, 31 (Gulfport Police Department)
Police said the medical examiner's office did not find any evidence the child was suffering from respiratory issues, but did find wounds to Lamptey's head and body that were determined to be the cause of the boy's death.
Lamptey was pronounced dead at Memorial Hospital in Gulfport the same morning as the call, with both Blakely and Washington admitting culpability for their roles in the child's death, according to police.
Both suspects are being held at Harrison County Adult Detention Facility, with Washington's bond set to $50,000 and Blakely being held without bond.
CLICK HERE TO GET THE FOX NEWS APP
The Gulfport Police Department did not immediately respond to a Fox News request for comment.