In 1976, Binan Tuku ventured to meet a Brazilian government's expedition on the banks of the Itui River in a remote area of the western Amazon rainforest. After some initial suspicion, he and his father accepted machetes and soap in what was the beginning of the Matis tribe's contact with the non-Indigenous world.
Nearly 50 years later, Tuku's own son Tumi is trying to carve out a living in the impoverished city of Atalaia do Norte. Instead of the traditional blowgun, Tumi held a pastry bag in his hands while working in a bakery, and his face bore none of the tattoos or piercings characteristic of the Matis.
"In the village, the quality of education is not as good as in the city," said Tumi, 24, who hopes to go to college to study medicine or journalism. "I want to engage with non-Indigenous people, learn from the challenges I face, and perhaps one day return to my village to share my understanding of how the city functions with the elders."
Thousands of Indigenous like Tumi are migrating to cities like Atalaia do Norte, some in pursuit of a better education and some drawn by a federal welfare benefit that can ensnare them in urban poverty. Their exodus is leaving villages to wither and raising concern that the world's largest tropical rainforest — crucial to stemming the worst of climate change — will be left without its most effective guardians.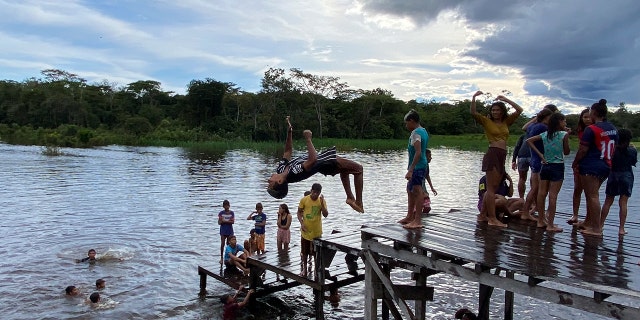 Children play in Atalaia do Norte, Brazil, on March 1, 2023. Scores of Indigenous families have left their territory in the Javari Valley, for the city of Atalaia do Norte. (AP Photo/Fabiano Maisonnave, File)
"In the village, there are few people; it's the older leaders. The youngsters are in the city," he said. "No young Matis knows how to make a blowgun, an arrow. When the students go to the village for vacation, they don't want to learn from the elders. They want to play soccer, have fun, and do things of the white man."
Bushe Matis, president of Univaja, the main association for Indigenous peoples in the Javari Valley, worries that the migration will lead to cuts in health and education programs and the potential revocation of Indigenous territories that might then be opened for mining and drilling.
The Amazon came under heavy pressure under far-right President Jair Bolsonaro, who favored development. His single term saw a surge in illegal mining and deforestation hit a 15-year high.
Luiz Inácio Lula da Silva has sought to lessen pressure on the Amazon since defeating Bolsonaro in last year's election. He established a Ministry of Indigenous Affairs in part to safeguard Indigenous communities. A crucial part of that is improving education, a significant challenge in remote areas of the Amazon.
Indigenous families also face hostility from non-Indigenous residents who see them as competition for limited resources, especially fish.
"The Indians come here, the government doesn't give them food, and they fish on our side," said fisherman Antonio Alves, 46. "When one of us mistreats someone, it's for our survival."
"They conclude that it's better to stay in the city, receiving this amount and putting it towards studying since there isn't even a complete primary education in the village," said Wadick, the anthropologist. Indigenous leaders say village schools are in shambles from poor maintenance and lack of oversight by governments. Many Indigenous teachers have been spending long periods in the city, neglecting their work.
But the money isn't enough to cover life in the city, either. The minimum payment is $125 per month, plus small additions for pregnant women and for children depending on age. Indigenous people often compete against each other for poorly paying jobs like collecting garbage or sweeping streets. Many endure hunger.
"We need clothing, to eat every day, to pay for electricity, and water bills. If all of that were free, we could sustain ourselves with $125," said Tumi, who recently left the bakery to work for Univaja.
Nelly Marubo, an anthropologist who is Indigenous, said her ideal is culturally adapted village schools where students have access to both Indigenous and non-Indigenous knowledge without needing to be in the city. But she was shocked by what she found when, after a five-year absence, she recently visited her native region deep in the Javari Valley to film a documentary about her life.
"I always have in my mind lots of children and young people, but unfortunately, this time the visit was very sad," she said. "I found an abandoned village with only four elderly women."