Supreme Court Justice Clarence Thomas was born in Pin Point, Georgia on this day in history, June 23, 1948.
His entire family grappled with extreme poverty. His parents divorced when he was a toddler; Thomas' father left the family when Clarence Thomas was only two years old. Eventually, Clarence Thomas was sent to live with his maternal grandfather following a house fire, multiple sources note.
Thomas' grandfather had a profound impact on his life: Thomas even titled his 2008 memoir "My Grandfather's Son."
ON THIS DAY IN HISTORY, JUNE 22, 1944, FDR SIGNS GI BILL, WITH FAR-REACHING IMPACT ON AMERICAN VETERANS
He became the first Black student to be admitted to St. John Vianney, a Catholic minor seminary, said the website Oyez.
"My nuns and my grandparents lived out their sacred vocation in a time of stark racial animus, and did so with pride with dignity and with honor," said Thomas at Notre Dame.
"To this day I revere, admire and love my nuns. They were devout, courageous and principled women," he said.
He left seminary after again experiencing racism from classmates — and transferred to the College of the Holy Cross in Worcester, Massachusetts.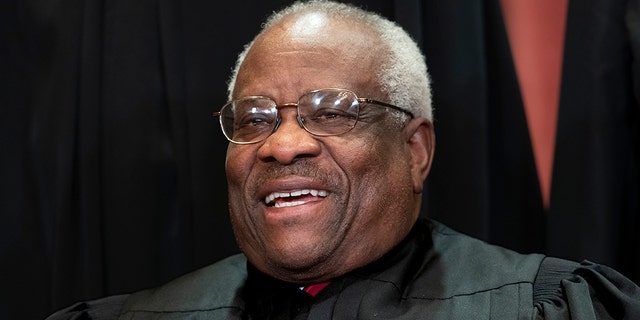 Associate Justice Clarence Thomas, appointed by President George H. W. Bush, took his seat on the Supreme Court on Oct. 23, 1991.  (AP Images)
He graduated cum laude in 1971, said Oyez.
In 1974, he graduated from Yale Law School and was admitted to law practice in Missouri of that same year, the Supreme Court's website notes.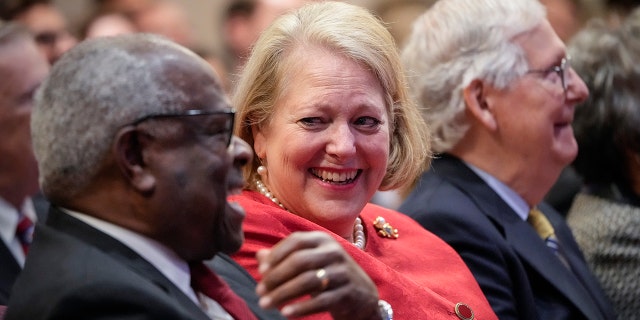 Clarence Thomas and his wife, Virginia "Ginni" Thomas. Thomas was born on this day in history, June 23, 1948.  (Drew Angerer/Getty Images)
President George H. W. Bush appointed Thomas as an associate Supreme Court justice following the retirement of Justice Thurgood Marshall.
Marshall was the first Black member of the Supreme Court; Thomas was the second.
After a highly contentious confirmation hearing, the Senate voted 52-48 to approve Clarence Thomas to the high court, History.com noted.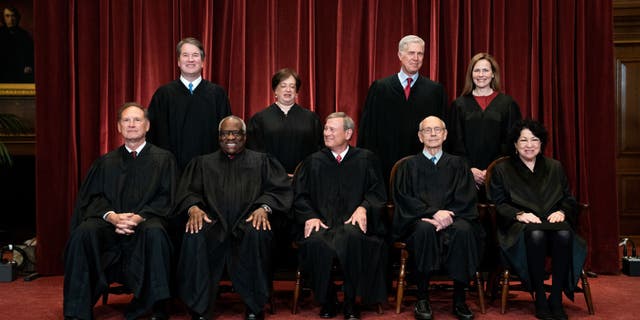 Members of the Supreme Court pose for a photo in Washington, D.C. on April 23, 2021. Seated, second from left, is Associate Justice Clarence Thomas.  (Erin Schaff-Pool/Getty Images)
Thomas' Martin-Quinn score — (or MQ score, referring to metrics used to gauge the ideology of Supreme Court justices based on their voting record) — of 3.05 during the 2021-2022 term was the most conservative of anyone on the court, the website Ballotpedia noted.
Thomas is married to Virginia "Ginni" Thomas.
He has one son, Jamal, from a previous marriage, said Oyez.
He added, "His legacy is a courageous justice who faithfully applied the Constitution."