Rep. Chip Roy, R-Texas, scorched President Biden in a House floor speech Thursday demanding his impeachment, accusing the administration and Democrats of expressing "false" compassion toward migrants while allowing the "dangerous hand of cartels" to stretch into the United States.
On Wednesday night, the House Rules Committee reported a rule to refer House Resolution 503 to the Committee on Homeland and Security and Judiciary laying out articles of impeachment against President Biden "for his failure to secure the southern border of the United States."
"The laws of the United States are there expressly and specifically laid out to ensure that our border will be protected, that our nation will be secure," Roy told the House floor Thursday. "That is the fundamental question before us is when the Executive Branch fails to follow the law, when the Executive Branch fails to adhere to its duty to defend the Constitution, the laws of the United States, then what is it that the Congress – that the People's House – is supposed to do in response?"
"The founders gave us a mechanism, and here today we are talking about putting forward and referring these articles to the Homeland Security Committee for determination of the extent to which the homeland is, in fact, not secure as a direct consequence of the refusal of the administration, well beyond maladministration, but very specifically the refusal to follow the laws of the United States that is resulting in the direct consequence of the death and damage to the American people.," he continued.
The smuggling organization charged $10,000 to smuggle an adult illegal immigrant to the U.S. and between $12,000 to $14000 to smuggle a child.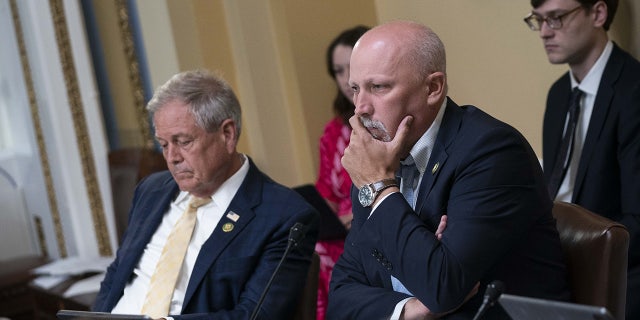 Rep. Chip Roy, R-Texas, seen during a meeting on the Fiscal Responsibility Act of 2023 in Washington, D.C., Tuesday, May 30, 2023. Roy reached called for President Biden's impeachment due to the administration's border policies. (Sarah Silbiger/Bloomberg via Getty Images)
The order lays out how authorities discovered that there was an illegal immigrant in Baltimore who was being held for ransom so that his family would not be abused by the Juarez cartel. The cartel member allegedly told the husband, "They would do things to his daughter he would not like," if he did not make a payment of $23,000, Roy said.
"This is the state of affairs in our country. And this is the consequence to those migrants who were seeking to come here when my colleagues in the false name of compassion state that open borders is somehow good for them," Roy said. "But this is causing crime to extend into our communities. This is causing us to experience the dangerous hand of cartels. Just this morning, we had more news about cartels and their reach into Texas, into the United States. It is an everyday occurrence. Bailouts, damage to ranches, harm to Texans, death to Texans, fentanyl. How many more fentanyl moms? How many more angel moms? How many more Americans need suffer because this president refuses to follow the laws of the United States that he raised his hand and swore an oath to defend?"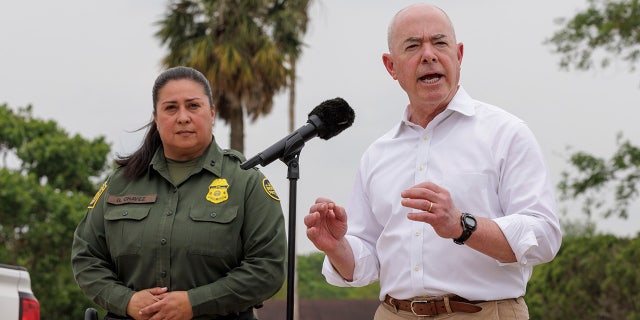 Department of Homeland Security Secretary Alejandro Mayorkas, right, speaks about immigration and the end of Title 42 on May 5, 2023, in Brownsville, Texas. House Republicans accuse the administration of dereliction of duty on the border. (Michael Gonzalez/Getty Images)
Since the end of Title 42 on May 11, the Democrat argued that unlawful entries along the southern border have plummeted. As of June 6, Customs and Border Protection reported over 70% fewer encounters between points of entry or unscheduled encounters per day, McGovern said, adding that "fentanyl seizures have increased under the Biden presidency."
"They would rather talk about building a stupid wall along our southern border that they know won't work," McGovern said of Republicans. "Or about a non-binding resolution they put on the floor this week that demonizes migrants but does nothing to fix our immigration system. I mean, they have a policy disagreement with President Biden and their first impulse isn't let's pass an immigration bill. Their first impulse is to impeach him. Our founding fathers must be rolling over in their graves."
CLICK HERE TO GET THE FOX NEWS APP