Texas Gov. Gregg Abbott sent a letter to outgoing Chicago Mayor Lori Lightfoot on Monday, suggesting if she does not like busloads of migrants being sent to the Wind City, then she should contact the White House about its open-border policies.
Abbott began sending migrant buses to Chicago and other sanctuary cities like New York City and Washington, D.C., last fall in response to the increase of migrant crossings at the southern border.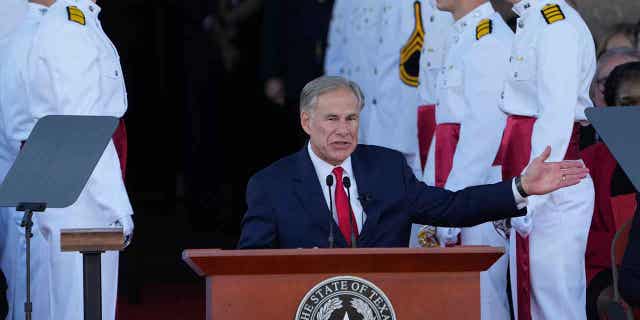 Texas Gov. Greg Abbott speaks during his inauguration ceremony in Austin, Texas, Jan. 17, 2023.  (AP Photo/Eric Gay, File)
The Republican governor has stated he will continue to send busloads of illegal immigrants to these sanctuary cities until the federal government secures the border.
LORI LIGHTFOOT PLEADS WITH GOV. ABBOTT TO STOP SENDING MIGRANTS TO CHICAGO: 'DANGEROUS AND INHUMANE'
On Sunday, Lightfoot sent a letter to Abbott and requested he stop sending busloads of migrants to Chicago.
"The ongoing border and humanitarian crisis that Texas and the entire United States are grappling with is a direct result of President Biden's open-border policies," Abbott said in a letter to Lightfoot obtained by NBC News. "Under the previous administration, illegal immigration was at its lowest levels in decades. Now, President Biden is preparing to open the floodgates by ending Title 42 expulsions next week, and Texas is on the front lines of this catastrophe."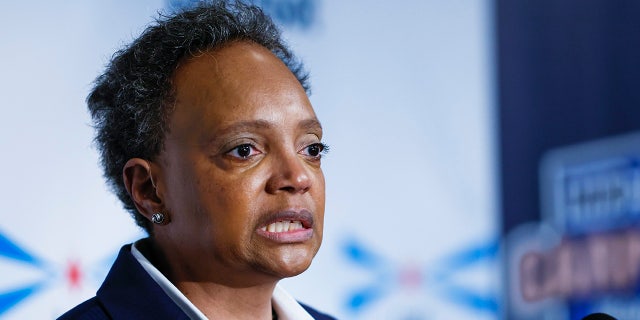 Chicago Mayor Lori Lightfoot speaks during election night rally at Mid-America Carpenters Regional Council on Feb. 28, 2023 in Chicago, Illinois. (Kamil Krzaczynski/Getty Images, File)
The Title 42 public health order was implemented at the beginning of the COVID-19 pandemic during the Trump administration and allowed border authorities to rapidly expel migrants at the southern border for public health reasons without being put into detention.
MAYOR LORI LIGHTFOOT LASHES OUT AT TEXAS GOV. ABBOTT AFTER 50 MORE MIGRANTS ARE BUSSED TO CHICAGO
Abbott told Lightfoot it was "ironic" to hear her complain about the self-declared sanctuary city's struggle to deal with a few thousand illegal immigrants.
"With Title 42 expulsions set to end next week, the federal government has estimated that we could have up to 13,000 illegal immigrants cross the U.S.-Mexico border every single day. Some reports indicate that there are nearly 35,000 waiting to cross into El Paso as soon as Title 42 expulsions are no longer in effect," Abbott said. "If Chicago can't deal with 8,000 in less than a year, how are small Texas border communities supposed to manage 13,000 unjust one day?"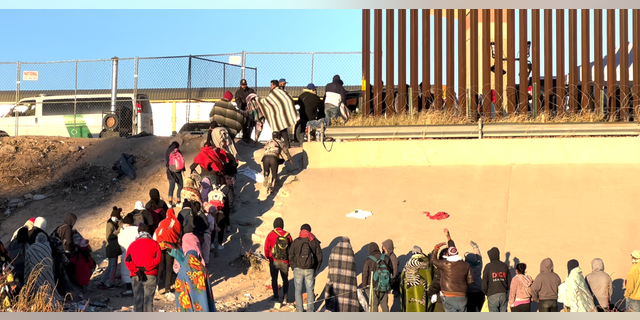 Migrants at the front of the line are processed for entry by U.S. Customs and Border Protection. (Jon Michael Raasch/Fox News Digital)
The governor connected the illegal crossings to increased criminal activity, gang violence and fentanyl, which he added are not problems that stay in the border communities of Texas. Instead, they sprawl across the country and into places like the streets of Chicago.
CHICAGO MAYOR LORI LIGHTFOOT SLAMS TEXAS GOV. ABBOTT AS A 'MAN WITHOUT ANY MORALS' AFTER SENDING MIGRANT BUSES
"Innocent Americans are put at risk every day by these open-border policies," Abbott wrote. "If you truly want to 'work together to find a real solution' to this border crisis gripping our nation, you must call on the Biden Administration to do its job by securing our border."
Lightfoot said in her letter that she is sympathetic to the challenges of border towns like Texas, but the issue will not be resolved by passing the responsibility to other cities.
She also said she will continue to call on the federal government for more resources and support to address the influx of migrants while also demanding policy changes to the U.S. immigration system.
CLICK HERE TO GET THE FOX NEWS APP
On Monday, FOX 32 Chicago reported that a May Day rally and march took place in Chicago, calling for immigration reform.
The marchers demanded permanent housing for migrants who were bused to the city and are now living in public facilities, as well as a path to citizenship.
Landon Mion of Fox News contributed to this report.