The better to kiss you with? The Tyrannosaurus rex may have had scaly lips that covered their teeth.
Researchers said depictions of the predator with giant flashing teeth, fully visible, might be incorrect.
In a study published Thursday in the journal Science, paleontologists compared skulls and living reptiles.
Their findings distorted the image of the classic "Jurassic Park" series, finding that the teeth on the T. rex and other big theropods were likely covered by the lips. The teeth did not stick out when its mouth was closed, with just lips visible even in a wide open bite.
BIGGEST PENGUIN IN HISTORY WAS 'MONSTER BIRD,' WEIGHED OVER 300 POUNDS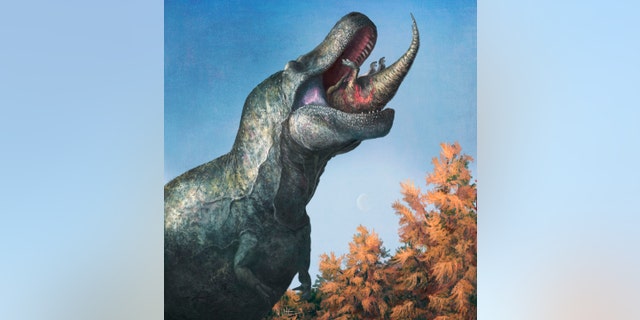 This illustration provided by Mark P. Witton in March 2023 depicts a juvenile Edmontosaurus being eaten by a Tyrannosaurus rex with a lipped mouth. The teeth on T. rex and other big theropods were likely covered by scaly lips, concludes a study published Thursday, March 30, 2023, in the journal Science. The dinosaur's teeth did not stick out when its mouth was closed, and even in a wide open bite, you might just see the tips, the scientists found. (Mark P. Witton via AP)
Some large monitor lizards actually have bigger teeth than T. rex compared to their skull size and can still fit them under a set of scaly lips, according to study author Thomas Cullen, a paleontologist and assistant professor at Auburn University.
"We reconstructed soft tissue anatomy, compared dental measurements and studied dental health and wear records to further uncover that what you are used to seeing on the big screen is not accurate," he said in a release from the university. "The teeth of these theropod dinosaurs did not experience wear and tear like a crocodile, and most likely had a lip-like covering."
Examining wear and tear on teeth also pointed to these conclusions.
Analyzing a tooth from T. rex relative Daspletosaurus, it was found to be in good condition and did not show an uneven damage pattern – something exhibited in creatures with teeth sticking out of their mouths.
"This changes our perceptions about the appearance and oral configuration of these iconic predators and has broad implications for our interpretations of other terrestrial animals with large teeth," the authors said.
David Hanke, an officer from the Exhibition Department of the Field Museum in the city of Chicago, makes final touches on the skull of the world's largest Tyrannosaurus rex, SUE, on display at the Dinosaur Expo 2005 at the National Science Museum in Tokyo on March 14, 2005. (TOSHIFUMI KITAMURA/AFP via Getty Images)
CHRISTIE'S PULLS T. REX SHEN FROM AUCTION FOLLOWING QUESTIONS ABOUT SKELETON: REPORT
Auburn said measurements taken from the "SUE" T. rex skeleton – which resides at Chicago's Field Museum of Natural History – played an important part in the study.
The museum says SUE is physically the largest T. rex specimen discovered and the most complete, at around 90%.
This research is the latest in a long back-and-forth over how dinosaur mouths really looked and is not the first time depictions of the T. rex and dinosaurs have been called into question.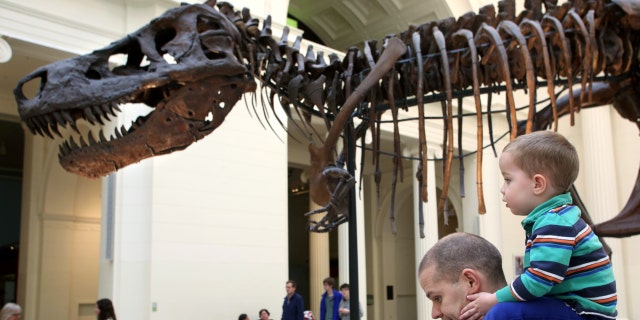 Visitors to the Field Museum of Natural History in Chicago admire SUE, one of the largest, most extensive and best-preserved Tyrannosaurus rex specimens ever found, Tuesday, April 1, 2014. ((Photo by Brett T. Roseman for The Washington Post via Getty Images))
For example, other research has shown that T. rex was more hunched over than initially believed, and that velociraptors likely had feathers.
Most of what we know about dinosaurs comes from their bones, but it can be harder to get clear answers about soft tissues like skin, which are not usually preserved as fossils.
Cullen noted that dinosaur lips would be "very different from our lips, in that although they would cover the teeth, they could not really be moved independently, couldn't be curled back into a snarl, or make other sorts of movements we associate with lips in humans (or other mammals)."
"In this way, dinosaur lips would be more similar to those of many lizards or amphibians, even if we typically associate the structure of lips with mammals like ourselves," he explained.
The Associated Press contributed to this report.