Some physicians, frustrated by state GOP bans on gender reassignment procedures for minors, are considering quitting their jobs and retiring early, according to a Sunday report in Politico.
Most recently, North Dakota's Republican Gov. Doug Burgum signed a bill into law that immediately made it illegal to provide sex change operations to minors. Other states with bans on transgender treatment for children include Florida, Georgia, Missouri and more than 10 others.
Politico interviewed doctors in states with bans or restrictions on medical interventions on minors, which includes surgeries, hormones and puberty blockers – also called gonadotropin-releasing hormones (GnRH). GnRH is also used for patients with testicular cancer.
Politico reported, "While some doctors, especially those early in their careers, said the bans have inspired them to work harder and continue providing this kind of care, others who are older said they have considered quitting or retiring early — though they acknowledge doing so would make it even harder for their patients to receive care."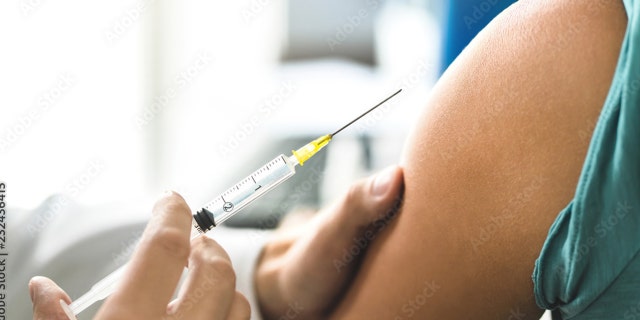 Gender-affirming care has been called "life-saving" by multiple medical associations. Its critics raise concerns about the long-term effects on the minor cohort, of which there is limited research, and the ability to consent.  (Adobe Stock )
NIH STUDY RECRUITING 18-YEAR-OLDS TO LEARN 'UNKNOWN' SIDE EFFECTS OF TESTICLE REMOVAL FOR GENDER DYSPHORIA
Physicians also complained about harassment and threats, according to Politico.
"I got an email telling me that I'm evil, I'm foolish, my work is opposing God, that I harm children, that I'm going to hell, and that I should die," said Meredithe McNamara, an assistant professor of pediatrics who specializes in adolescent medicine at Yale University.
"The threats, the harassment, the constant fear of, 'Did I say that right? Is that OK? Should I have said that differently? Did I present my position in a public space as effectively as possible, and also did I say anything that is going to get my family targeted in some way?'" she wondered.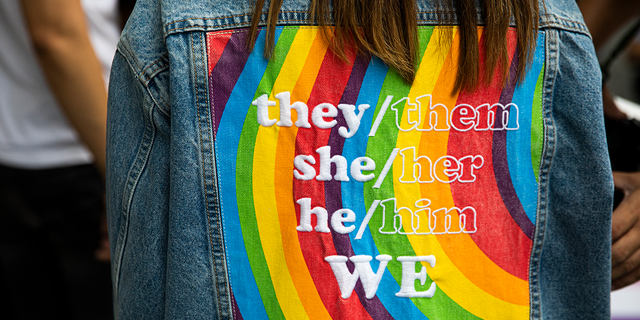 A person wears a gender neutral pronoun jacket at a pride event in 2022.  ((Photo by Lauren DeCicca/Getty Images))
GEORGIA LAWMAKERS PASS BILL BANNING GENDER-TRANSITION TREATMENTS FOR MINORS NOW HEADS TO GOV. KEMP'S DESK
Another doctor said the bans were having a negative impact on health care.
"We think about this affecting kids who live in [ban] states, but it's affecting kids everywhere and it's affecting care everywhere," said Angela Kade Goepferd, medical director of the Gender Health Program at Children's Minnesota. "It affects the families in the states where care is banned, and it affects the families in the states where the care is not."'
Proponents of "gender-affirming care" for minors say it is "medically necessary" and a "life-saving" treatment for a population with an extremely high rate of suicide.
The U.S. Department of Health and Human Services (HHS) said last year that "gender affirming care for minors, when medically appropriate and necessary, improves their physical and mental health."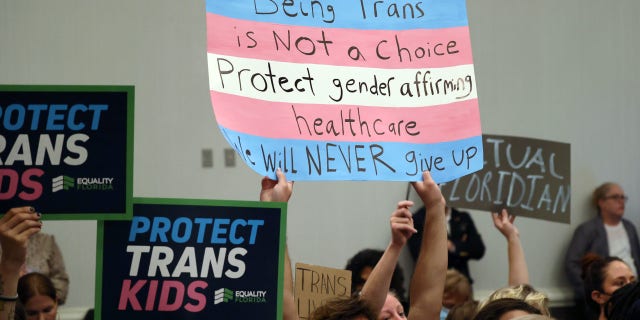 People hold signs during a joint board meeting of the Florida Board of Medicine and the Florida Board of Osteopathic Medicine gather to establish new guidelines limiting gender-affirming care in Florida, on Nov. 4, 2022.  (Ricardo Ramirez Buxeda/Orlando Sentinel/Tribune News Service via Getty Images)
It added, "Attempts to restrict… [or] falsely characterize this potentially life-saving care as abuse is dangerous."
However, Republican lawmakers led by Sen. Jim Risch, R-Idaho, demanded HHS reveal the evidence the agency relies on to encourage medical providers to administer hormone therapies and sex-change surgeries on minors.
FORMER TRANS KID SHARES AGONY OF SIDE EFFECTS FROM 'MUTILATING' MEDICAL TRANSITION: 'I'VE GOTTEN NO HELP'
In a letter to HHS Secretary Xavier Becerra, Risch and fourteen of his Republican colleagues from the House and Senate said, "HHS has a moral responsibility to ensure its recommendations are evidence-based and not driven by a contentious ideology," and alleged that HHS is encouraging medical providers to perform "gender-affirming care."
"We are increasingly alarmed that HHS' advocacy has led health professionals to prescribe dangerous and experimental drugs and surgeries to troubled children — in many cases covered with taxpayer dollars," the lawmakers wrote.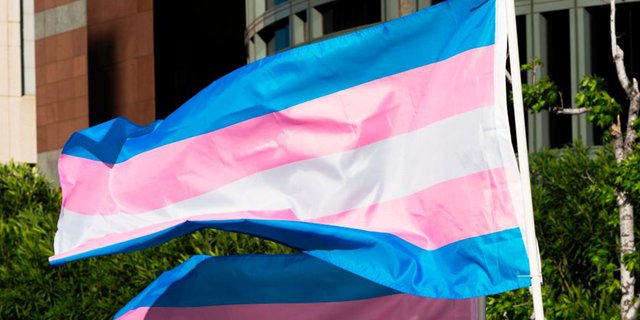 GOP lawmakers asked the HHS for evidence to support claims that gender-affirming care was not 'dangerous' or 'experimental.' (Getty)
CLICK HERE TO GET THE FOX NEWS APP
"Studies show that children who experience gender discordance often outgrow gender dysphoria and reconcile with their biological sex when medical professionals do not encourage or provide treatment to spur a gender change," the lawmakers wrote, adding that research shows up to 98 percent of such children come to accept their biological sex after puberty.
The Associated Press and Fox News' Brianna Herlihy contributed to this report.