FIRST ON FOX: A bipartisan, bicameral group of lawmakers is unveiling legislation on Thursday aimed at strengthening Taiwan's cybersecurity in order to help the island defend itself from the threat of a potential Chinese invasion.
Sens. Jacky Rosen, D-Nev., and Mike Rounds, R-S.D., both members of the Senate Armed Services Committee and its cybersecurity subcommittee, are introducing the Taiwan Cybersecurity Resiliency Act. The bill would pave the way for the Pentagon to conduct cybersecurity training in conjunction with Taiwan's military.
"We must push back on the Chinese Communist Party's growing aggression, and its attempts to undermine democracy around the world – including through hostile cyber actions. All too often, we've seen Taiwan used as a testing ground for China's cyberattacks later used against the United States," Rosen told Fox News Digital.
CHINA TO CONDUCT 'MAJOR MILITARY ACTIVITY' IN YELLOW SEA AMID HEIGHTENED TENSIONS IN REGION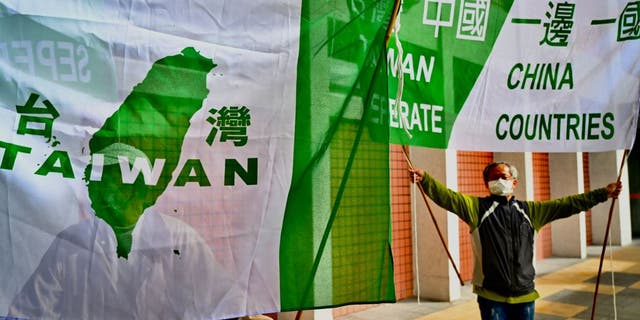 Pro-Taiwan independence activists display banners during a protest before China's Taiwan Affairs officials arrive in Taipei on Feb. 18, 2023. (SAM YEH/AFP via Getty Images)
"As a former computer programmer, I know that by collaborating with key democratic partners like Taiwan, we can more effectively counter cyberthreats from China at home and help defend our partners around the world," the Democrat added.
Rounds, the top Republican on the cybersecurity subcommittee, echoed that Taiwan's security in the face of Beijing's threats "is vital to our own national security."
US SAILS WARSHIP IN TAIWAN STRAIT FOLLOWING CHINA'S DRILLS IN REGION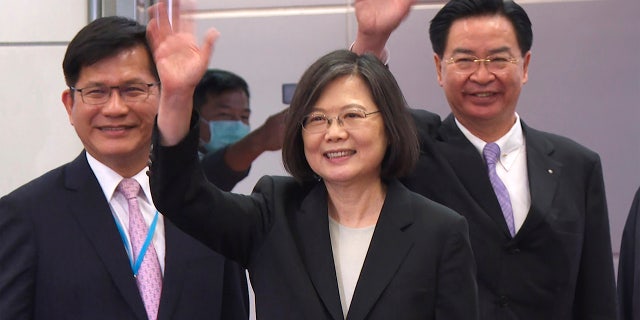 In this image made from video, Taiwan's Presidential office secretary general Lin Chia-lung, left, President Tsai Ing-wen, center, and Foreign Minister Joseph Wu wave before Tsai's departure on an overseas trip at Taoyuan International Airport in Taipei, Taiwan, Wednesday, March 29, 2023. ((AP Photo/Johnson Lai))
"With increasing aggressiveness by the People's Republic of China toward Taiwan, this legislation will help deter and, if necessary, defeat an attack by the PRC on Taiwan. Strengthening Taiwan's military cyber capabilities is one of multiple measures needed to build Taiwan into a well-armed porcupine," he said.
China was responsible for up to 40 million cyberattacks per month against Taiwan in 2019, the island's government estimated, according to the U.S. lawmakers. And in recent weeks, Beijing has ramped up threats of physical force against Taiwan by launching more military exercises in Taiwanese airspace, officials there said.
It's believed the simulated attacks are in retaliation for Taiwanese President Tsai Ing-wen meeting with U.S. House Speaker Kevin McCarthy in California.
CHINA CONDUCTS SECOND DAY OF MILITARY DRILLS AROUND TAIWAN, SIMULATES STRIKES ON THE ISLAND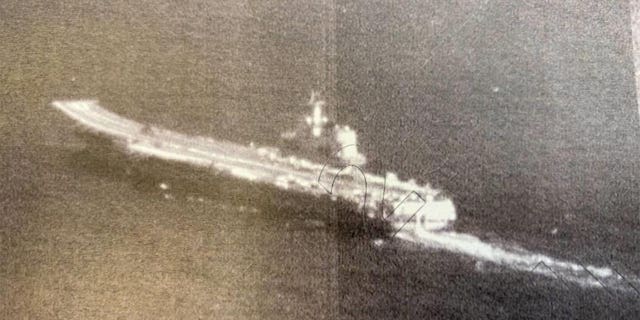 Taiwan Ministry of National Defense image of Chinese Communist Party's Shandong aircraft carrier formation.  (Taiwan Ministry of National Defense)
CLICK HERE TO GET THE FOX NEWS APP
In addition to requiring U.S. officials to conduct cybersecurity trainings, Thursday's legislation also aims to help defend Taiwan's cybersecurity infrastructure, with the goal of eradicating the threat of China's cyberattacks altogether.
The bill's counterpart in the House of Representatives is being introduced by Rep. Mike Gallagher, R-Wis., chairman of the Select Committee on China, and Rep. Chrissy Houlahan, D-Pa.