Multiple Senate Democrats have announced their support for a bill reversing President Biden's executive action allowing Chinese solar panel manufacturers to sidestep tariffs.
The growing support for the resolution among Senate Democrats, including some committee leaders, comes as the House is set to vote on a companion bill Friday morning. The Senate and House bills were introduced earlier this year, months after Biden implemented a 24-month pause on the enforcement of solar panel anti-circumvention tariffs amid pressure from climate and green energy groups.
"The United States relies on foreign nations, like China, for far too many of our energy needs, and failing to enforce our existing trade laws undermines the goals of the Bipartisan Infrastructure Law and Inflation Reduction Act to onshore our energy supply chains, including solar," said Sen. Joe Manchin, D-W.Va., who chairs the Energy and Natural Resources Committee.
"I cannot fathom why the Administration and Congress would consider extending that reliance any longer and am proud to join this CRA to rescind the rule," he continued.
CHINESE TECH COMPANIES ARE EXPLOITING US GREEN ENERGY GOALS, FORMER STATE DEPARTMENT OFFICIALS WARN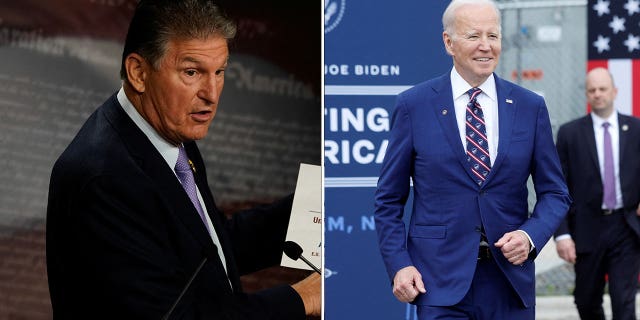 Sen. Joe Manchin, D-W.Va., said he "cannot fathom" why the Biden administration or Congress would allow the U.S. to maintain reliance on China. (REUTERS/Elizabeth Frantz | REUTERS/Jonathan Ernst)
Manchin also co-sponsored the Senate resolution overturning Biden's actions. Like the House bill, the Senate resolution utilizes the Congressional Review Act (CRA), a law dating back nearly three decades that allows Congress to revoke federal regulation.
Shortly after Manchin's announcement, several other Democratic colleagues similarly argued the Biden administration's actions protecting Chinese solar exports unfairly harmed the American solar industry.
DEM CONGRESSWOMAN SILENT ON WHY SHE SIGNED HUSH AGREEMENT INVOLVING CHINESE TECH COMPANY
"I've fought my whole career to stand up for Ohio manufacturers and Ohio workers when they're forced to compete with cheap, unfairly subsidized imports – I'm not going to stop now," Sen. Sherrod Brown, D-Ohio, said in a statement. "The Chinese government will do anything to undermine American manufacturing, and would like nothing more than to kill the American solar manufacturing industry before it takes off."
"Ohio is ready to lead in the manufacturing industries of the future – we must not put that progress at risk," added Brown, who chairs the Senate Banking Committee. "The president got this one wrong. I've always stood up to presidents of both parties to fight for fair trade and a level playing field for Ohio workers, which is why I will support Congressional action to end the Administration's waiver of solar tariffs."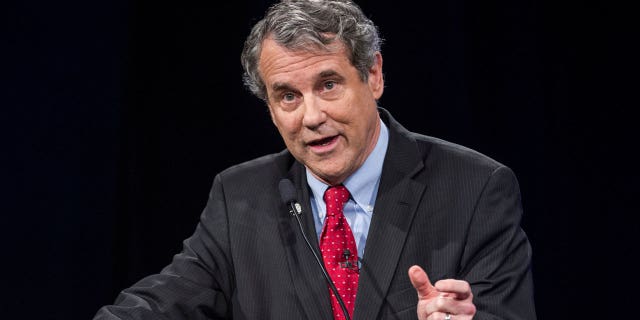 "I've always stood up to presidents of both parties to fight for fair trade and a level playing field for Ohio workers, which is why I will support Congressional action to end the Administration's waiver of solar tariffs," Sen. Sherrod Brown, D-Ohio, said. (Phil Long/Pool via Reuters)
In addition, Senate Finance Committee Chair Ron Wyden, D-Ore., said he would vote for the bill because he supports "red, white and blue manufacturing jobs," The Washington Post reported.
And in an interview with the Post, Sen. Bob Casey, D-Pa., also vowed to support the resolution, explaining that "China's got to be held accountable."
Sen. Jon Tester, D-Mont, a critic of China's economic aggression, is still reviewing the bill, a spokesperson told Fox News Digital.
REPUBLICANS PLAN OVERSIGHT INTO HOW BIDEN ADMIN'S GREEN PUSH BENEFITS CHINA: 'NOTHING IS OFF THE TABLE'
"Standing up for American manufacturers and workers—especially in the face of illegal, predatory Chinese trade activity — should be an issue that unites lawmakers on both sides of the aisle," Nick Iacovella, a spokesperson for the Coalition for a Prosperous America, a pro-tariff industry group, told Fox News Digital.
"The facts are clear: Commerce confirmed that China is illegally violating U.S. trade law and the Biden administration's misguided rule protects them," he continued. "We applaud Democrats and Republicans for recognizing that Congress should never sit idly by and fail to respond to attacks on American industries and workers by any administration—regardless of party."
Months before Biden issued his executive action temporarily removing tariffs from the Chinese solar industry, the Commerce Department opened a probe into whether Chinese manufacturers were illegally routing solar panels through Southeast Asia to avoid U.S. tariffs.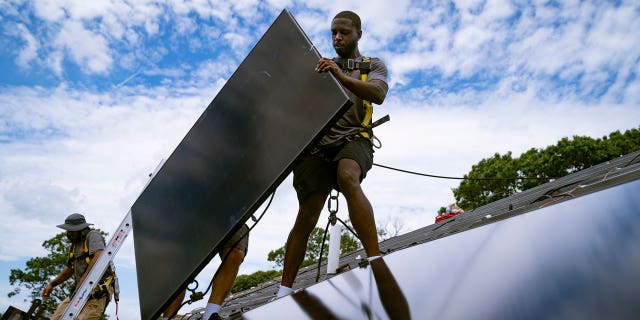 Solar panel installers are pictured on Aug. 11, 2022, in Massapequa, New York. (AP Photo/John Minchillo, File)
In December, the Commerce Department released preliminary investigation findings showing that four large solar companies had, in fact, routed products through Cambodia, Malaysia and Vietnam to circumvent duties. But, with Biden's tariff enforcement moratorium in effect, the agency hasn't enforced trade laws prohibiting such activity.
In response, a month later, a group of Republicans and Democrats led by Reps. Dan Kildee, D-Mich., and Bill Posey, R-Fla., and joined by Reps. Bill Pascrell, D-N.J., Bob Latta, R-Ohio, Terri Sewell, D-Ala., and Garret Graves, R-La., introduced a CRA resolution to nix Biden's executive action.
And Sen. Rick Scott, R-Fla., introduced the Senate version of the CRA in February.
"I'm a strong supporter of President Biden, and I was proud to work with him to pass new laws to boost American manufacturing and bring back our country's solar manufacturing industry. However, I disagree with the administration's policy on this matter," Kildee told Fox News Digital in a statement.
"China has been found to have violated our trade laws, yet the United States has failed to respond, including suspending tariffs and letting their unlawful behavior go unanswered."
The White House said late last week that Biden would veto the legislation if it is passed by Congress. The veto can be overridden if the bill receives a two-thirds vote in both the Senate and the House.