The contentious trial of Scott Peterson came to a close in late 2004 when a California jury found him guilty verdict and handed him a now-rescinded death sentence for the Christmas Eve murder of his wife, Laci, and unborn son, Conner, nearly two years prior, but the story didn't end there.
Nearly 20 years have passed since the conviction, the case having gained attention again in December after a judge denied Peterson a new trial. To this day, unanswered questions and a slew of different perspectives envelop the story in relentless mystery.
Some maintain that Peterson is exactly where he needs to be. Others tell a different story.
Fox News Senior Correspondent Laura Ingle has been on the case for years. Beginning as a commentator focusing on the topic nearly 20 years ago to excavating it again today, Ingle has interviewed witnesses and revisited the places forever haunted by the story, getting access to a behind-the-scenes view of Peterson's sister-in-law's "evidence wall."
Ahead of the release of the Fox Nation special "Reporter's Notebook; The Scott Peterson Case," Ingle joined Fox News Digital for an exclusive interview to discuss the special and share what she found during her deep dive into the unanswered questions surrounding the case.
SCOTT PETERSON LOSES NEW TRIAL BID; CONVICTED KILLER TO REMAIN BEHIND BARS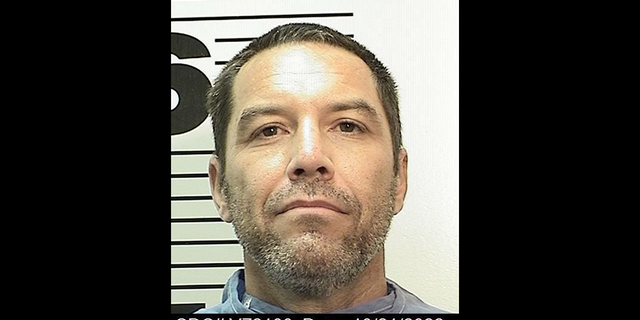 This Oct. 21, 2022, photo provided by the California Department of Corrections and Rehabiliatation shows Scott Peterson.  (California Department of Corrections and Rehabilitation via AP)
"We wanted to, at the 20-year mark of this case, take a look at where are we now, now that he has been denied a new trial based on juror misconduct. What's next? And what are some of the unanswered questions in this case?" Ingle said.
"We have a lot of archival footage. We have a lot of unanswered questions. We wanted to go back and take a look at the scene. We wanted to talk to some of the key players in the case as anybody's account changed as anything."
One of Peterson's biggest advocates, his sister-in-law, Janey, keeps her "evidence wall" inside her family's San Diego business fresh with information compiled over 20 years. She maintains that this evidence exculpates her brother-in-law from his conviction, holding fast to the belief that his story is far from over.
SCOTT PETERSON EX-GIRLFRIEND AMBER FREY SPEAKS OUT AFTER NEW TRIAL DECISION: 'TRUTH DOESN'T CHANGE OVER TIME'
"We went over every single minute of the timeline of the day that Laci Peterson went missing and the actions that Scott took that day. She [Janey] has a very different take of what the police and prosecutors say happened that day, so we wanted to hear her out and see what she has put together and hear about the people that she has talked to," Ingle said.
She takes viewers back to the Peterson family's home and the surrounding area in Modesto to show what everything looks like today, including the neighboring home where Janey Peterson contends Laci confronted two burglars and disappeared shortly after.
While in Modesto, Ingle spoke with two residents who swear they saw Laci Peterson the day she vanished. But the moment they described took place after Scott left for a fishing trip at the Berkeley Marina.
Though the alleged witnesses claimed police never responded to their tip, Ingle said it was never officially called in.
"When I asked him [one of the witnesses] how he told the police about this sighting, he said he told the police about the sighting at a candlelight vigil. This was not a called-in tip. This was a tip that was talked about in the park. Information was shared, and he said he was never called back," she said.
TIMELINE: THE LACI PETERSON CASE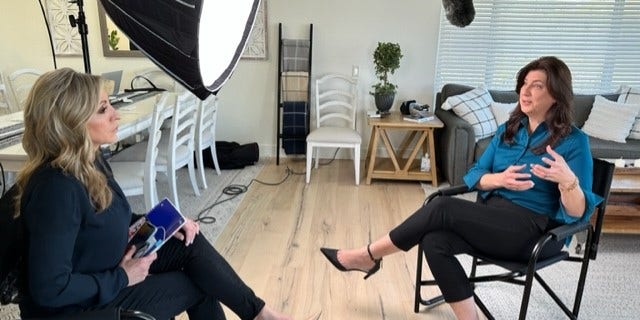 Fox News senior correspondent Laura Ingle sits down with Janey Peterson, the sister-in-law of Scott Peterson. (Laura Ingle/Fox Nation/Fox News)
Case investigators play an integral role in making the special come together as well, particularly Retired Modesto Police Detective Al Brocchini who, to this day, believes Peterson is guilty of murdering his wife and unborn son.
"Brocchini was the one that we see in the interview room questioning Scott in those first initial hours when Laci Peterson was reported missing. He was assigned to Scott Peterson," Ingle explained. "He was one of the main and lead detectives on this case. It was the first time I have ever met Al [or] talked to him. He showed me pictures. He told me for the first time how he believes Scott Peterson killed his wife."
She returned to two other key sites for the Fox Nation special: Point Isabel Regional Shoreline in Richmond, California – the place where Laci and Conner's bodies washed ashore – and Berkeley Marina, where Peterson claimed to launch his boat for a solo fishing trip that same day.
There, she showcased the distance between the victims and the alleged culprit.
SCOTT PETERSON'S LAWYER CLAIMS NEW EVIDENCE WILL EXONERATE CONVICTED KILLER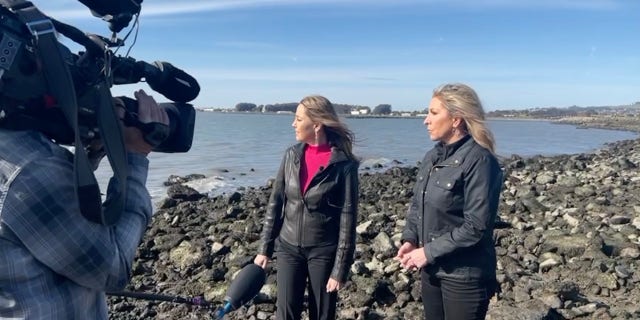 Fox News Senior Correspondent Laura Ingle and Fox News Veteran Reporter Claudia Cowan stand on the California shoreline where Laci and Conner's bodies were found. (Laura Ingle/Fox Nation/Fox News)
Ingle shared with Fox News Digital something she discovered in her deep dive that brought new unanswered questions to the fore:
"We have an exclusive photo of Scott Peterson talking with his family from inside San Quentin before he was moved," Ingle said. The photo, taken during a Zoom call between Peterson and his family, will be featured in the Fox Nation special for subscribers to exclusively stream, Thursday.
Aside from a mugshot, this will be the first time the public has seen him in 20 years.
If Peterson's family gets their way as they continue to fight for the opportunity of a new trial, it also won't be the last time anyone sees – or hears – of him.
"This family will continue to fight for that opportunity. And yes, there are other legal avenues [they can take to get another trial]. There are more appeals to go," Ingle explained.
SCOTT PETERSON'S DEATH SENTENCE IN MURDER OF PREGNANT WIFE OVERTURNED BY CALIFORNIA SUPREME COURT
Will it work? She says only time will tell.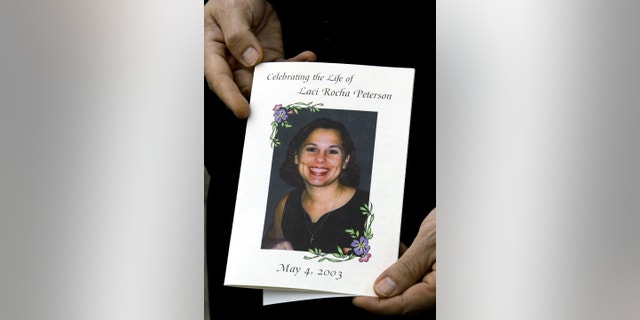 After a trial that attracted nationwide attention, California fertilizer salesman Scott Peterson, 32, was found guilty on November 12, 2004 in the Christmas Eve 2002 murder of his pregnant wife Laci.  (REUTERS/Lou Dematteis LD/MR)
Still, she added that there's something to be extracted from the bigger picture, from the chatter surrounding the crime, the initial legal saga and the push for another trial – there's the loss of life.
"There's a family that is forever broken because of this. Two families, really. I think, when there are milestones, it's important to take a pause and look back, see if there's anything new, see if there's an update that we can bring. We spent so much time on this case that I feel like we owe it to our viewers and our listeners."
To get the full scoop from "Reporter's Notebook; The Scott Peterson Case," subscribe to Fox Nation and stream the special today.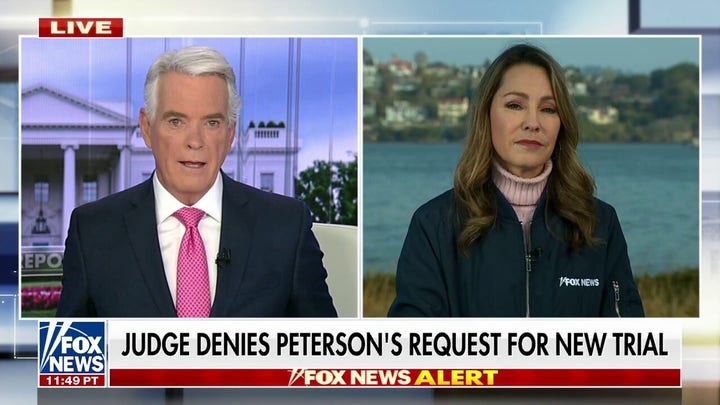 Video
Fox News' Laura Ingle contributed to this report.