Sen. Rick Scott, R-Fla., is urging House Speaker Kevin McCarthy to keep the American people at the top of his mind when the Republican leader meets with President Biden to discuss the debt ceiling Tuesday.
"He's got to talk about what he's trying to do for the American public," Scott told Fox News Digital when asked what advice he'd give McCarthy for next week. "This is not for you or me — I mean, except as citizens — it's for every American. We've got to balance the budget, live within our means, get this inflation under control."
Scott worked closely with House conservatives on their spending cut demands, some of which made it into House Republicans' recently-passed debt limit bill that will be the subject of next week's White House meeting.
Biden on Monday invited the four top members of Congress to the White House for a May 9 meeting. That invitation came days after House Republicans passed a bill aimed at raising the debt limit, either by $1.5 trillion or through March 2024. The bill also includes spending cuts estimated to have the federal government spend about $140 billion to $180 billion less on discretionary programs compared to the current fiscal year.
HOUSE PASSES MCCARTHY'S DEBT CEILING BILL BY TWO VOTES; FOUR REPUBLICANS VOTE AGAINST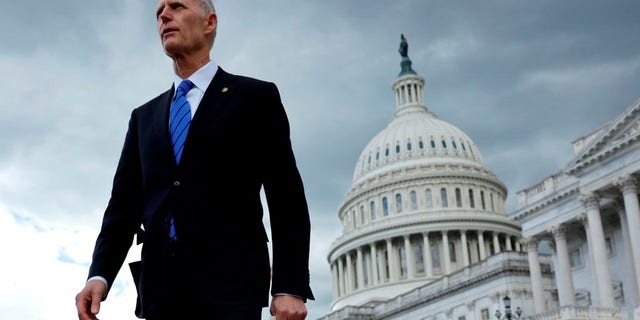 Sen. Rick Scott, R-Fla., walks out of the U.S. Capitol May 3, 2023, for a news conference to urge the White House and Senate Democrats to pass the House GOP legislation that would raise the debt limit and cut federal spending. (Chip Somodevilla/Getty Images)
But Biden and Senate Democrats, led by Majority Leader Chuck Schumer, have flatly refused to pair spending cut talks with raising the debt limit and insist the government's borrowing limit should be increased without condition.
SENATE REPUBLICANS, INCLUDING MCCONNELL, SAY DEBT LIMIT FIGHT IS BETWEEN MCCARTHY AND BIDEN
Scott pledged to do "everything [he] can to support" McCarthy going into the meeting.
"I think it was a yeoman's job to bring everybody together to get something done in the House, and so I think I'm going to do everything I can to help explain what he's trying to do, why he's trying to do it, and hopefully get Chuck Schumer and Joe Biden to start showing up," Scott said.
McCarthy's debt limit bill has managed to unite the Senate's Republican conference. Both conservative and moderate GOP lawmakers made clear they're willing to let the speaker and the president lead negotiations, at least for now.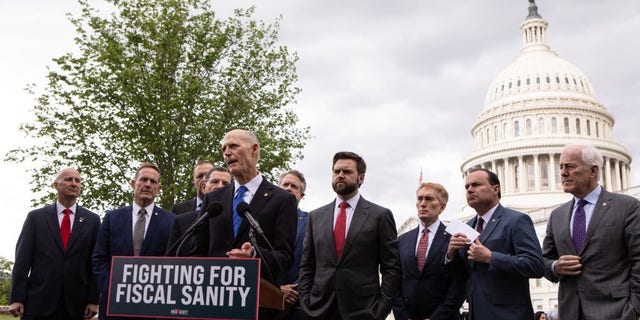 Sen. Rick Scott, R-Fla., center left, speaks during a news conference outside the U.S. Capitol in Washington, D.C., Wednesday, May 3, 2023. 
Senate Minority Leader Mitch McConnell, instrumental in helping the U.S. avoid a near default in 2011, has said he will attend the May 9 White House meeting but indicated he too would take a back seat.
"It should be clear to the administration that the Senate isn't a relevant player this time," McConnell told reporters this week.
SCHUMER REJECTS HOUSE DEBT CEILING BILL, PLANS HEARINGS TO 'EXPOSE' GOP'S 'RECKLESS LEGISLATION'
Scott, who previously clashed with McConnell over the Senate GOP leadership race late last year, would not directly say whether he agreed with the Republican leader. But he did say GOP senators should be "active" in supporting McCarthy.
"Our job right now is do everything we can to promote what Kevin McCarthy did and push Chuck Schumer to bring that bill to the floor. And then let's improve it," he said.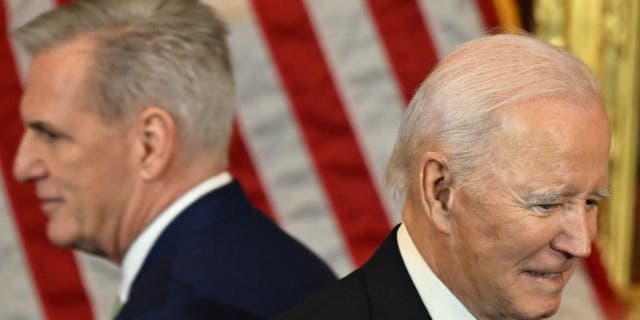 Speaker of the House Kevin McCarthy, R-Calif., and President Biden (Andrew Caballero/AFP via Getty)
He pointed out that he led a press conference attended by more than a dozen senators Wednesday, where they firmly spoke in support of McCarthy's debt limit bill and called on Biden and Schumer to come to the negotiating table. He made it clear they will not support the "clean" debt ceiling increase that Democrats are seeking.
"Every Republican senator ought to be active on this. It's a big issue for the country. Yesterday, I led a group of 19 senators. We went out, and we did a press conference on the importance of doing everything we can to help Kevin McCarthy," Scott said.