A Republican member of Arizona's House of Representatives was expelled Wednesday following a bipartisan vote to oust her for inviting a conspiracy theorist to testify at a February committee hearing on election integrity.
The Republican-controlled body voted 46-13 to pass HR 2003 and remove Rep. Liz Harris for violating House ethics rules by inviting Jacqueline Breger to the hearing who made claims of criminal activity she said were perpetrated by Democratic Gov. Katie Hobbs and other politicians, including that they took bribes from a Mexican drug cartel.
Breger also claimed the crimes were overseen by the Church of Jesus Christ of Latter Day Saints.
DEMOCRAT LAWMAKER SUGGESTS SHE AVOIDED EXPULSION FROM TENNESSEE LEGISLATURE BECAUSE SHE IS WHITE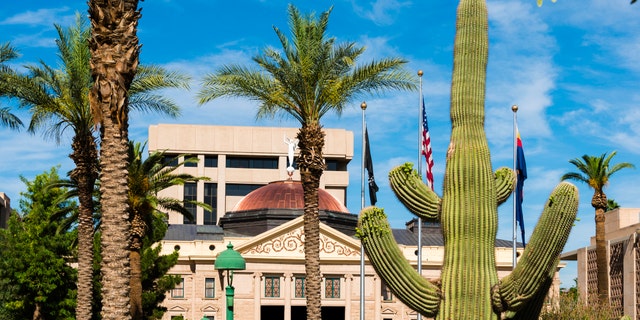 Arizona State Capitol Building in Phoenix, Arizona. (Getty Images)
An ethics complaint was filed against Harris in March by one of her Democratic colleagues alleging that she personally invited Breger, bringing "disrepute and embarrassment of the House of Representatives," and "allowed the impugning of other members" in violation of House rules, according to the text of the bill.
The House Ethics Committee, made up of three Republicans and two Democrats, unanimously found that Harris did indeed violate ethics rules, leading to the full vote on the House floor that ultimately led to her removal.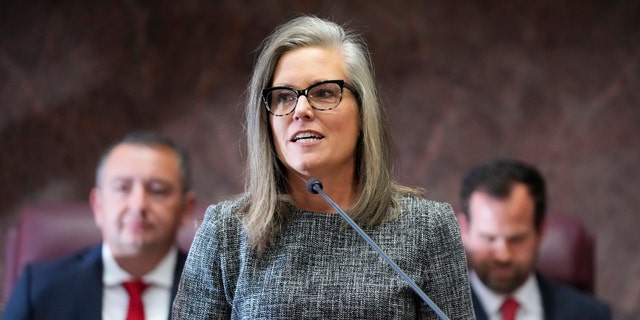 Arizona Gov. Katie Hobbs delivers her State of the State address at the Arizona Capitol in Phoenix, Jan. 9, 2023. (AP Photo/Ross D. Franklin, File)
EXPELLED TENNESSEE LAWMAKERS RIPPED FOR BLAMING RACISM ON EXPULSION: 'THREW YOU OUT FOR VIOLATING THE RULES'
Local reporters caught up with Harris as she left the capitol following her removal, appearing to be carrying her belongings.
"I stand on honesty and integrity. The report is a lie," she told one who asked for her reaction to the vote. She later said that the vote was "an example of how you need to toe the line."
"If you don't toe the line, this is what happens," she said, referencing the Republicans who voted in favor her removal.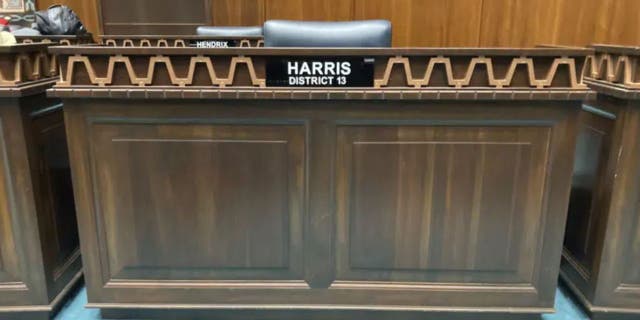 The desk used by Arizona Republican Rep. Liz Harris at the state Capitol in Phoenix stands empty moments after she was expelled from the Legislature on Wednesday, April 12, 2023. The Arizona House of Representatives expelled a Harris in a bipartisan vote after she organized a presentation accusing a wide range of politicians, judges and public officials of both parties of taking bribes from a Mexican drug cartel.  (AP Photo/Jonathan J. Cooper)
CLICK HERE TO GET THE FOX NEWS APP
"This is the people's House," she added, pointing back at the building before getting in her car and driving away.