Demonstrators opposing the Good Friday peace agreement that ended three decades of hostilities in Northern Ireland firebombed a police car Monday in Londonderry during a march on the agreement's 25th anniversary, officials said.
NORTHERN IRELAND POLICE DISRUPT ALLEGED NEW IRA BOMB PLOT AHEAD OF BIDEN'S VISIT: REPORT
Police called for calm and said no officers were injured in the attack during an otherwise peaceful demonstration. No arrests were reported.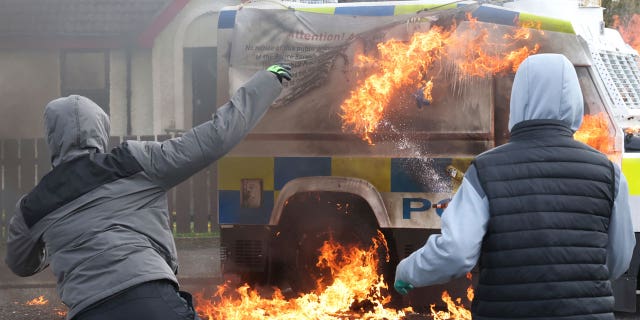 Northern Irish demonstrators protesting the 25th anniversary of the Good Friday peace agreement set fire to a police car Monday in Londonderry. (AP Photo/Peter Morrison)
Police had warned in advance that officers could be attacked in the Creggan neighborhood during the Easter Monday parade, for which official permission had not been granted, by republicans who opposed the U.S.-brokered peace deal reached April 10, 1998.
BREXIT DEAL: RISHI SUNAK, EU REPORTEDLY REACH AGREEMENT ON NORTHERN IRELAND PROTOCOL
As several hundred people — many in black face masks — marched peacefully through the streets with flags, some youths in hoods and masks charged at a police Land Rover parked at the end of a street and pelted it with rocks and petrol bombs.
CLICK HERE TO GET THE FOX NEWS APP
"Our officers have come under attack in Creggan with petrol bombs and other objects thrown at their vehicle," the Police Service of Northern Ireland tweeted. "We would appeal for calm."