The man charged in the deadliest antisemitic attack in U.S. history tried for years to avoid a federal jury trial, which would decide whether to convict him of shooting to death 11 people in a Pittsburgh synagogue. Ultimately those efforts failed, and jury selection is less than two weeks away.
Court filings show 46-year-old Robert Bowers had offered to plead guilty in the 2018 attack on the Tree of Life synagogue, a crime for which he was arrested at the scene and made incriminating statements to police. He indicated he was willing to accept life without parole and relinquish appeals rights.
But his offer came with a condition that the U.S. Justice Department declined: In return for a guilty plea, he would no longer face the death penalty. Much of the legal battling that has stretched on for more than four years has been looking to the critical sentencing phase after the guilt-or-innocence portion of the trial is over.
The families of some victims have endorsed the deal for life without parole, which would avoid days or even weeks of painful testimony and the grisly details of autopsy results, crime scene photos and 911 recordings, including calls from two of those slain.
In the end, the Justice Department said no to Bowers' offer and flatly declined his lawyers' request for details about the secretive process by which federal death penalty decisions are made.
TRIAL SET FOR PITTSBURGH SYNAGOGUE MASS SHOOTER
"It will be the jury's ultimate decision whether to impose the death penalty — not the government's," federal prosecutors told U.S. District Judge Robert Colville in an April 3 filing. "The United States' 'goal' in this prosecution is the pursuit of justice, not punishment."
Bowers' lawyers wrote this month that the federal death penalty lacks "a discernable, principled basis for why the Department of Justice continues to pursue death sentences for Mr. Bowers but not in very recent comparable cases."
The 2019 announcement that the federal government would pursue the death penalty against Bowers was opposed by some of those directly affected by the killings. One of the three congregations he's charged with attacking — Dor Hadash — put their objections in writing.
A month after taking office, Gov. Josh Shapiro cited those objections as one reason he would keep the state's moratorium on the death penalty. He urged state lawmakers to end the state's death penalty through legislation.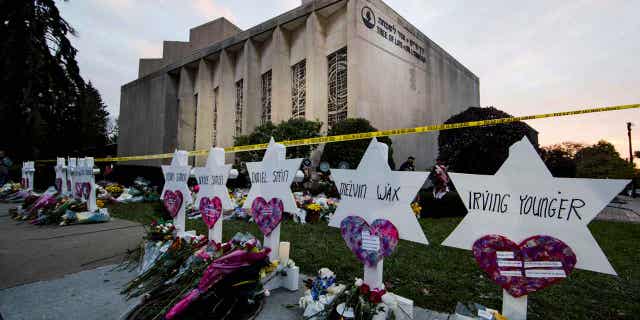 A memorial stands outside the Tree of Life Synagogue in Pittsburgh, Pennsylvania, on Oct. 29, 2018. Jury selection in the trial for the man charged with killing 11 people in the deadly synagogue shooting is set to begin in two weeks. (AP Photo/Matt Rourke, File)
Shapiro, a Democrat, said in February that his "first reaction back in 2018 was that that killer deserved to be put to death. In fact I stated so publicly, at the time. Over time, my thoughts on this issue have evolved."
PITTSBURGH SYNAGOGUE MASSACRE PROVOKES OUTRAGE, ANGER AND CALLS TO ACTION
The synagogue massacre case has already spanned two presidencies — Republican President Donald Trump was in office when the massacre occurred. Even before Bowers was identified as the suspect, Trump declared that the killer should "suffer the ultimate price" and that the death penalty should be brought back "into vogue." Federal executions resumed during Trump's presidency after a 17-year hiatus, and 13 federal inmates were put to death during his last six months in office.
Democrat Joe Biden indicated during the 2020 campaign he would work to end the federal death penalty but critics say he has done nothing to make that happen. He has, however, put in place a moratorium in order to study current policies and procedures — although that has not prevented his federal prosecutors from pursuing a death sentence for Bowers.
Bowers was charged with dozens of federal crimes for the October 2018 massacre. Investigators have tied him to virulent anti-Jewish social media posts. Prosecutors say he told police at the crime scene that he wanted to kill Jewish people.
"As far as I'm concerned, personally, and many of the people that I know, we support the death penalty in some cases," said Sam DeMarco, who heads the Republican Committee of Allegheny County, an area that encompasses Pittsburgh. "An egregious case like this seems to be what it was made for."
State Rep. Emily Kinkead, a Democrat and death penalty opponent who represents part of Pittsburgh, was disappointed federal prosecutors didn't take Bowers' offer to plead guilty in exchange for life in prison.
"Are we so focused on killing people as a state, as a government, that we wouldn't give these families closure so they wouldn't have to sit through this trial and listen to their loved ones beg for help from 911? Talk about cruel and unusual — that seems an awful thing to ask the families to do," Kinkead said.
CLICK HERE TO GET THE FOX NEWS APP
The Pittsburgh synagogue case bears some similarities to the 2015 racist slayings of nine members of a Black South Carolina congregation for which Dylann Roof was convicted and sentenced to death. In that case, there was a range of feelings about the death penalty among the victims' loved ones, from a belief that taking a life is never justified to those who say there's justice in "an eye for an eye." The death sentence for Boston Marathon bomber Dzhokhar Tsarnaev was also not universally supported by his victims' families.
A federal jury ended up split on the question of a death sentence for the man who killed eight people on a New York bike path in a terrorist attack. Instead, Sayfullo Saipov received a life sentence last month — the first federal death penalty case tried under Biden.
And in February, the white supremacist gunman who killed 10 Black people at a Buffalo supermarket was sentenced to life in state prison — New York does not have capital punishment. He has offered to plead guilty in federal court to avoid the death penalty.